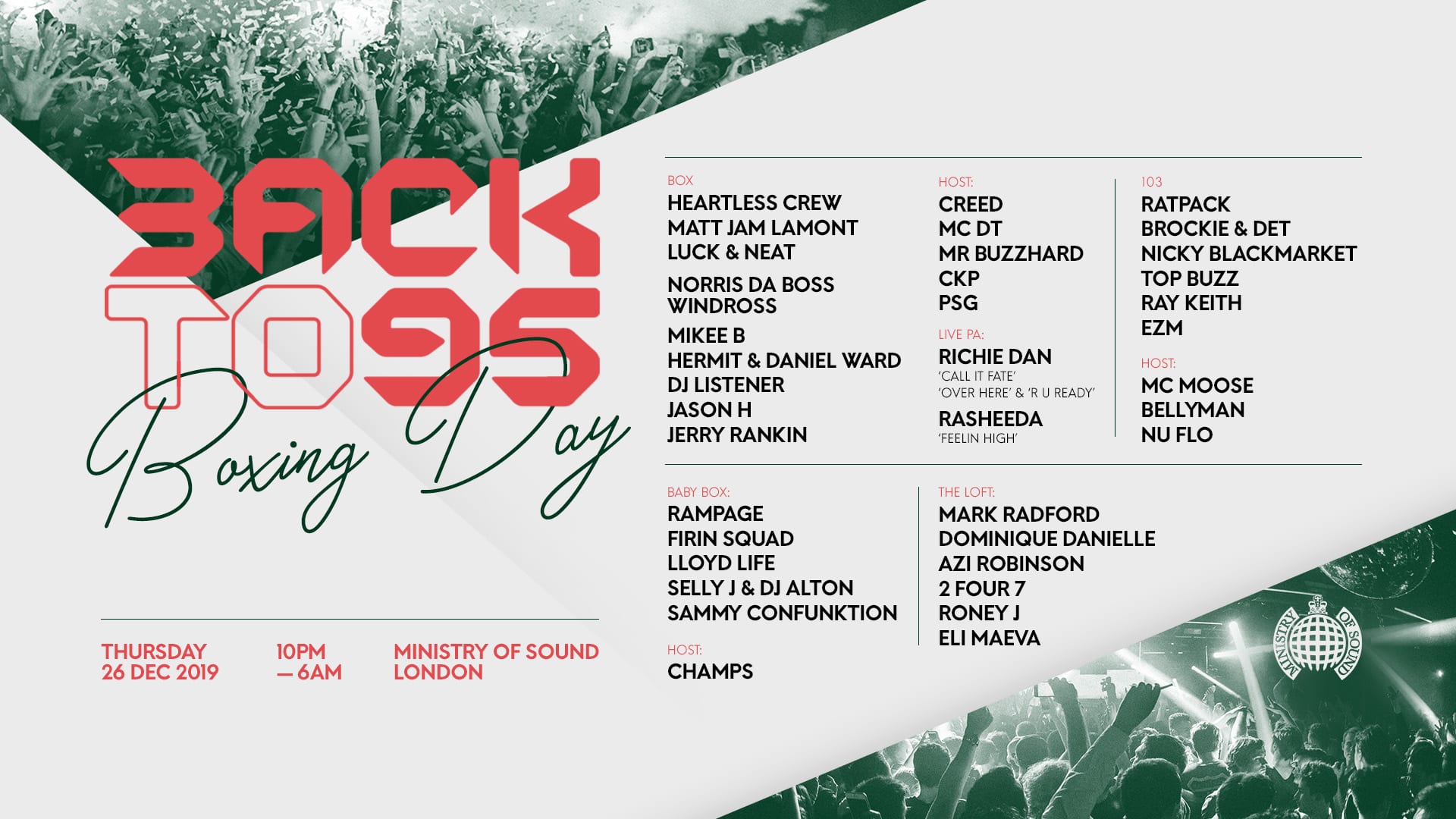 Back to 95 Boxing Day Special at Ministry of Sound
This Christmas we present our 17th annual Backto95 Boxing Day Special at our spiritual home the world famous Ministry of Sound. Once again we have spared no expense in bringing you yet another Stella line-up of your favourite artists to take you back to the original Oldskool vibe and party atmosphere.
Headlining our event and making their debut will be the mighty Heartless Crew featuring MC's Bushkin, Mighty Moe and DJ Fonti with an exclusive Oldskool House and Garage set, with PA's from Richie Dan and Resheeda performing their Garage anthems. Room 103 will be headlined by the dynamic duo Ratpack and Baby box by crowd favourites Rampage and Firin Squad, whilst the loft features Mark Radford and the House FM crew!
There's only one way to shake off that Christmas stuffing! which is dancing to the biggest Boxing Day line-up at the worlds most famous night club. Get you advance tickets early as this promises to be another road block.
▬▬▬ LINE-UP ▬▬▬▬
BOX: OLDSKOOL HOUSE & GARAGE
HEARTLESS CREW
MATT JAM LAMONT
LUCK & NEAT
NORRIS DA BOSS WINDROSS
MIKEE B
HERMIT & DANIEL WARD
DJ LISTENER
JASON H
JERRY RANKIN
HOST:
CREED
MC DT
MR BUZZHARD
CKP
PSG
PA: RICHIE DAN
PERF: CALL IT FATE, OVER HERE AND R U READY
PA: RASHEEDA
PERF:FEELING HIGH
ROOM 103: OLDSKOOL JUNGLE CLASSICS
RATPACK
BROCKIE & DET
NICKY BLACKMARKET
TOP BUZZ
RAY KEITH
EZM
HOST:
MC MOOSE
BELLYMAN
NU FLO
BABY BOX: 90'S SOUL, R N B & BASHMENT
RAMPAGE
FIRIN SQUAD
LLOYD LIFE
SELLY J & DJ ALTON
SAMMY CONFUNKTION
HOST: CHAMPS
THE LOFT: HOSTED BY HOUSE FM
MARK RADFORD
DOMINIQUE DANIELLE
AZI ROBINSON
2 FOUR 7
RONEY J
ELI MAEVA
▬▬▬▬ GENERAL TICKETS PRICES ▬▬▬▬
£12.50 (+BF) EARLY BIRD
£15.00 (+BF) 2ND RELEASE
£17.50 (+BF) 3RD RELEASE
£20.00 (+BF) 4TH RELEASE
▬▬▬▬ TICKET OUTLETS ▬▬▬▬
NORTH:
• KRICOSS (HARINGEY) 0208 800 7528
EAST:
• ZEE & CO (BOW) 0208 983 3383
SOUTH:
• EMPORIUM (PECKHAM) 0207 3589920
• DNR RECORDS (CROYDON) 0208 4069905
▬▬▬▬ ONLINE TICKETS ▬▬▬▬
• BACKTO95.COM
▬▬▬▬ ENTRY CONDITIONS ▬▬▬▬
• ID REQUIRED
• MALE – OVER 23
• FEMALE – OVER 21
• PLEASE REMEMBER TO BRING ID WITH YOU. NO ID, NO ENTRY.
▬▬▬▬ LINKS ▬▬▬▬
• Tickets: http://bit.ly/BTO95BOXINGTICKETS
• Facebook: https://www.facebook.com/backto95/
• Soundcloud: https://soundcloud.com/backto95
• Website: https://backto95.com
• Twitter: https://twitter.com/backto95
• Instagram: https://www.instagram.com/backto95oldskool/