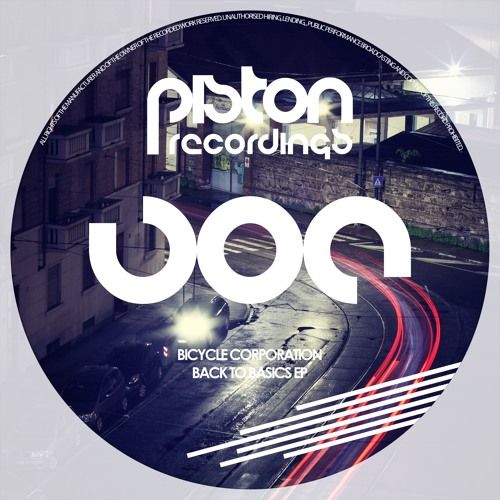 Bicycle Corporation - Back To Basics EP
Italian DJ and producer duo Marco Mei and Stefano Ugliano (6884) aka Bicycle Corporation debut on Piston recordings with the fantastic, retro inspired Back To Basics EP. The guys find themselves travelling the world and dishing out their unique mixture of house grooves, prog atmospheres and techno funkadelism. While Marco is a longstanding DJ – having played at major clubs like Pacha, Fuse, SOS Superclub and the Imperia Lounge Moscow – Stefano refined his skills in the art of playing synths. They merged these skills into an original project with a penchant for house music, while always keeping a distinctive sound. Their tracks have been released on labels such as Mauro Picotto's Alchemy and Phunk Investigation's Miniatures Records and they have received support from artists such as, like DJ Sneak, Dubfire, Axwell, Danny Tenaglia, Above & Beyond and more. They have also provided remixes for the likes of Mauro Picotto, Eddie Amador, and Chris Fortier. These guys have their finger firmly on the pulse, they traverse the underground scene in tandem with mainstream clubs ensuring that everybody gets a taste of their sound. Delighted to have them on board at Piston and we hope to see more soon.
First up out of the three tracks on offer is Never Go Away, which sets the scene perfectly with its cool retro vibe oozing out of the sound. Punchy kick drums are met with shuffling percussions and snappy snares that get the rhythm juices flowing. But, the main even here is that lush hypnotic bass and those oh so beautiful piano chords that infect your mind instantly. A proper slice of deep house grooves to whet the appetite.
Everybody Wants A Swimming Pool is another fine example of this duos love of all things house music. Beautifully crafted drums keep the rhythm flowing while luscious chords wrap us up in a warm glowing groove backed up by a nice pumping bassline. A simple and highly effective cut that will most definitely not disappoint.
If Only I Were Cool Too keeps with the retro theme and pulls out all the stops to great effect with the use of some classic drum sounds that will draw anyone to the floor. The drums build nicely with a pounding kick drum at the fore and erratic shuffling hats following suit. A fuzzy house pad rises up and we're locked on to the mesmeric groove. Our minds get blown with the introduction of a phat acid line that comes straight outta 1988 to dominate the track with ease. A superb cut that you do not want to miss.
Available on Beatport
https://www.beatport.com/release/back-to-basics-ep/1888049
Bicycle Corporation Online
https://www.facebook.com/bicyclecorporation
https://soundcloud.com/bicyclecorporation
Piston Recordings Online
http://www.pistonrecordings.com
https://www.facebook.com/Piston.Recordings
https://twitter.com/PistonRec
https://soundcloud.com/pistonrecordings
https://www.youtube.com/user/pistonrecordings