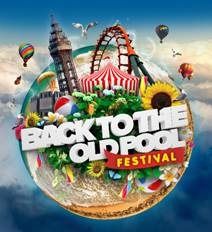 Back To The Old Pool To Make History At Blackpool Tower Festival Headland
Featuring Chicane (DJ Set), Dave Pearce, Sonique, Seb Fontaine, Mauro Picotto, Lasgo Live, M.I.K.E. Push, Slipmatt, DJ SY, N-Trance, K-Klass, Baby D, Stu Allen, Thrillseekers & many more.
The old skool and club classics festival will make history as the first dance music event to take place at Blackpool's Tower Festival Headland, bringing a bigger lineup and more arenas hosted by some of dance music's most illustrious names.
---
Back To The Old Pool, the ultimate old skool and club classics festival, will return to a prime new location in Blackpool on Saturday 8th July 2017 – the Tower Festival Headland. As the first ever dance music event to grace the famous promenade, Back To The Old Pool brings the originators of rave culture from 1988 to the noughties across five arenas hosted by notable brands including Syndicate and Sanctuary. The lineup features DJ sets, PA's and live performances from the likes of Chicane, Dave Pearce, Sonique, Seb Fontaine, Mauro Picotto, Lasgo Live, M.I.K.E. Push, Slipmatt, DJ SY, N-Trance, Baby D, Angie Brown, K-Klass, Shades Of Rhythm and tons more. Expect mind blowing production values when the festival takes over the LED controls of Blackpool Tower for a mesmerising lightshow. Tickets are selling fast with just final release tickets left on sale for £45 + bf from http://skiddle.com/e/12914619.
Back To The Old Pool made its mark when it launched last summer on Lawson's Showground with a lineup featuring Judge Jules, Marco V, Altern-8 and Yoji Biomehanika. This year it raises the bar with a new location, a bigger lineup, an open air main stage, superior facilities in the VIP area including bottle and waitress service, and even more promoters and brands from the halcyon days of dance music. Spanning genres through club classics, old skool, trance, hard house, hardcore, bounce and even the latest house cuts, Back To The Old Pool has something to satisfy the tastes of each and every daytime raver in attendance.
The new outdoor Back To The Old Pool Main Stage – In Association With Dance Decade: The PA's -features house and club classics from the nineties and noughties. DJ highlights include Chicane – best known for his 1997 hit Offshore; Sonique whose re-release of Feels So Good in 2000 was the third biggest selling record in the UK that year; and former Radio 1 Dance Anthems host Dave Pearce. The singalongs will be in full-swing with live PA's from Baby D (Let Me Be Your Fantasy), Rozalla (Everybody's Free), and K-Klass (Rhythm Is A Fantasy) who add a Live PA to their hi-energy DJ set.
Also new for 2017 is the Syndicate Superclub Reunion Arena. Synonymous with Blackpool clubbing from December 2002 until its closure in August 2011, the Syndicate brings a trance classics lineup to the festival as part of its recent resurrection. Curated by the club's prominent promoter and DJ, Jason Fubar, the bill includes a 'producer's set' from techno-trance maestro Mauro Picotto featuring all his own hit records such as Komodo and other recent releases; M.I.K.E. Push famed for his big room classic Universal Nation; Thrillseekers – the brains behind 1999 hit Synaesthesia; long-time Gatecrasher resident Scott Bond and many more.
Wigan old skool brand More Cake is also a new addition to Back To The Old Pool. As part of its 10 year celebration bringing rave classics to the northwest of England, More Cake will pack their big top tent with a mouth-watering lineup of artists including Slipmatt of SL2 On A Ragga Tip fame, hardcore veterans DJ SY and Stu Allen, rave warrior Mark XTC, More Cake favourite Jane Angel and lots more.
Making a return to Back To The Old Pool for the 2017 event is Blackpool-born party- starters, Sanctuary. From the North Pier to Club Domain, there are few spaces the 15 year old brand hasn't partied at in the seaside town. It brings to the festival a bounce classics arena with a live headline performance from Belgian outfit Lasgo who'll bring hit singles like Something and Surrender to the dancefloor. Rave heavyweights n-trance also join for a DJ set peppered with hit tunes such a Set You Free; hard house stalwart Andy Whitby will be upping the BPMs, and Sanctuary resident DJs John G and Zun!e and others, will ensure this party packs a punch long after the sun goes down!
Hosting the VIP arena at Back To The Old Pool is the newly opened bar and nightclub, Home & HQ. Launched with a stunning finish by the team behind the original Syndicate nightclub, Home & HQ brings the lineup at Back To The Old Pool bang up to date with a big dose of house and bass. Talent includes rising star Ben Rainey, mashup DJ Danny T, Rock FM's Mark Freejack among others. The VIP area has also been enhanced this year with improved toilets, bottle and waitress service, exclusive bar, and luxury seating for a spot of respite when the dancing feet start to ache!
Tickets for the one-day festival, which runs from 12 midday until 11pm, have been selling fast, showing great demand for this unique event. First and second release tickets have sold out, but final release tickets are now on sale for £45 + bf. For those wanting a special experience, VIP tickets are available with perks including access to the Home & HQ Arena, private bar and toilets and queue-jump entry on arrival. VIP tickets are on their second release now priced at £60 + bf. If pay day seems too far away, Back To The Old Pool also offers a deposit ticket option – pay £20 now and pay the balance before 30th June. For all tickets visit http://skiddle.com/e/12914619.
Watched over by one the UK's most recognised landmarks, Blackpool Tower, and with views out towards the Irish Sea, Back To Old Pool is back in business and is ready to deliver an all-day club classics and old skool event of epic proportions!
---
LINEUP

Back To The Old Pool Outdoor Mainstage – In Association with Dance Decade – The PA's

Chicane (DJ Set) / Seb Fontaine / Dave Pearce / Sonique / Baby D (Live PA) / Shades Of Rhythm (Live) / Rozalla (live PA) / Angie Brown (Live PA) / K-Klass (Live PA & DJ Set) / Davos & Luke Neptune (Live) / DJ Hux / DJ Fubar

Syndicate Arena

Mauro Picotto / M.I.K.E. Push / Thrillseekers / Scott Bond / Richard Durand / Binary Finary / Liam Wilson / Sam Mitcham / Pete Bromage/ Alex Anderson B2B Lee Thompson

More Cake Arena

Slipmatt / DJ SY / Stu Allan/ Mark XTC / Andy Pendle / Jane Angel / Pete Monsoon / Matt Bell / Chris Baker / Ben Fisher / Si Frater / Funki B / Danny Walsh

Sanctuary Arena

Lasgo Live / N-Trance / Headhornys / Andy Whitby / Franchesca Live / John G / Zun!e / Andy Farrell / Bonlee / Firky & Thorpy / Madhatta / MC Efeeze / Arkie / Layback / MC G

VIP Home & HQ Arena

Danny T / Ben Rainey / Mark Freejack / MR H's / Maden UK / Lee Watson b2b Scott Ashworth / Steve Kelly / Rich James / Man On Wax b2b Cut Maestro / Jacob Callaghan b2b Gaz Peck / Dax – Live sax / C Percussion.
---
EVENT INFO
Saturday 8th July 2017
Blackpool Tower Festival Headland
12pm – 11pm
Tickets: Standard – £45 + bf / VIP – £60 + bf. Available from http://skiddle.com/e/12914619

LINKS

www.facebook.com/backtotheoldpool
www.twitter.com/bttopfestival
www.back2theoldpool.com