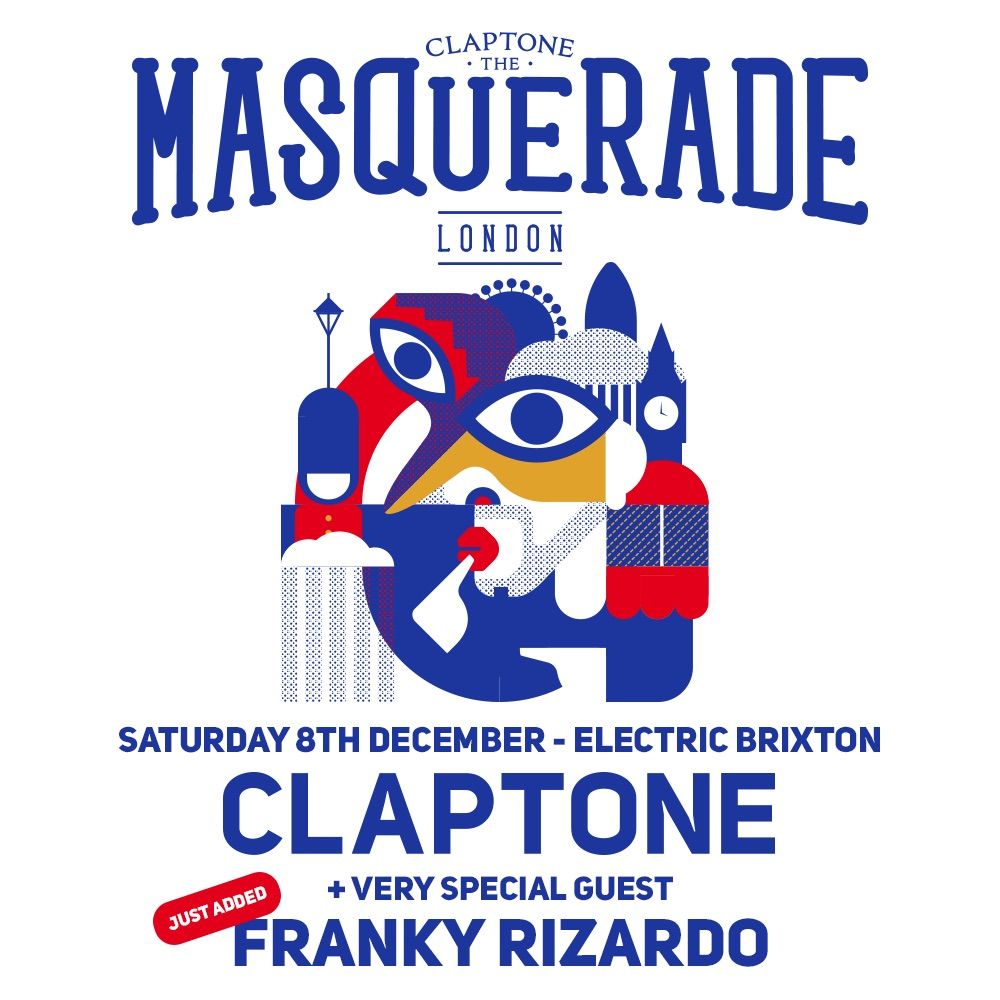 Claptone presents THE MASQUERADE
Claptone presents THE MASQUERADE
Saturday 8th December 2018
22.30 – 06.00
Electric Brixton, Town Hall Parade, Brixton, London SW2 1RJ
CLAPTONE
+ VERY SPECIAL GUEST:
FRANKY RIZARDO
+ MORE TBA
TICKETS: www.claptone.london
1st release £17.50 + BF: SOLD OUT
2nd release £20 + BF: SOLD OUT
3rd release £22.50 + BF: ON SALE NOW!
4th release £25 + BF: COMING SOON
5th release £27.50 + BF: COMING SOON
From the works of The Bard at The Globe, to operatics at Royal Albert Hall and musicals of the West End; throughout history London has established itself as a global hub for entertainment. Today, much of London's extracurricular pursuits take place underground, under cover of darkness in subterranean inner-city lairs. Sound-proofed and hidden from the waking world, the city's dancefloors are the modern manifestation for those who seek drama, excitement and applause.
One man – belonging to no time and transcending the ages – bridges the centuries from the entertainment of old to the entertainment of new. The elusive one. The phenom. The charmer. The fantast. He goes under many guises, favours the shadow and has an unflinching penchant for the theatrical – some even say he changes shape.
This winter Claptone brings his own brand of sorcery to the Capital, for his first Masquerade event in London in two years. Following events in Los Angeles, Berlin, Paris, Melbourne, Barcelona and New York, the mysterious selector will once again laud Electric Brixton – one of London's most majestic venues – with thumping house music and hypnotic vocals, inviting some very special friends along for the occasion.
Dutch DJ, producer and boss of LTF Records Franky Rizardo will also be joining the festivities. Having successfully released various singles and mixes on Defected Records, Nic Fanciulli's Saved Records and Yousef's Circus recordings, there is clearly no stopping him. Following gigs across the planet over the past year, including Tomorrowland, Defected Croatia and Amnesia Ibiza this summer, Franky is ready to light up 'The Masquerade' and share his passion for music through the dynamism and energy of his tunes.
Returning to the scene of 2016's thrilling sell-out show, The Masquerade at Electric Brixton will be a night filled with high drama. Is it all an illusion of the mind? Or tangible magic? With its grand stage, overhanging balcony and storied past as a former theatre, there is no better venue befitting this spectacle.
Smoke. Mirrors. Suggestion. Psychology. Trickery. The cape. The white gloves. And that iconic golden mask. On Saturday 8th December Claptone presents The Masquerade London, and you are cordially invited to attend. Wear whichever face you deem appropriate.
Terms and conditions: www.lwe.events/terms-and-conditions