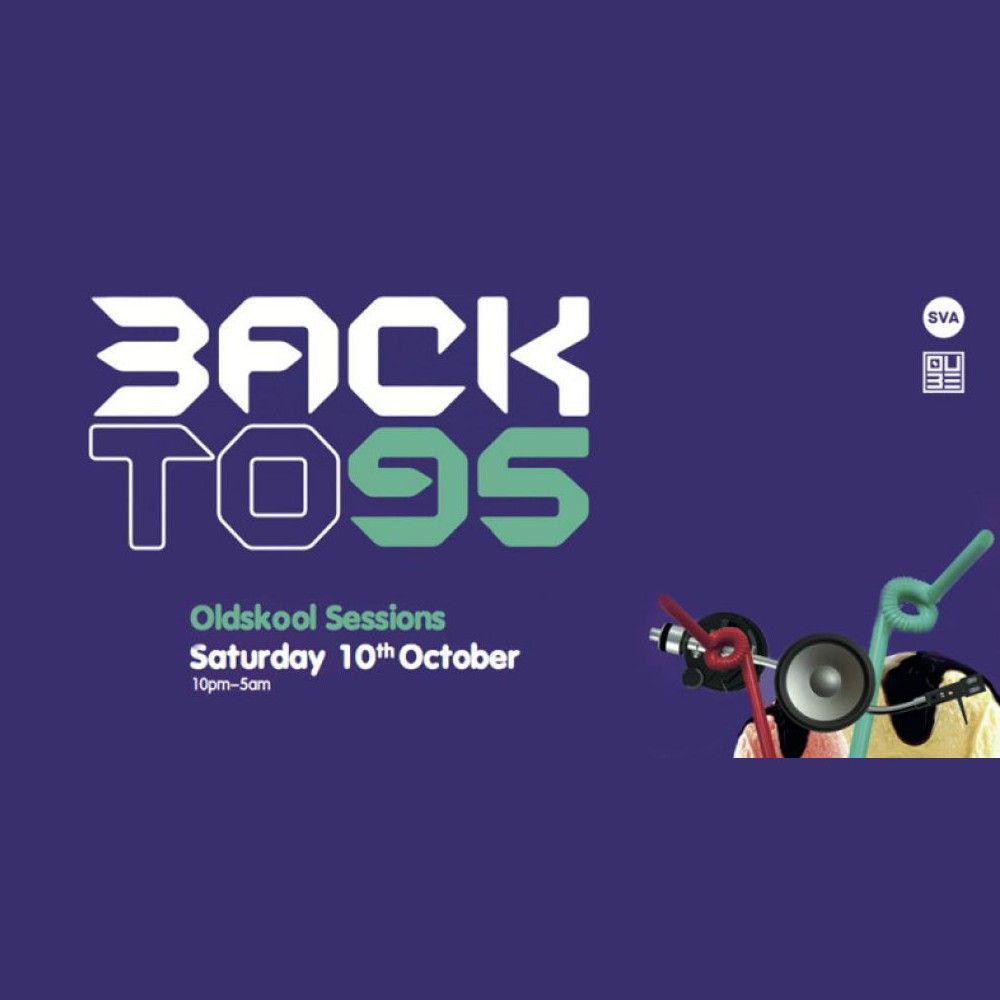 BACKTO95 OLD SKOOL SESSIONS
On Saturday 10th October the pioneers of old skool House and Garage events, BackTo95 head for the centre of town for their hotly anticipated Old Skool Sessions party at London's new state of the art Qube Project venue, which boasts a kicking Martin Audio sound system, video 3D mapping and VIP tables served by your own personal waitress!
Headlining the debut BackTo95 event at the Qube Project is a true legend of the UK scene, DJ EZ playing an Exclusive 2 Hour set, fresh from smashing Glastonbury and the Eastern Electrics festivals. There are few words that can do EZ's legacy justice but, after almost twenty years, it is safe to say his music is still doing all the talking. From his huge 'Pure Garage' compilations to his pioneering show on Kiss FM, DJ EZ is a true trailblazer of an original UK sound. His knock out set for Boiler Room in 2012 was a seminal moment in Garage music history and you can catch him doing what he does best at Back To 95 spinning party-poppin' tunes alongside Mike 'Ruff Kut' LLoyd, Ramsey & Fen, Ray Hurley, Jason Kaye and Jumping Jack Frost – all of them Back To 95's headliners and original UK playmakers.
It doesn't stop there as BackTo95 turn up the party power fanning out across the musical genres with a superb line-up of over 20 of the scene's favourite DJs & MC Hosts across 3 rooms to take you back to the original Oldskool vibe and party atmosphere.
Q2 features a musical soundtrack that drops the best in Old Skool Jungle classics served up by Jumping Jack Frost plus R n' B, Bashment and 80's & 90's Soul sounds from the Firin Squad and Lloyd Life. and in Q3, check out the soulful and deep house room hosted by the one and only Housefm.net,
The capital's old skool trailblazers, BackTo95 have hosted parties in various legendary nightclubs and landmark venues over the last 14 years, including Ministry of Sound, Great Suffolk Street Warehouse, Club Colosseum, Aquarium, Heaven, Fire & Light Box, Pulse, Proud 02, Legends, the Emporium and 51st State Festival, as well as heading up a sound system at Notting Hill Carnival. Bringing together and entertaining tens of thousands of discerning connoisseurs every year to celebrate the Oldskool era of House and Garage music, Back To 95 hits the right chord with clubbers with its original DJs, hosts and special appearances from House music ground breakers such as Barbara Tucker, Gerideau, Arnold Jarvis, Kathy Woods, Kim English, Elizabeth Troy, Robbie Craig, Crystal Waters and DaJae.
With a tantalising line up of DJ's and hosts from past to present, set to take you back to the original oldskool vibe and party atmosphere, this is an unmissable diary date for new and old skool party people. Like previous Back to 95 events, this event is sure to be sold out, and advance ticket purchasing is advised to avoid disappointment!
Listings
event: BackTo95 Old Skool Sessions
date: Saturday October 10th 2015
at: Qube Project, 191 Victoria Street, Victoria, SW1E 5NE
times: 10pm-5am
Line Up: Q1: Old Skool House & Garage Classics
DJ EZ
Ramsey & Fen, Mike Ruff Cut Lloyd, Ray Hurley, Jason Kaye, Jason H and Listener
Hosts: Creed – DT – CKP – Blakey – Buzzard – PSG
Q2: Old Skool Jungle + 80's/90's Soul, RN'B & Bashment
Jumpin Jack Frost
Firing Squad, LLoyd Life, Sammy Confunktion, 2Four7 and Selly J
Q3: Soulful Deep House Hosted By Housefm.Net
Lex Luca, Brockney C, Shiloh, Roney Jay, Mr Cook and Randy Peterson
Attractions: Live percussionist – Narni Shakers – CD Giveaways – Photo Memorabilia
Event filmed for future broadcast
Tickets: Early bird: £10.00 (+BF) AVAILABLE UNTIL MIDNIGHT SUN 2nd Aug 2015
2nd release: £15.00 (+BF) AVAILABLE UNTIL MIDNIGHT SUN 6th Sep 2015
3rd release: £18.00 (+BF) AVAILABLE UNTIL MIDNIGHT SUN 4th Oct 2015
4th release: £25.00 (+BF)
Members: £15 / 20 (+BF) AVAILABLE only from backto95.com