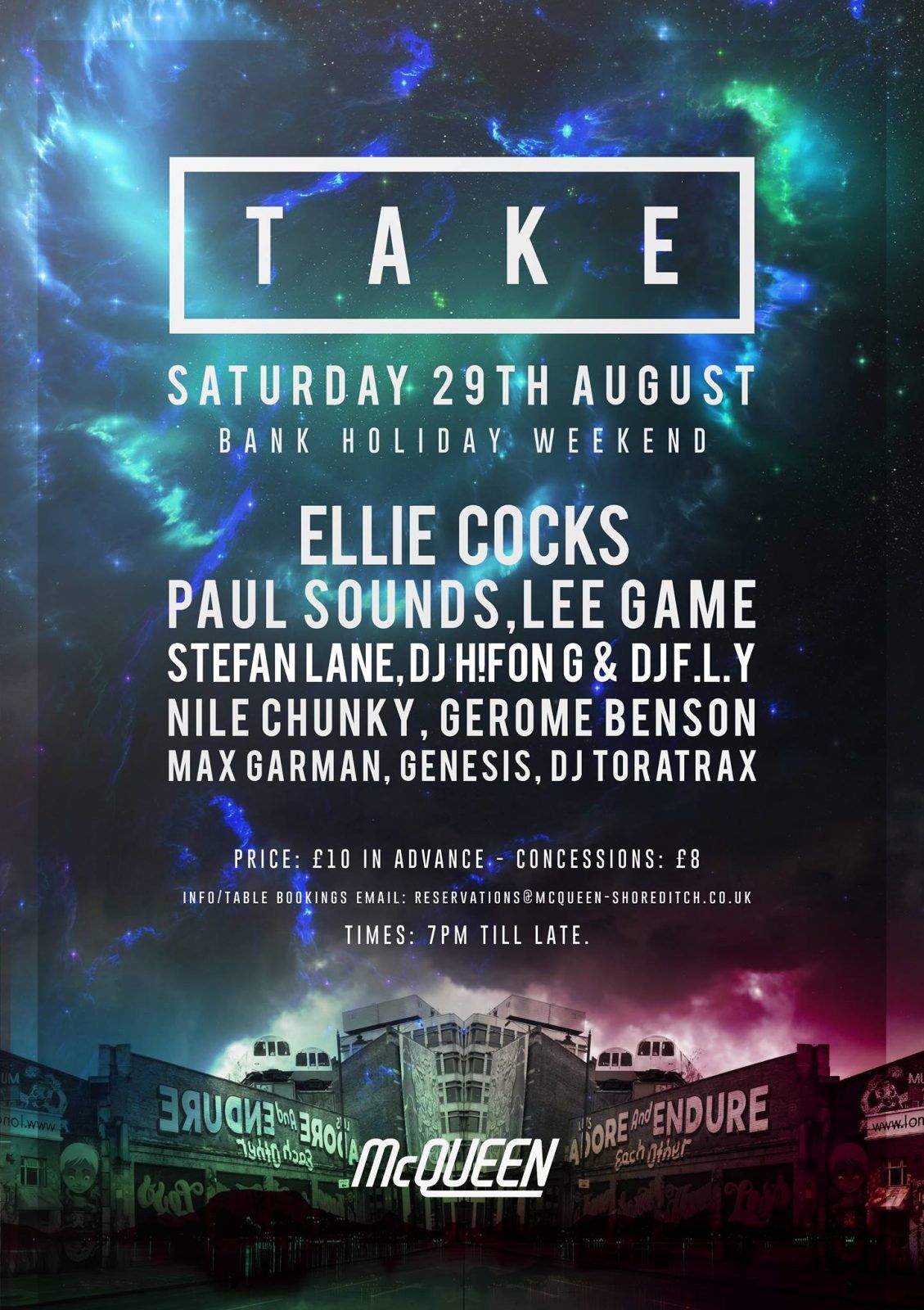 Take Bank Holiday at McQueen
Take return this August for another Bank Holiday special at McQueen!
Coming off the back of a recent night that bore witness to Take & McQueen showcasing the infamous Café Mambo Ibiza in London, we are back for a height of summer blowout at our London residency. Renowned for it's ever-consistent approach to entertainment, and a winner of 2014's Best Bar award in the London Club Awards, McQueen is a London location setting the benchmark for an all in one entertainment venue. With the same ethos shared in innovation and a standard of high quality, Take & McQueen is a perfectly matched recipe.
On the night we showcase the Take brand and our philosophy. We pay homage to the amazing emerging talent of the great London scene, in surroundings complemented by a carefully picked line up playing the best in soulful, deep & uplifting house all night! – A perfect carry on for those looking to continue the party after SW4 on a huge Bank Holiday Weekend in the capital! Cheap £10 advance tickets are available online. Tables SOLD OUT in advance for our May bank holiday event, don't miss out #takelondon
Line up:
Ellie Cocks
Paul Sounds, Lee Game
Stefan Lane, FJ H!FON G & DJ F.L.Y
Nile Chunky, Gerome Benson
Maxine Garmen, Genesis, DJ Toratrax
Tickets: £10 in advance | more on the door
Concessions: £8
VIP & table booking enquiries:
[email protected]
Dress code: Smart casual
http://www.facebook.com/thisistake
Tweets by ThisIsTake
http://www.instagram.com/thisistake