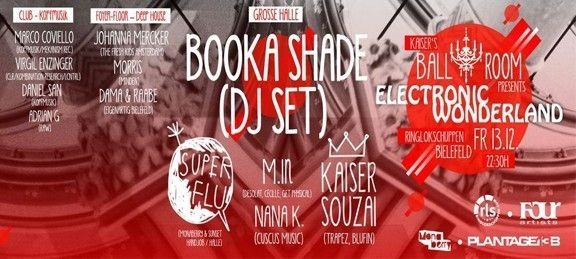 BALLROOM presents Electronic Wonderland
Berlin-based DJ & Producer duo Kaiser Souzai present their BALLROOM event at Ringlokschuppen, Bielefeld with Booka Shade, Super Flu and many more.
Kaiser Souzai – you might have heard that name before in a different context: In fact this is one of the most powerful men in the movie classic "The Usual Suspects". Markus Kaiser and Alex Souzai are neither gangsters nor mafiosi, but their name does carry similar weight around Germany's electronic club scene.
With a string of releases and Beatport bestselling faves on Yellow Tail Rec like Altomcumulus Floccus, Stratocumulus or Cirrus , Kaiser Souzai cemented their reputation as leading producers in their genre.
In January 2013 'Foggy' was released on notoruous cologne Blu Fin / Yellow Tail label on vinyl and digital. More releases on BluFin followed soon. The summer anthem "Bolero" was inspired by the mastermind Maurice Ravel. The guitar was played by Markus Kaiser himself.
Next releases on Natura Viva ('Hades' incl. Tony Dee Remix), Go Deeva Rec. ('The Rhythm'), Sullivan Room Records NYC ('Get 2 Ghetto' incl. Prompt Remix)
Releases 2014 on Trapez.
http://ballroom.cc
http://soundcloud.com/kaiser_souzai_berlin
http://www.facebook.com/kaiser.souzai.berlin
Get the 'KaiserSouzai' App on your iPhone, Android, Windows or Blackberry smartphone !
Download the latest Kaiser Souzai Mix for FREE
Get a chance to win a Kaiser Souzai shirt or a 'Techtronic' CD mixed by Kaiser Souzai and Pierre Deutschmann:
https://www.facebook.com/kaiser.souzai.berlin/app_1383014758585975