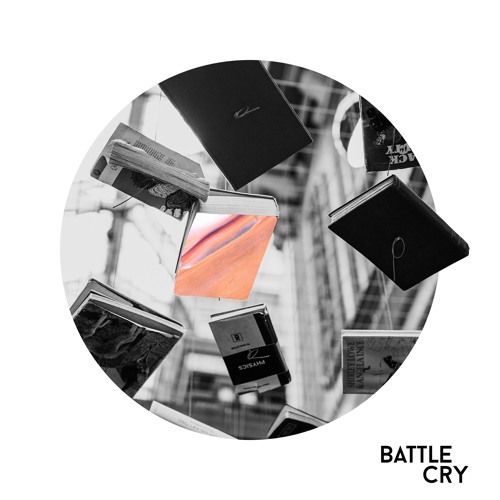 KYOTI - Battle Cry
Electronic art pop project KYOTI have announced the latest release 'Battle Cry' from their eagerly anticipated debut EP 'Orbit', due for release 24th February 2017. The release will be supported by a London launch night at The Waiting Room in Stoke Newington on the 27th February.

Made up of Ed Burgon, David Mabbott and Benji Huntrods, KYOTI combine their respective influences of folk, jazz, and pop to create a sophisticated contemporary electronic sound. Blending rich synths, polyrhythmic programmed beats and storytelling lyrics, the trio succeeds in painting an imaginative landscape of texture and emotion. 'Battle Cry' opens with Burgon's vocals over a minimalistic, teasing beat, building towards a crescendo of Kavinsky-esque synths and energetic drum beats.

Following on from their most recent release 'Chimera' which examines darker themes of loss and internal conflict, 'Battle Cry' explores a different kind of change, dealing with the decisions we face growing up. According to the group, 'Battle Cry' is "a reflection on that period of time which follows having spent your entire life in education…You don't want to be defined by what other people expect of you, but feeling like that's the only way you can carve an identity." For KYOTI then, this track is a statement; lead singer Ed Burgon defiantly cries "I won't shed my skin for anyone", highlighting the pressure young people face as they enter a world for which they are crucially unprepared by the educational system.

The group cites the likes of Childish Gambino, Chance the Rapper, Bob Dylan and Hozier as influences upon their ability to tell stories, by blending hip-hop style freeform rhyme with the melodic phrasing of classic singer-songwriters and contemporary pop. But their creative powers do not stop at their downtempo electro sound; KYOTI is indeed best understood as an art project. Drawing inspiration from British modernist sculptors such as Barbara Hepworth and the surrealist optical illusions of M.C Escher, the group makes use of colourful, abstract imagery in the face of the mundane urban environment to create feelings of fantastical escapism.

In their latest release from upcoming EP 'Orbit', art project KYOTI explore the difficulties faced by young people in today's world by blending bright synth-pop with powerful lyrical imagery. Having already earned support from the likes of Indie Shuffle, Complex, C-Heads and Clash, 2017 is looking bright for the London trio.