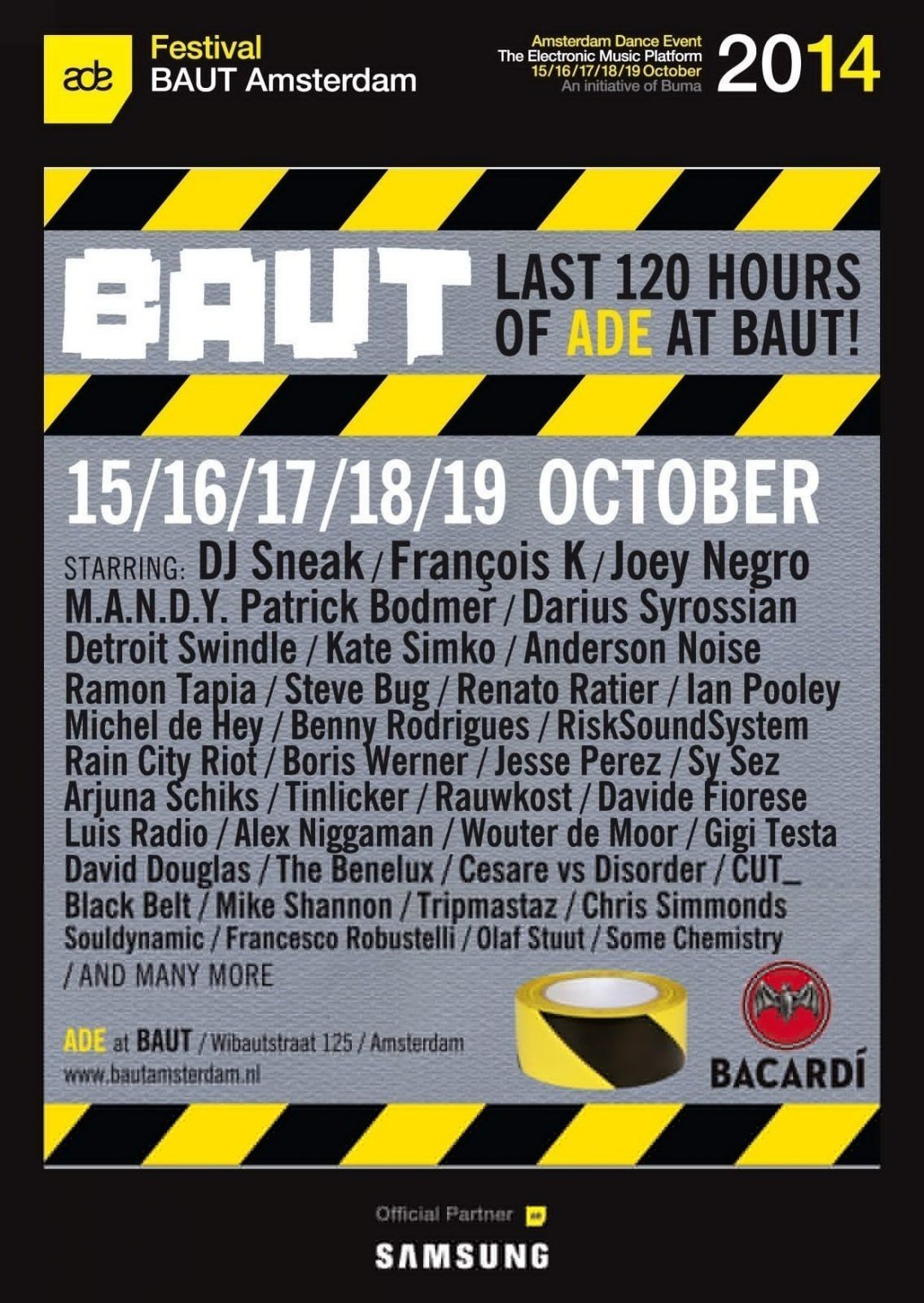 BAUT + ADE = 'Dinner&Dance' Madness
The seconds may well be ticking down on the BAUT egg timer, but the celebrated restaurant ensures its remaining time at the top table will be a sitting well spent. As part of the Amsterdam Dance Event it has supplied short-term succulence on Wibautstraat with a hefty dance music A-list whetting appetites through the twin notion of 'Dinner&Dance'. Serving hot platters between the 15th and 19th October, BAUT offers nourishment across two floors and a confirmed line-up featuring a spicy pinch of surprise, guaranteeing that the last ADE involving BAUT will leave a long and memorable aftertaste.
Such is the concept of BAUT that its opening back in October 2012 almost immediately marked the countdown towards its closure on December 31st of this year. With the restaurant's last orders approaching ever closer, its temporary status gives you all the more reason to live for the moment – ideology that the Amsterdam Dance Event has always emphasised – and to savour the flavours it still has to offer.
The ADE takeovers have developed into a larger buffet of beats from last year and the two room set-up relays the old adage of "if music be the food of love, play on". Calling time on lunch and concentrating on evening dishes as it continues its successful, uniquely angled association with the festival, those with a hunger should be on the lookout for special 'Dinner&Dance' cards with a matching menu to be issued once the dinner gong sounds.
A wealth of club heroes are to be found polishing off the opposition. Brazilian club D-Edge presents Black Belt on Wednesday, with Ian Pooley, M.A.N.D.Y.'s Patrick Bodmer and Boris Werner heading a posse ready to tuck in and throw down. Thursday is time to chow down and feel the realness of the certified funk of house gangster DJ Sneak, accompanied by Ramon Tapia and Detroit Swindle piling grooves high.
The 'Dinner&Dance' extravaganza fires up Friday with Soul Heaven, an evening that preaches the gospel of quality house music and gives you the chance to testify across two rooms. An ADE highlight last year, Francois K and Joey Negro are the heavyweights in charge of making this one a recipe destined to delight tastemaker tastebuds.
Saturday brings together Steve Bug's Pokerflat and Michel de Hey's HEY! Records for a BAUT dancefloor head to head, with renowned compatriot Alex Niggemann bringing additional heat. Michel de Hey plays a back-to-back set with Benny Rodrigues and also adds Rauwkost and Wouter de Moor to a show where you can never have too many cooks.
Additional events are still to come; Sunday scheduling will be announced soon, and there is also a planned spectacular where details are being kept under wraps and BAUT's special ingredients won't be revealed until the last moment. Once the table is cleared and BAUT departs ADE, its time as an extensive two-year pop-up project will have been sealed with five crazy days of 'Dinner&Dance' laying on a luxury banquet of beats and vibes.
Overview: BAUT presents ADE
Wednesday 15th October
D-Edge presents: Black Belt
Dinner starts at 18:00
Event: 22:00-04:00
Tickets: 15,- via http://bit.ly/XKoBMg
Facebook page: http://on.fb.me/1Dy9HcK
Line-up: Renato Ratier, Patrick Bodmer (M.A.N.D.Y.), Kate Simko, Ian Pooley, Cesare vs. Disorder, Mike Shannon, Boris Werner, Stekke, Ney Faustini & Gromma, Anderson Noise, Philogresz
Thursday 16th October
I'M A HOUSE GANGSTER
Dinner starts at 18:00
Event: 22:00-04:00
Tickets: 15,- via http://bit.ly/XnDCCZ
Line-up: DJ Sneak, Chris Simmonds, Darius Syrossian, Detroit Swindle, Jesse Perez, Ramon Tapia, Tripmastaz
Friday 17th October
Soul Heaven – hosted by Risksoundsystem, Meubel Stukken and BAUT
Dinner starts at 18:00
Event: 22:00-04:00
Tickets: 17,50 via http://bit.ly/1uWlD23
Facebook page: http://on.fb.me/1Cm6OKv
Line-up: Francois K, Joey Negro, Risksoundsystem, Sy Sez
2nd room: hosted by HOUSE MUSIC UNITED (HMU)
Line-up: Luis Radio, Davide Fiorese, Gigi Testa, Souldynamic
Saturday 18th October
Pokerflat vs. HEY!
Dinner starts at 18:00
Event: 22:00-04:00
Tickets: 15,- via http://bit.ly/hey-tix
Facebook page: http://on.fb.me/1mYFMFH
Line-up: Steve Bug, Michel de Hey b2b Benny Rodrigues, Alex Niggemann, Wouter de Moor, Rauwkost
Sunday 19th October
TBA
Dinner&Dance menu
1st course: Steak Tartare
Vegetarian option: Artichoke Tartare
Optional side dish: Thai Beef Salad or Tom Kha Kai
2nd course: Veal Sirloin with sautéed forest mushrooms and creamy potatoes
Vegetarian option: Risotto with pumpkin peanut crunch
Extra: Chocolate Dessert
Extra: Fresh Frites / Bautsalade
25,- for 2 courses, excluding ticket fee
www.bautamsterdam.nl