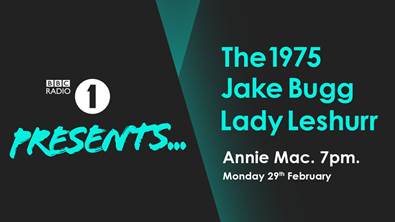 BBC Radio 1 Presents exclusive gig feat. The 1975, Jake Bugg & Lady Leshurr
BBC Radio 1 has announced that The 1975 and Jake Bugg will be performing an exclusive gig for Annie Mac (7-9pm) on Monday 29th February at the 02 Forum Kentish Town, London.
Radio 1 Presents will be an intimate performance and The 1975's first show following the release of their new album, with the band playing new tracks for the very first time.
Jake Bugg will also be exclusively playing tracks from his new album, his first new material in nearly three years. The line-up is completed by rising Birmingham MC Lady Leshurr who will be performing alongside Jake and The 1975.
Tickets are available now and will be sold on a first-come-first-served basis to those 16 and over.
The 1975 says: "Radio 1 has been a huge part of our journey so far and we're really looking forward to being part of Radio 1 Presents."
Annie Mac says: "I'm really looking forward to welcoming some of our favourite artists to perform at the Forum in front of a load of our listeners!"
For more information on the event and how to purchase tickets, head to the Radio 1 website – www.bbc.co.uk/radio1