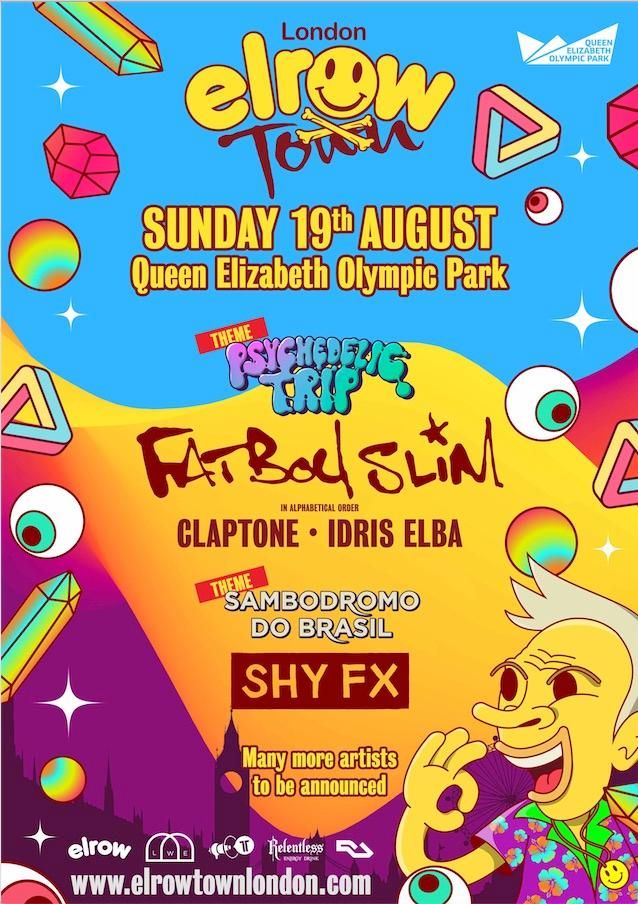 Claptone, Idris Elba and Shy FX join Fatboy Slim at Elrow Town London
Claptone, Idris Elba and Shy FX join Fatboy Slim at elrow Town on Sunday 19th August, with The Shaman and The Explorer characters unveiled as part of dazzling Sambodrombo do Brasil theme for elrow Town's second stage, 'The Cave'.
Whether it be on the screen or in the booth, Idris Elba has secured worldwide critical acclaim in whatever he turns his attention to, with his explosive collection of feelgood anthems at elrow Town destined to garner even more plaudits. Presenting his exclusive summer performance in the capital as part of the 'Fantast' album world tour, the masquerade maestro Claptoneunleashes sublime cuts from his latest record alongside the best in house and techno selections, while drum and bass titan Shy FX will crank up the pace in a flurry of thundering tunes and good vibes. Idris and Claptone join Fatboy Slim at elrow Town's Psychedelic Trip themed main stage 'The Town Square', whilst Shy FX takes top billing at the Brazilian jungle carnival themed 'Cave'.
Immerse yourself within the jaw-dropping surroundings of The Cave, one of many vibrant corners of elrow Town and home to the glorious Sambodrombo party, as The Explorermuddles his way through a voyage of discovery that he bases on exaggerated half truths and hyperbolic hearsay. Meanwhile, The Shaman's mystical powers free festival goers of their inhibitions, encouraging unrepressed dancing and connection with those around them, as well as a sip of his magic potion that will hypnotise any lucky recipients.
General release tickets for elrow Town on Saturday 18th have now sold out. For all tickets, please visit www.elrow.com
Claptone, Idris Elba And Shy Fx Join Fatboy Slim At Elrow Town London
Plus Meet Sambodromo Do Brasil Characters Shaman And The Explorer
Sunday 19th August 2018 | Queen Elizabeth Olympic Park, London
www.elrowtownlondon.com