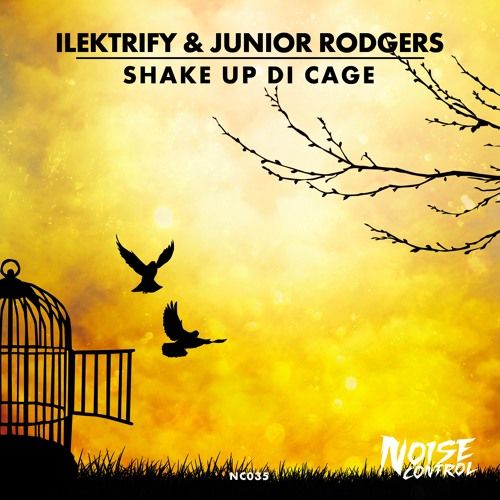 Behind The Scene's of Electrify & Junior Rodgers' 'Shake Up Di Cage'
Individually, Electrify AKA Q-ic or Luc Byltiauw and Junior Rodgers have been consistently producing arena-destroying EDM hits for many years, each coming to the attention of, and picking up support from, some of the biggest names in the business such as Ferry Corsten, Dimitri Vegas & Like Mike, Ummet Ozcan, Gregor Salto and Blasterjaxx. With both deciding to join forces recently to collaborate on 'Shake Up Di Cage', it's perhaps no surprise it has been a roaring success and a huge favourite of fans and contemporaries alike.
With many air miles and cultural experiences between them, 'Shake Up Di Cage', released on the mighty Peak Hour label, is a stunning fusion of ethnic sounds and production wizardry; something both artists have built an extremely solid foundation on. With their undeniable knack for being able to constantly and consistently produce smash after smash, we just had to sit down to ask them a little more about their production techniques and find out more about the inspiration behind 'Shake Up Di Cage'.
Hi guys, thanks for being here with us. How are you and what's going on around you at the moment?
We're doing great, thanks.
I: Since my latest releases on Panda Funk, Peak Hour Music & Ensis Records things really are moving. I've hooked up with a booking agency and the winter looks bright.
You've just released the 'Shake Up Di Cage'. How did this project come about?
JR: We were in touch for some time and we both wanted to collaborate on something but at the time we were both busy with a lot of other projects. Time passed and like a year later Electrify contacted me to ask if I could build on this break he made. Once I heard it I was sold right away and ideas started to flow on how to finish it, so I said let's do this.
I: Finding some spare time was the most difficult thing about the project. Junior Rodgers felt it from the very first moment and the first version of the drops he sent fitted the breaks 100%.
How would you describe this record in terms of style and sound?
JR: It's definitely a mashup of both our styles in that way our collaboration worked out perfectly. The theme of the track is very ethnic and is pretty catchy melody wise. This is a real big room track not really for the early sets.
Where did you draw inspiration from for 'Shake Up Di Cage''?
I: Well, we finished this track almost 1 year ago. At that time not many records used this ethnic-like theme. I really love to experiment with new influences and genres. So I thought, let's try this. I've ended up with a raw idea for the break, tried to keep it authentic, made a strong build in the big room style and sent it to Junior.
JR: I really got my inspiration from the break Electrify send me that was enough to get the creativity flowing.
How long did it take to complete this production?
JR: It really took some time because we never been in the studio together. We had to send stems back and forth until everything came together.
I: Yes, and a feeling about music is always hard to describe in words. So when you are not sitting together in the studio, that's a hard one. But as I said, Junior did a great job with the drops so it was all about the details.
Could you walk us through the production process behind the release?
JR: Like we said the process was really both of us doing our thing in our own studio and every time we changed or added something we'd send over the audio files to each other and then go from there.
I: There's only one minor difficulty about this workaround, that's getting the break and drop in the same 'sound'. We both have our own production methods but in the end it has to sound coherent.
Which plug-ins and sounds shaped this project?
I: For the breaks I used Sylenth and Nexus a lot. Both are great soft-synths that will do the trick. For the mix I'm a heavy UAD plugin user. The sound of these plugs are top notch. On my 2 bus all goes through my analogue Tube Tech multi band compressor which glues everything nicely together.
JR: For the drops, the main lead sound came from Serum which is just an amazing synth that can do anything and that sound is also pretty characteristic for this track. on the other side a lot of ethnic acoustic type sounds were used.
'Shake Up Di Cage' was released on Peak Hour Music. Can you tell us the reasons behind signing the record to Peak Hour?
We both released some records on Peak Hour Music in the past, so this was a logical choice. Peak Hour Music is a great label and it's expanding rapidly, supporting a lot of new talents out there. The label gets major support from the A-list artists and the people behind the label are great to work with. So we couldn't imagine a better label for this track.
Where would you imagine this production being played?
Anywhere people like to party.
Describe 'Shake Up Di Cage' in three words.
"Original Ethnic-house Banger" "PLAY IT LOUD"
Why should people listen to 'Shake Up Di Cage'?
It's an original tune full of unexpected influences which will stick to your mind.
Do you have any other projects in the pipeline this year?
JR: At the moment I'm really preparing for ADE finishing up a lot of tracks and testing them. Winter time is usually perfect for those long studio sessions so that's mostly the time the most work gets done in the studio for the coming season, so for me the next release will be early next year.
I: At this moment I'm working on a new record with Dennis Cartier, a talented young Belgian DJ/producer. I finished another big room record with Marty n Rizzo and a new single with Ded!cate will be released on Ensis Records November 25th.
Beside that I'm releasing new mashups weekly on my social media so don't forget to grab those to pimp your collection.
Available on Beatport
http://btprt.dj/2e6ZrC6
Electrify Online
http://www.ilektrify.be
http://www.facebook.com/ilektrify
https://soundcloud.com/ilektrify
https://twitter.com/ilektrify
https://instagram.com/ilektrify
http://www.youtube.com/ilektrify
Junior Rodgers Online
http://juniorrodgers.eu
https://www.facebook.com/juniorrodgersmusic
https://twitter.com/juniorrodgers
https://soundcloud.com/juniorrodgers
https://www.youtube.com/user/JuniorRodgers
Noise Control Online
https://www.facebook.com/noisecontrolofficial
https://twitter.com/noisecontrolrec
https://soundcloud.com/noise-control-music
https://www.instagram.com/noise_control