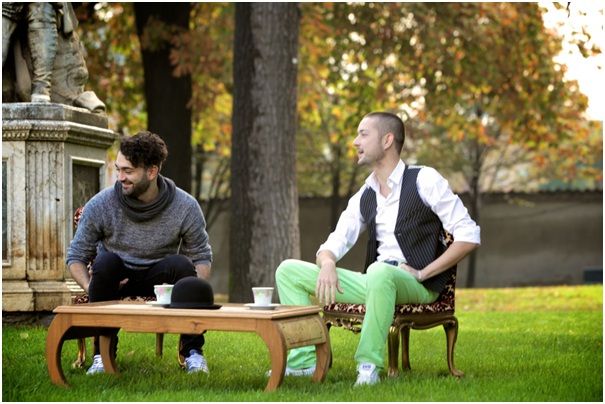 Behind The Scenes Of: John & Matt's 'Slow Down EP'
Up-and-coming duo John & Matt are quickly establishing themselves as one of the fastest rising duos within the current Dance music realm. A team-up between John Gagliano and Mathieu Fortin, the John & Matt project has produced some impressive results from the very start, landing a Beatport chart placement with their debut release.
Having explored the live music scene, John & Matt have later turned their efforts towards electronic music, managing to sign deals with renowned labels such as: Sullivan Room Records, Natura Viva, Dear Deer Records, Da Way, Sex Panda White, Esclama Records and Reloaded Recordings.
Whilst John & Matt are now cooking up their next releases, we've decided to have a chat with them about their latest wonder 'Slow Down EP' and get a behind the scenes view of this production.
Hey guys, thanks for talking to us. How are you today and what's going on around you at the moment?
Hey, thanks for this interview! We're very excited – our last release hit Beatport's Top100 charts two weeks ago and some of our tracks have been selected for several compilations. We're going through a very positive moment, release wise!
You've recently released a new project by the name of 'Slow Down EP'. What can you tell us about this?
We can say this is our most important project so far. 'Slow Down' is the track the whole John & Matt thing started from – it's the first track we've ever produced together!
How would you describe this project in terms of sound and style?
It's mainly House music, but the title track has an experimental bridge section, with a roaring Prophet lead synth, that gives it a sprinkle of IDM-like atmosphere. Same could be said for the second track, 'All Night' – mainly House music, with some extra-melody and harmony and a touch of IDM.
Where did you draw your inspirations for this one?
The bass-line, played on an electric bass-guitar by one of our closest friends – its clearly old school, while the marimba-like percussions are inspired by Frivolous, one of our all-time favourites.
How long did it take to complete this EP?
We started working on it exactly 2 years ago. But we spent the biggest part of this time waiting for the EP to be released.
Could you walk us through the production process behind it?
First of all, we used Propellerhead Reason as our main DAW for this one – we're in love with its work-flow. Matt came up with this bass-line and produced a first version of the track, but it was quite messy at the beginning – it has piano parts, synths, strings, 3 different marimba parts and a lot of other stuff piled up. This is when John came in – he performed a lot of what is called "subtractive arrangement" (i.e.: intensive use of the "cut" tool), re-organized the marimbas and recorded the vocals. In another week or so, we finished it together and sent it over to some labels.
About one year later, after signing the track to Sullivan Room Records, we decided to add some analog elements to it. We re-recorded the bass-line with a real bass player and the synths with a Prophet module, and we processed the drum track on tape. That's why it sounds so "warm".
How do the tracks within the package link to each other?
Well, there are different versions of the same track, from a more club-oriented version, to a 'synthtrumental' DJ tool. The second track, 'All Night', blends perfectly with the others, giving a slightly more UK-ish style to the release.
You've signed this EP to Sullivan Room Records – how did this deal come about?
We signed a very nice EP with a cool Indie Dance label called Dear Deer about one year ago, and one of the remixers, Grass Is Greener (who was a resident DJ at the most important underground club in NY, the Sullivan Room) introduced us to Meandisco, the guy who turned the Sullivan Room club experience into a successful record label. We played him some of our unsigned tracks, and he signed 6 of them in a row!
Where would you imagine this production being played?
It's a perfect "room 2" release. It probably can't be played in a big room at peak time, but it's absolutely amazing if played between midnight and 2:00am – every time we played it, things immediately got hotter on the dance floor.
Describe 'Slow Down EP' in one word.
Mighty.
People should listen to 'Slow Down EP' because…
It puts you in the right mood for a long clubbing night.
Do you have any other projects in the pipeline this year?
Sure! another EP with Sullivan Room, one with Modern Day Music and another one with Natura Viva in the next 3 months, plus several compilation entries. Quite a busy schedule!
Thanks guys!
Thank you!