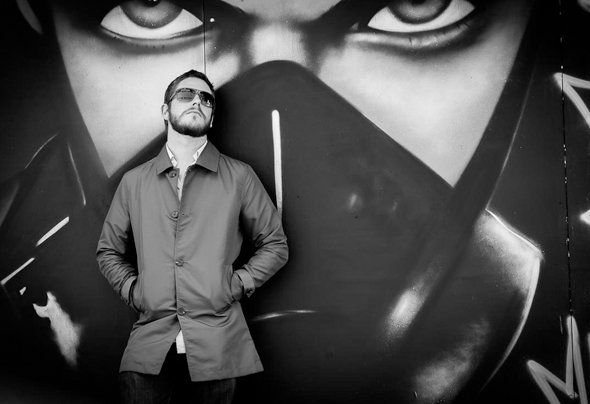 Behind The Scenes Of Matt Holliday's 'Underworld'
We caught up with Matt Holliday to chat about his latest release on Bonzai Progressive called 'Underworld'.
Hi Matt, thanks for being here with us. How are you and what's going on around you at the moment?
Hello, you're welcome and thank you for having me. I'm very well thank you. As you may know I moved from England to Bulgaria almost exactly one year ago. It was a life changer, and threw up many obstacles as you would expect. However, I wouldn't change a thing, It's been one big adventure with ups and downs but I think it's helped me to become a better person. After a whirlwind of a summer by the sea in a tourist resort, I'm now in my wife's town (Neli) all ready for Christmas and enjoying a less hectic atmosphere with her and my stepdaughter Yoana. It's very quite here, freezing cold and snowing. I spend most of each day working on new productions, putting together mixes, promoting new releases and studying Bulgarian language.
You've just released the 'Underworld'. How did this project come about?
Like most of my projects, it just happened. I had an initial idea of the overall sound I wanted – deep, dark muddy and loose sounding beats with a lot of atmosphere. I started off as I normally do with working on the beats and atmosphere. Once I had the first 2 minute everything just flowed. It was around this point when I decided I wanted it to have a vocal. I already had the vocal I used and with some simple editing, chopping and some effects it fit really well almost straight away so I knew it was the right vocal.
How would you describe this record in terms of style and sound?
I would describe it as a deep, dark atmospheric track, which just seems to plod on. Loose, non-generic and haunting.
Where did you draw inspiration from for your 'Underworld'?
Inspiration is hard to pin point, for me it all depends in my mood at the time of sitting down and starting a project. If I hadn't of sat down at that moment in time, it's likely Underworld wouldn't exist. That's what I love about music and music production especially. Rather than sell out and make music for the masses, which I easily could, I stay true to myself and see it as an expression of myself. When I listen back to tracks I've made, I love the fact that it could have only happened at that moment in time.
How long did it take to complete this production?
From start to finish Underworld took me about 2 weeks. But I should add that sometimes a track can be born in 1 day, sometimes a week. It all depends what's going on in my personal life at that time. I definitely think it's better to come back now and again over a matter of days with fresh ears and ideas.
Could you walk us through the production process behind the release?
First comes the kick, then the percussions drums and bass. I play about with these elements for hours until in my mind they are perfect. Normally I like to piece elements together which you would expect to be the full track at around 2-3 minutes. Once I have this I know if it works, then I start to draw the track out adding additional elements as they come to me. I do most things as I go along – i don't draw the track out, then add effects, I shape each sound as and when I add it. Off course at the final stage 'the mixdown' I do further processing and adjustments but generally even if I'm only 3 minutes in I want what's there to sound as intended.
Which plug-ins and sounds shaped this project?
I make my loops with Logic's own 'Ultrabeat', I know it like the back of my hand so for creating interesting patterns and loops it's perfect. I normally go a step further though, nearly every track in the project I render to a wav, drag back in, chop-up, create several different instances off it and do further automation effects processing. This is my way of keeping things interesting – it's kind of a sub-conscious thing. You can't pinpoint what has changed as it's so subtle, but something has, that's why your still listening. Synth wise I'm absolutely in love with Uhe's 'Diva'. I used this for the atmosphere in Underworld. The key is automation, I automate everything I possibly can just to see what happens and then normally find a balance that fits.
The 'Underworld' was released on Bonzai Progressive. What was the reason for the decision behind releasing on this label?
Bonzai is a fantastic label, and they have been really good to me. After bad experiences with so many other labels they are a godsend, plus the music they release is second to none. Even back in my trance days it was always a dream to sign with Bonzai. This dream finally came true in 2015 with my track 'Memories Of Yesterday'. Also, their artwork is by far one of the best I've ever seen. When I sign a track to Bonzai I can't wait to find out what the artwork will be. For me it's important. Sure you can have a great track with crap artwork, but it's about the whole experience. It's a package and Bonzai do it perfectly.
Where would you imagine this production being played?
Everywhere and anywhere. Why not? Underground venues for sure – people who are serious about their music but I like the thought of a young aspiring dj/producer mixing it in his bedroom, or a middle aged man in Japan listening to it on his phone on the train home from work. This track is for everyone, and anyone who likes it.
Describe the 'Underworld' in three words.
Deep, dark, depressing
Why should people listen to the 'Underworld?
Because it's not just another track to accumulate fame or wealth. It's an artists expression of himself at that moment in time.
Do you have any other projects in the pipeline this year?
Endless amounts. I'm producing almost 7 days a week. My style varies a lot, I don't just make progressive. I like to experiment which is why I have started my own label 'Coherent Mathematical Systems' for tracks of a different nature. Depending on my mood I also make techno, chill-out, electronica… It's hard to define a lot of what I do. I just produce, produce and produce, what I feel and what I think sounds good.
Available on Beatport
https://www.beatport.com/release/underworld/1873482
Matt Holliday Online
http://www.matthollidaymusic.com
https://www.facebook.com/matthollidayofficial
https://twitter.com/MHM_Official
https://soundcloud.com/matt_holliday_music
https://www.youtube.com/user/matthollidaymusic
Bonzai Progressive Online
http://www.bonzaiprogressive.com
https://www.facebook.com/bonzaiprogressive
https://soundcloud.com/marnikbonzai
https://www.youtube.com/user/bonzaiprogressive