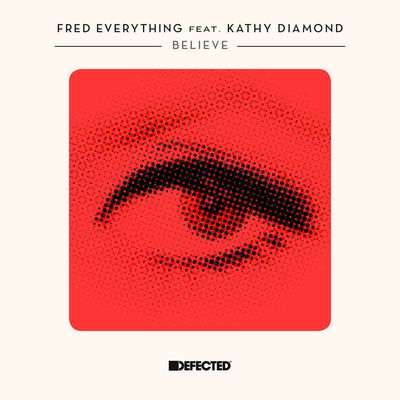 Fred Everything feat. Kathy Diamond - Believe (inc. Giom and Tanner Ross Mixes)
'Believe' is the phenomenal new single from French-Canadian DJ and producer Fred Everything, forthcoming on Defected Records, with a further single 'Searching' featuring the vocal talents of Jinadu also signed to Defected, and set for a release along with fresh remixes later this year.

Fred acquired the pseudonym of 'everything' in the early nineties due to the eclectic nature of his sets that spanned techno, house and even drum and bass. Now with over two decades and 200 releases to his name, Fred has graced the finest house music labels in the world, and was recently voted #3 in Traxsource's Best Deep House Artists of 2015.

Accompanied by Kathy Diamond's soft jazz vocals, the original cut of 'Believe' is quite simply stunning, with a steady grooving house bassline with a warm, relaxed vibe. Alongside the dub version of the original, the package comes with three unique takes from two outstanding producers.

Giom takes it deeper and more percussive with both his remix and dub, giving the easy-going track a more rhythmic build-up. It's not surprising considering when Giom's not at the mixing board he's working a drum kit.

Tanner Ross's remix maintains the laidback vibe, removing the original track's keyboard and introducing a contrasting synth motif. Bringing some of his Boston soulful house style to the remix, Tanner Ross draws out the seduction in Kathy Diamond's soft vocal giving it real depth.