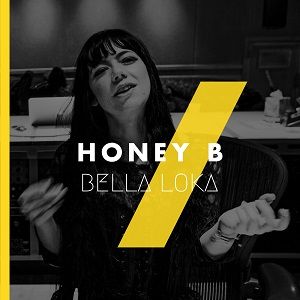 Honey B - Bella Loka
Indie electro-pop duo Bella Loka are pleased to present their new single, 'Honey B', via DEFDISCO. The sparkling new song offers a taste of the pair's forthcoming debut album set for release later this year.

The track takes a vibrant stroll though simmering synthesizers, clasping drums and soaring melodies. The glossy electro-pop duo's sound is reminiscent of artists like Marina & The Diamonds, Violins For Milk, and Little Boots, while remaining on an unparalleled and sparkling pedestal all on its own. Coupled with B-side 'We Are Young' – a carefree and gentle lullaby of acoustic guitars and breathy vocals – the single amplifies the pair's love for a catchy hook and lush melodies.

Made up of Tea and David Boothby, Bella Loka originally hail from Bristol, but now reside in Camden Town, London. With a sound that blends the expressive vocals with indie-pop electronica textures, the band condenses heavy, soul-searching lyrical themes into deceptively upbeat alt-pop songs. During their live performances, the band's songs often stand side-by-side with singer Tea's own poetry readings, adding another candid dimension to the duo's impressive range of talents. The multi talented Tea is also responsible for producing and directing the band's music videos, showcasing her skills behind the camera alongside writing infectiously beautiful pop songs.

Signed to DEFDISCO, a new and thriving independent record label who are home to artists like hip-hop legends Public Enemy, Lovestarrs, and 88 Killa, Bella Loka were first spotted by the label whilst recording their album at the famous Abbey Road studios during a session with in-house producers Rob Cass and Pearse Macityre (Cave Productions). Understanding the importance of artists shaping their own sonic aesthetic and identity, Bella Loka were heavily involved with the production of the album and worked closely with Cave Productions to create their new record.

No strangers to hard work, Bella Loka's journey has been one of ambition, graft, and persistence. With the release of 'Honey B', coupled with their forthcoming debut album, Bella Loka ascent to the top of the pop world is set to reach new and dizzying heights.
www.bellaloka.com
www.facebook.com/bellaloka
www.twitter.com/bellalokamusic
www.instagram.com/bellalokamusic