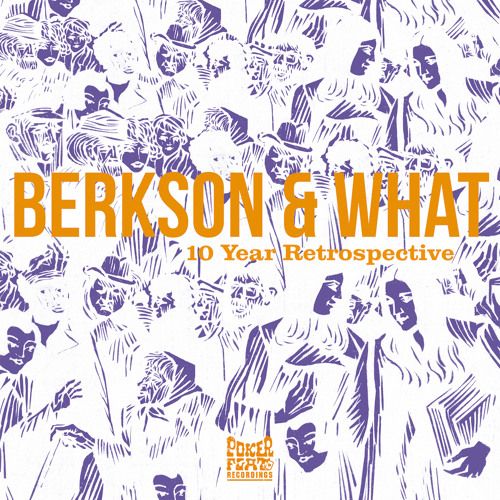 Berkson & What – 10 Year Retrospective
Since their first 12″ in 2006, Dan Berkson and James What's musical odyssey has been relentless and relentlessly impressive, taking in standout live gigs around the world from Sonar to Fusion to Fabric to Panorama Bar, the launch of the MODELMAKER label and their debut album 'Keep Up Appearances', and a constant stream of releases that encapsulate their signature take on the tech house sound. Throughout that time, Poker Flat has been home base, to which they now return for an essential anthology gathering favourite tracks and remixes from a thrilling decade.
The compilation kicks off with their reimagining of Daniela Stickroth's 'Ghost In The Attic' – a deeply immersive groove full of shimmering details and dubby clatter, where every element unfolds organically. Also from 2006, 'The Dig' teems with subtle ideas, contrasted with a playful, upfront synth riff and a brutal, no frills machinemusic climax. As you'd expect, everything that follows is more than worthy of highlight status, from the air of menace and mystery conjured by 'Cantina' to the booming groove of 'Ghosts', the rhythmic pings and pulses of 'Last Train' to the deep funkiness of 'In Person'.
Along the way, a depth and breadth of tones, textures and moods are evidenced testimony to the duo's eclectic tastes and perpetual ability to invent and innovate. 'If I Was A Man', 'Onika' and 'Reflections' display their love of spoken-word performance and hypnotic minimalism, the latter featuring Robert Owens in decidedly gruff mood. 'Psychedelic Under- ground' builds into a complex, enveloping jacktrack. The remix of D'julz's 'Runny' and 'Make It True' (a recent release on Seth Troxler's Play It Say It label) showcase blue-tinged chord sequences and dreamy atmospheres before the Detroit vibes of 'Seraphim' and the hands-in-the-air synths of 'Keep On' bring the compilation to a truly memorable climax.
With a slew of upcoming releases scheduled on Dogmatik, Get Weird and Play It Say it in the offing, this is a brilliant primer to a duo whose works go from strength to strength.