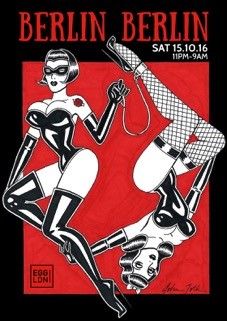 Berlin Berlin: Peep Show
Berlin Berlin: Peep Show
Saturday October 15th
with a Sisyphos Showcase featuring Fidelity Kastrow, Jonty Skrufff, Juli. N More
+ Chalet Club's Mark Henning
Berlin AllStars: Alexander Koning, Eveline Fink, David Delgado
**Strictly No Camera Policy**
Come and join in the unrestrained special 'Peep Show' edition of Berlin Berlin on Saturday October 15th at Egg LDN powered by a musical soundtrack from some of the city's key contemporary cutting edge techno & house scene shapers featuring the all-weekend party Sisyphos residents Jonty Skrufff, Fidelity Kastrow & Juli.N More alongside Mark Henning, Alexander Koning, Eveline Fink and David Delgado.
Blurring the boundaries of nightlife to create a party playground where anything goes and pulling out all the stops, Berlin Berlin runs riot pioneering a strict no camera policy (adopted from Berlin) as its young risqué underground crowd party till the sun rises. 'What goes on in Berlin Berlin, stays in Berlin Berlin' (!) distilling the true essence of the city's unique and experimental hedonistic party vibe. Fuelled by jaw-dropping performances, BB's polysexual atmosphere explores the Berlin:London connect at its wildest…
With massive queues and tough door pickers, Sisyphos attracts a flamboyant colourful crowd of miscreants and misfits with the DJs championing its own techno, deep and house sounds. Delivering driving, energetic, powerful music that's been deliberately designed for dancing, which makes sense given their parties start on Friday and finish on Monday! Sisyphos residents Fidelity Kastrow, Jonty Skrufff & Juli.N More return for their 5th BB session and be prepared to stay late as all three totally rocked Egg Ldn last time and will be whipping up another techno/house storm guaranteed to make you dance.
Representing the contemporary sound of present day Berlin are Chalet Club's Mark Henning,
who has risen up as one of the underground's true players, recording for a volley of international house & techno labels such as Soma, Hypercolour, Poker Flat, Freude am Tanzen and more recently his own imprint Swing, where's up to his 4th release. His sound sits somewhere between house and techno, with a healthy dose of darkness, swing and funk.
Berlin All Stars on the decks include Producer/DJ/Label owner and promoter, Alexander Koning, who has a solid standing in the contemporary world of electronic music and is known for delivering classy house and techno grooves via his [Percep-tion] label. Hosting label showcases at one of Berlin's leading club spaces Katerholzig, he continues to be in demand all over the world at leading nightclubs such as Watergate and Paradiso.
He's joined by Eveline Fink, whose passion for music saw her relocate to Berlin releasing her first"Hula Hoop EP' on her own Enough! label in 2011. Since then she's built up releases and remixes on RA + RE Records and Indepth Music Records and her tireless deep musical passion continues to propel her onwards and upwards
Last but not least is Bogota-born but Berlin-based David Delgado, resident DJ at Club Der Visionaere, where he's known for Extended sets and fierce parties. He brings a certain swing to his crisp tech house sets that layer techy bassline sounds meshed with house and notes of hip hop and funk. As a producer he's notched up releases such as the 'Roniti EP' on Chicago label Siteholder UnCut; 'Macondo EP' on Pete Lazonby's GHI Records; 'Japan Calling' on Neovinyl's various compilation; the Red Robin & David Delgado Remix of 'Lost The Train' on R2D2' and 'Take Your Shoes Off' on Highgrades. He also runs his own party brand and label Wox.
Berlin Berlin welcomes back Dalston's alternative Homostash crew headed up by Tafkanik and co who takeover the Loft space firing up the dancefloor with their brash house, techy and nu disco sounds.
In Egg LDN's club-within-the-club, Apothecary, Kuntskammer aka club kids Lewis G Burton, Kassandra Powell, Bambi Blue and guests host an avant-garde salon featuring wild cabaret, peep show poses, music and much more…where the wheels of Berlin Berlin truly come off.
More performances across the night follow in the Garden with 4 other leading lights of London's extraordinary cabaret scene on the front cover of July's Gasholder http://www.gasholder.london/2016/06/29/berlin-berlin-egg-risque-cabaret-acts/ including the incredible lady in red, Marnie Scarlet; the mysterious minx, Beatrix Carlotta; fetish raunch star, Cynth Icorn; Von Kuntz and the other wordly, Syban.
Berlin Berlin is one of Egg Ldn's flagship nights, blurring the boundaries of nightlife to create a party playground where anything goes.