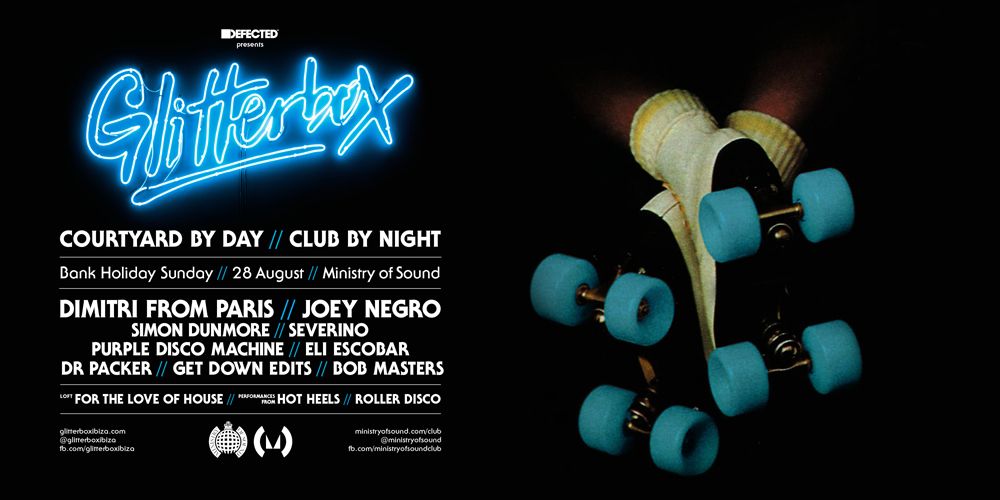 Glitterbox Bank Holiday Roller Disco!
Glitterbox have announced a Roller Disco and two outstanding culinary additions to their special day and night party at Ministry of Sound on August Bank Holiday (with the daytime part in Ministry's famous Courtyard space).
Opening at 4pm on 28th August in the Courtyard, the party features Dimitri From Paris, Joey Negro, Simon Dunmore, Severino, Purple Disco Machine, Eli Escobar, Dr Packer, Get Down Edits, and For The Love Of House, plus performances from dance crew, Hot Heels. The Roller Disco will take place in the club's legendary Box from 5pm to 8pm.
Outside in the club's Courtyard space, Sushi Surprise and Burger Bear will be serving food from 4pm to 9pm, providing ample fuel to ensure the Glitterbox faithful can arrive early and carry on through from dusk until dawn. Sushi Surprise, a favourite of the Glitterbox and Defected crew, is one of the hottest sushi outfits in London, for more info please see www.sushisurprise.co.uk. Burger Bear are one the capital's carnivorous success stories, with several outlets in London and a well-known addition to festivals including We Are FSTVL (www.burgerbearuk.com).
Glitterbox's event at Ministry of Sound in May, where Basement Jaxx and The Shapeshifters capped an incredibly memorable night in the legendary Box, was a defining moment in the party's history and the perfect start for their 2016 summer season. For images see: http://defected.com/gallery/07.05.16/glitterbox-ministry-sound/
Glitterbox began their 2016 season at Space, Ibiza in spectacular style on Friday 3 June. Since then, every Friday night has broken previous records with tens of thousands dancing to the likes of Basement Jaxx, Roger Sanchez, Dimitri From Paris, and many more, so far this season. There are now only 10 parties left to experience the best Friday night on the island, and the final chances ever to enjoy an event which captures the original spirit of Space Ibiza before the venues closes for good in October.
On August's second weekend, Glitterbox will then travel to Croatia for the first time, curating a night at the inaugural, 5 day long Defected Croatia Festival in Tisno, Dalmatia. On 23 September, Glitterbox caps its biggest summer to date with the 2016 closing party at Space, Ibiza, featuring Todd Terry, Dimitri From Paris, Joey Negro, and Purple Disco Machine.
TICKET LINKS:
Glitterbox Ibiza (tickets): http://www.eventbrite.co.uk/o/glitterbox-8158854980
Glitterbox at Ministry of Sound (tickets): https://www.eventbrite.co.uk/e/defected-presents-glitterbox-day-night-pa…
Glitterbox at Defected Croatia 2016 – 13/8 (tickets): http://defected.com/croatia/
https://www.eventbrite.co.uk/e/defected-croatia-2016-tickets-20919176821…
Roller Disco in the Box (5pm-8pm)
Sushi Surprise and Burger Bear pop-ups in the Courtyard (4pm-9pm)
14 hour day and night party at Ministry of Sound
Glitterbox Ibiza in midst of record-breaking 2016 season
Glitterbox Ibiza compilation out now
GLITTERBOX AT MINISTRY OF SOUND
SUNDAY 28TH AUGUST
4PM – 6AM
DIMITRI FROM PARIS
JOEY NEGRO
SIMON DUNMORE
SEVERINO
PURPLE DISCO MACHINE
ELI ESCOBAR
DR PACKER
GET DOWN EDITS
PERFORMANCES FROM HOT HEELS
FOR THE LOVE OF HOUSE