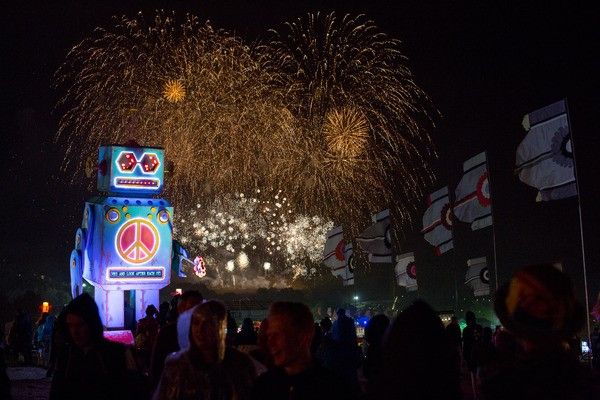 Bestival 15 brought the third Summer of Love to life
Bestival 2015 was a psychedelic wonderland that brought the third Summer of Love to life! With a passionate crowd of hippies, ravers and lovers, it was four days of sun-drenched joy.
Rob da Bank says: "Thanks a million for making our Summer of Love so spectacular… It was a crazy colourful explosive ball of fun and love and music and mad things happening. With truly memorable moments and amazing new things like Slow Motion, Missy, the Carnival Parade, the Port, the Blind Tiger, the Chemical Brothers, Revolution Ride, the Love-Bot and a thousand other things I could list, I think we've taken it up another level this year and having such a lovely crowd was no small part of that. I've already got some amazing things lined up for next year, so watch this space!"

Featuring incredible headline sets from Missy Elliott, Duran Duran, the Chemical Brothers and Underworld, and mind blowing performances from Boy Better Know, Tame Impala, The Jacksons, Flying Lotus, Skrillex Annie Mac, Future Islands, Duke Dumont, Mark Ronson, Charli XCX, Action Bronson, our special guests House of Pain and so many more, not forgetting what can only be described as an utterly insane reaction to the Chuckle Brothers, it's a been a truly vintage year!
With a mass busk, an eight metre tall Love-Bot, the return of our record breaking disco ball and our beloved I Heart Bestival sign, totally delicious food, our brand new arena Slow Motion, cuddly llamas, jaw-dropping night parades, glitter-strewn cabaret, Carnivale, fantastic comedy and most of all you, our summer-loving crowd, filling our lysergic land of awe with delight, we don't think it could have been any better! So we want to say a massive heartfelt thank you for making it another absolute corker.
We're already chomping at the bit for Bestival 2016, and, if you're anything like us, you'll be pleased to know that limited Early Bird Tickets go on sale at special prices from 10am on Friday 18th September. Do. Not. Miss. Out.
And, if you've already got the Bestival blues, make sure you catch Seth Troxler's two-hour Essential Mix recorded at The Port, which is going out on BBC Radio 1 next Saturday 19th September at 4.00am and our Channel 4 Bestival Special coming soon.
X Bestival
Lots Of Very Exciting Information: www.Bestival.net
#Bestival15 / #SummerofLove