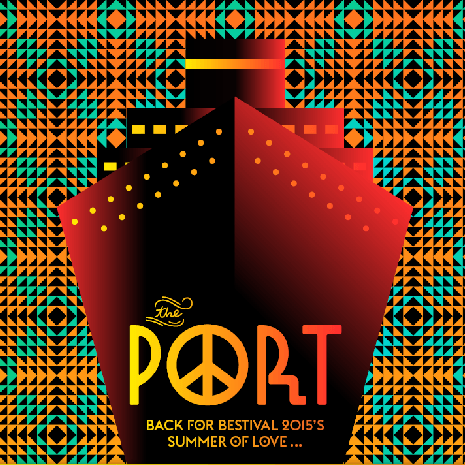 Bestival announces line-up for The Port
BOOM! And we're back with Bestival's epicentre of rave behaviour, The Port. A mind-blowing nautical vision firing the big cannons, our landlocked labour of love is where the dancing party's at. From amazing pyromaniacs and breath-taking aerial performances, to a staggering DJ line-up that will keep you reaching for those brain-melting lasers all weekend long, it is an unmissable destination that will be an essential part of the full-on Bestival experience this September 10-13 at Robin Hill on the glorious Isle of Wight.
Our own king of the ones & twos Rob da Bank says: "The Port is one of our finest achievements at Bestival, with some pretty stiff competition from all the other inventive constructions that have gone down over the last 12 years. A massive ship seemingly anchored into the grass at Robin Hill complete with smoking funnels, rusty portholes and all topped off with a crazy crew of nautical nutters dancing day and night in laser beam ecstasy.
"I cannot wait to see what Skrillex will pull out the bag for a Sunday finale. Sonny hasn't been to Bestival for four years so a lot has changed for all of us, and I think The Port is gonna be very special that night. Especially because, as anyone who's seen Mark Ronson DJ knows, they're in for a massive treat, too – a sublime Sunday night double-header, even if I do say so myself. I love Annie Mac's back to back extravaganza – great concept and some amazing talent, and our Friday techno and disco explosion will kick it all off nicely. All aboard for another insane party at The Port!"

Making his return to Bestival, we are absolutely ecstatic to be able to announce the mighty Skrillex will be ramping up the late night action on Sunday. A trail blazer of electronic dance music, he's a six-time Grammy award winner, and a global icon, so you can guarantee when he drops the magic, it's gonna go off. Fierce beats and rib-smashing bass ahoy!
He might know a thing or two about ruling the pop charts but Mark Ronson has got fat beats flowing through his veins. A true master with a pair of turntables, his sets are consistently devastating, spanking dancefloors into submission worldwide. Add in a touch of HMS Bestival's own special magic and you're on course for some truly euphoric last night shenanigans. Not to be missed.
With Annie Mac taking the reins on Saturday showcasing a series of very special back to back rinses, and Seth Troxler large and in charge on Friday, we really could keep you dancing all weekend long. And we just might, with sets from Four Tet, Tale of Us, Guy Gerber, Jackmaster, David Rodigan MBE, Hannah Wants, Mistajam, Erol Alkan, Andrew Weatherall, Greg Wilson, Toddla T, High Contrast and London Elektricity.
We'll also have the very welcome return of Croydon's finest, Benga, plus Special Request, Horse Meat Disco, Monki, Mele, Wookie, Slimzee, Etherwood, Fred V & Grafix, Dynamite MC, The Heatwave, Kiwi, Low Steppa, Logan Sama, Mella Dee and Flava D.
It's not just a dance stage, it's a life changing experience. Make sure you get yourself to The Port this September for a blissful summer of love.
Digital Love: www.Bestival.net / Facebook / Twitter / Instagram / Tumblr
#Bestival15
BESTIVAL TICKET LINKS & INFORMATION:
www.ticketline.co.uk/bestival-tickets / 0844 888 4410
Adult Ticket £195.00
Student Ticket £185.00
Teen (13-17) Ticket £130.00
Child (12 & under) Ticket Free (BUT you MUST obtain a ticket)
Campervan Ticket £92.50
Adult Wild Copse Ticket £325.00
Teen Wild Copse Ticket £165.00
Caravan £105.00 Car Park £15.00
All Tickets: – will incur a booking fee. – incur a £1 donation to the Isle Of Wight Youth Trust*.
There are no Day Tickets.
Lucky Cat Hospitality Packages are also available.