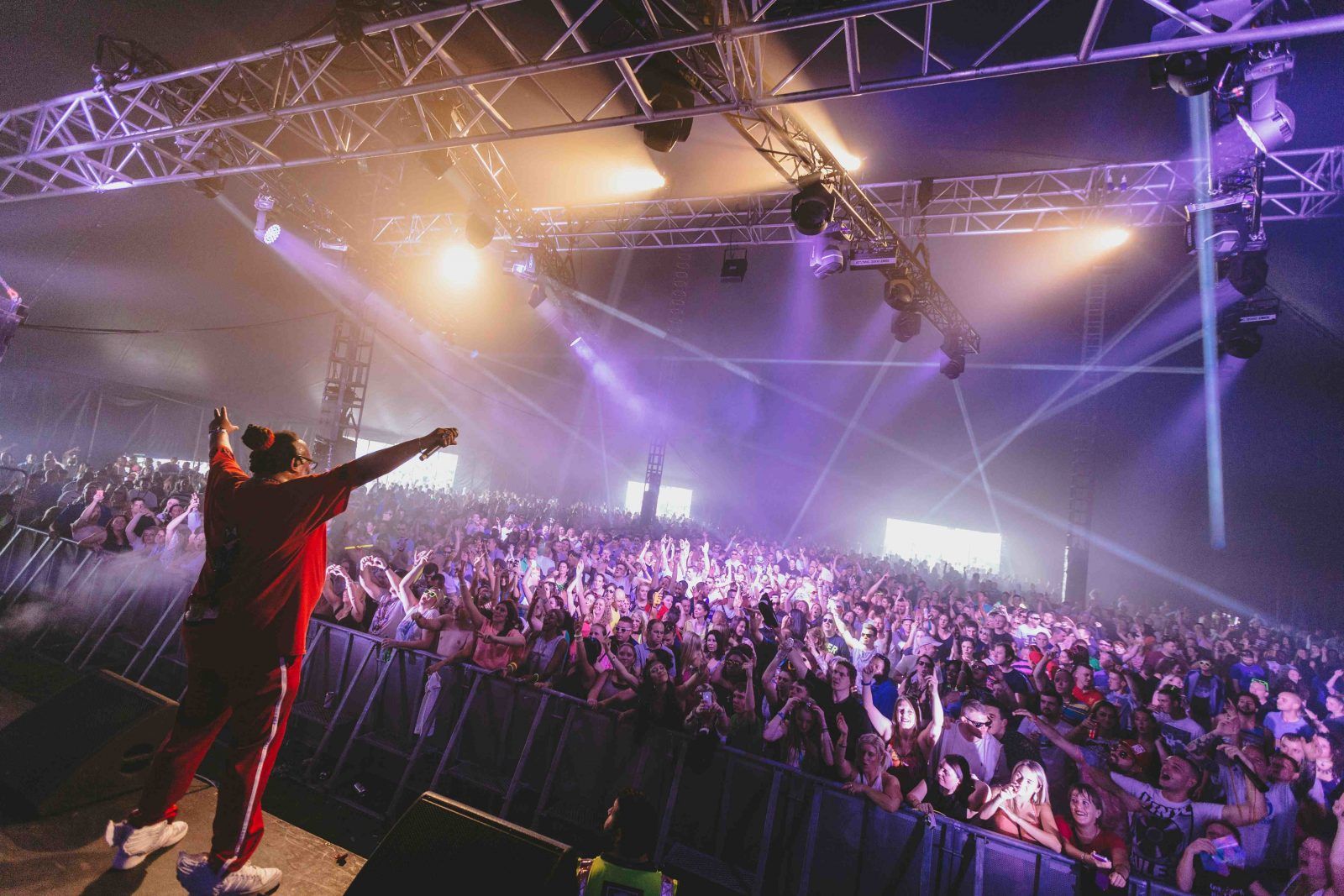 United Festival line-up announced
Following a colossal sold-out debut last year, United Festival returns to Finsbury Park on Sunday 13th September to close the summer for the second year running. Celebrating over 25 years of British rave culture, United have enlisted leading instigators of a movement that resonated across the globe to shape the face of modern-day club culture. Eight stages of music will feature sets from over one-hundred-and-fifty acts including DJ Hype, 808 State, Lisa Lashes, The Ratpack, Force & Styles, Fabio & Grooverider, DJ Hazard, Randall & DJ Storm, Slipmatt, Kenny Ken & Jumpin jack Frost, DJ Luck & MC Neat, Pied Piper, Robert Owens, Marshall Jefferson, Graeme Park, Mark EG, Andy Farley, Baby D and many, many more…
Representing an ideology that traversed the boundaries of convention and defined a new generation of sonic revolutionaries, British rave culture is now recognised as one of the most iconic movements in recent cultural history. Setting out to reinforce this ethos, United Festival will be the fifth and final event in the epic summer festival Found Series – produced in collaboration with essential rave luminaries, Slammin' Vinyl.
United's Main Stage will host an electrifying line-up, with multi-award winning drum & bass and jungle producer DJ Hype taking headline duties to showcase his revered Playaz sound. The original Queen of Dance Lisa Lashes returns after a memorable set at last year's festival, whilst seminal acid house collective 808 State will make their United debut. Drum & bass stalwart Harry Shotta will present The Harry Shotta Show, showcasing the best of his new album, whilst Force & Styles are to play an exclusive, one-off set celebrating the world's biggest hardcore classics.
Old Skool lynchpins The Ratpack and Fabio & Grooverider will also be in session alongside Deckajam and a flurry of live PAs from British dance music icons Baby D, Jungle legend General Levy and old skoolers Shut up & Dance. MCs GQ, IC3, Harra Shotta and Whizzkid will keep the main stage hyped throughout the day, with a further two very special headliners still to be announced!
Showcasing the best in drum & bass, Slammin' Vinyl's flagship party brand One Nation will host United's second arena. Fabric regular DJ Hazard heads an impressively expansive bill that will also take in sets from SASASAS, The Prototypes, Bad Company UK, DJ Guv, Sly & Logan D, Brockie, Majistrate, Cabin Fever, Inter & SLB, Kezman & Terry M and Whiley One – all hosted by MCs Eksman, Skibadee, Harry Shotta, Shabba D, Stormin, IC3, Evil B, Trigga, Bassman, Det, Felon, Grima, Azza, Deefa and Funktion.
Old skool, jungle and drum & bass classics will be on show in United's third arena hosted by revered party brand Moondance, who have assembled an eclectic crew of leading rave personalities including Ram Records's Hamilton, Randall & DJ Storm, Mickey Finn, Top Buzz, godfather of old skool Slipmatt, Kenny Ken & Jumping Jack Frost, Billy Daniel Bunter, Uncle Dugs & Nicky Blackmarket, Ashatack, Twitsta & Trix, Sense and Genetic & Dan Rewind – plus MCs Moose, Fearless, Five Alive, Ragga Twins, Whizzkid, Mad P, Charlie B, Shockin B, 3Flow, Cutter, Fusion.
Representing UKG, seminal 90s garage hub Twice as Nice host United's fourth arena with a live PA from scene originator Robbie Craig. Further sets will also come from MOBO award-winning DJ Luck & MC Neat, Dreem Teem, DJ Ironik Woody, DJ Jonezy, Pied Piper, DJ, Junior Buzz and Redlock with stage hosts Creed, DT, CKP, Unknown, PSG, Dr Psycho, Minx and Kifa.
Classic house will be the order of the day at Promised Land's arena, with a headline set from one of the scenes most modest and unassuming talents in Robert Owens. Chicago jacking house originator Marshall Jefferson will spin a driving selection, with pioneering house producers Graeme Park and Brandon Block & Alex P bringing the focus back to British. Further sets come from Huck Finn, Philgood & Ram, Arkoss, Mark Rushton and EZM.
Showcasing the darker side of trance, Indecent Noise will roll up to United with a host of key players from much loved label Mental Asylum Records, including Jordan Suckley, Will Atkinson, James Dymond, Standerwick, Jase Thirlwall, Robbie Van Doe and a live PA from Noire Lee.
Unarguably one of the hardest dance offerings in the UK, Frantic are set to host one of United's most popular arenas with a no-nonsense programme of hard trance, hard house and hard dance headlined by Frantic favourite Lisa Pin Up. Mark EG & M Zone with MC Ribbz will pay homage to infamous rave institutions Bagleys and The Sanctuary with an exclusive, one-off hard trance set, and hard trance legend K90 will perform his new live PA 'Reboot'. Celebrating 25 years behind the decks, hard house pioneer Andy Farley is also scheduled to appear, with further sets from Steve Hill, Lucy Fur, JP & Jukesy, A vs B Live, Ashley Waters, Wayne Smart & Jake Martin, Skol & Aaron James and Stewart T & Jon Hanley.

For those seeking to party in style, United are offering a VIP Classics arena headlined by Slipmatt – who will play an exclusive old skool house and trance set – plus a garden seating area, VIP toilets, private cocktail bar and a selection of gourmet street food.
The £17.50 first release tickets sold out in records time, second release tickets can be snapped-up for the very old skool price of just £20 for standard entry and £45 for VIP.

EVENT INFO.
UNITED FESTIVAL 2015
Date: Sunday 13th September 2015
Venue: Finsbury Park (subject to license) Endymion Rd, N4
Doors: 11am – 10pm // Last entry 7pm

TICKET INFO.
All tickets available from http://www.unitedfestival.co.uk
1st Release £17.50 – SOLD OUT IN 2 HOURS
2nd Release £20
3rd Release £25
4th Release £30
5th Release £35
6th Release £40
VIP 1st Release £45
VIP 2nd Release £50
http://www.unitedfestival.co.uk
LINEUP.
United Main Stage
Special Guest Headliners
DJ Hype
808 State (DJ Set)
Lisa Lashes
The Harry Shotta Show
Force & Styles
The Ratpack
Fabio & Grooverider
Deckajam
LIVE PAs: Baby D, General Levy, Shut Up & Dance
MCs: GQ, IC3, Harry Shotta, Whizzkid
One Nation
Hazard
SASASAS Set (DJ Phantasy, Macky Gee, Alpha, Skibadee, Shotta, Shabba, Stormin)
The Prototypes
Bad Company UK
DJ Guv
Sly & Logan D
Brockie
Majistrate
Cabin Fever
Inter & SLB
Kezman & Terry M

MCs: Eksman, Skibadee, Harry Shotta, Shabba D, Stormin, IC3, Evil B, Trigga, Bassman, Det, Felon, Grima, Azza, Deefa,

Moondance
Hamilton
Randall & DJ Storm
Micky Finn
Top Buzz
Slipmatt
Kenny Ken & Jumpin Jack Frost
Billy Daniel Bunter
Uncle Dugs & Nicky Blackmarket
Ashatack
Twista & Trix
Sense
Genetic & Dan Rewind

MCs: GQ, Moose, Fearless, Five Alive, Ragga Twins, Whizzkid, Mad P, Charlie B, Shockin B, 3Flow, Cutter, Fusion

Twice as Nice
Live PA: Robbie Craig
Dreem Teem (DJ Spoony & Mikee B)
DJ Luck & MC Neat
DJ Ironik
Pied Piper
DJ Woody
DJ Jonezy
Junior Buzz (Bass Clinique)
Redlock

Hosts: Creed, DT, CKP, Unknown, PSG, Dr Psycho, Minx, Kifa

Promised Land
Robert Owens (Live PA & DJ Set)
Marshall Jefferson
Graeme Park
Brandon Block & Alex P
Huck Finn
Philgood & Ram
Arkoss
Mark Rushton
EZM

Mental Asylum Records
Indecent Noise
Jordan Suckley
Will Atkinson
James Dymond
Standerwick
Jase Thirlwall
Robbie van Doe
Noire Lee (LIVE PA)
Coop & Jones
Tony Kaos


Frantic
Lisa Pin Up
Mark EG & M Zone with MC Ribbz
K90 Live
Andy Farley
Steve Hill
Lucy Fur
JP & Jukesy
A vs B Live (Adam M & Ben Stevens)
Ashley Waters
Wayne Smart & Jake Martin
Skol & Aaron James
Stewart T & Jon Hanley

VIP Classics (House, Trance, Garage, Old Skool, Jungle, Club Classics)
Slipmatt (Old Skool House & Trance Set)
Food Junky & Skie with MC Express
Rob Blake
The Acid Brothers aka Matt Emulsion & Stuart J
Move the House
Liam D
Jason J & Vinyl Vera
Lee Freeland
PSR
Mr X & JC
Lisa Dizzy Blonde
PUBLIC TRANSPORT
The park is conveniently located next to Finsbury Park Overground, Tube and Bus Stations.
Overground Trains
Trains run to Finsbury Park from Kings Cross and southbound from Welwyn Garden City and Hertford North.
Tube
Finsbury Park Tube Station is on both the Victoria and Piccadilly tube lines.
Buses: Finsbury Park bus station is a major hub for transport from central and North London.
Train Info: www.nationalrail.co.uk
Tube & Bus Info: www.tfl.gov.uk
Car
We strongly recommend using public transport to get to this event as parking in the area is extremely minimal and tightly regulated.
Entry Information
This is an over 18′s event only: please bring valid photo ID with you such as a Passport, Driving License or PASS card to ensure entry.
There is no re-entry on the day: once you're in, you're in.
Please do not bring your own food or drink: the event will have plenty of bars and food stands plus cash machines.