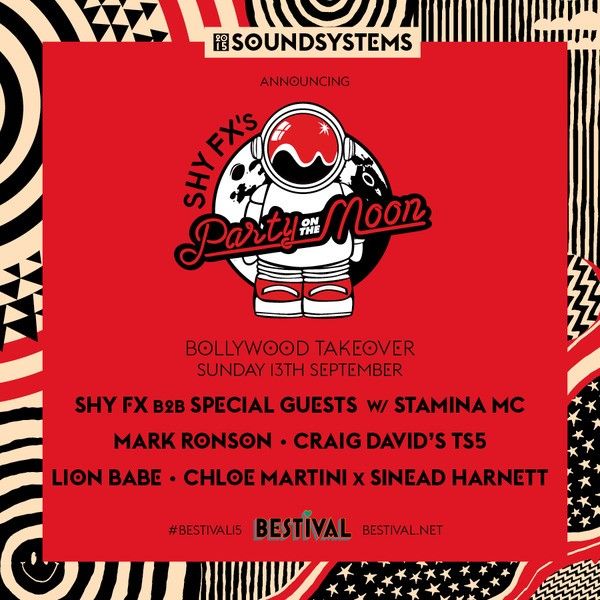 Bestival Announces Shy FX Sound System Line-up
We're very excited indeed to reveal the line-up for legendary beat supremo Shy FX's Party on the Moon Bollywood takeover.
Bringing the action to a close on Sunday 13th September, the latest in our Bestival's Summer of Love Bollywood takeover series, the Party on the Moon will see dancefloor lunacy provided by the Digital Soundboy don and Original Nuttah himself, Shy FX going back to back with some very special guests, who we can guarantee will send you into orbit, with microphone control courtesy of MC Stamina.
There will also be sublime moves on the ones and twos from chart-conquering musical polymath Mark Ronson, multi-platinum recording artist Craig David presenting his much admired TS5, the Leonine be-locked Lion Babe and Chloe Martini taking on Sinead Harnett.
From old skool tear-ups to thoroughly modern floor-spankers, Shy FX's Party on the Moon is a sure-fire celestial end to our Summer of Love that's not to be missed.
SHY FX's PARTY ON THE MOON
TAKES OVER BOLLYWOOD
FEATURING:
SHY FX B2B VERY SPECIAL GUESTS PLUS STAMINA MC / MARK RONSON /
CRAIG DAVID PRESENTS TS5 / LION BABE / CHLOE MARTINI X SINEAD HARNETT
BESTIVAL TICKET LINKS & INFORMATION:
www.ticketline.co.uk/bestival-tickets, 0844 888 4410

Adult Ticket £195.00

Student Ticket £185.00

Teen (13-17) Ticket £130.00

Child (12 & under) Ticket Free (BUT you MUST obtain a ticket)


Campervan Ticket £92.50

Adult Wild Copse Ticket £325.00

Teen Wild Copse Ticket £165.00

Caravan £105.00

Car Park £15.00

All Tickets:
– will incur a booking fee.
– incur a £1 donation to the Isle Of Wight Youth Trust*.
There are no Day Tickets.

Lucky Cat Hospitality Packages are also available.

THE ISLE OF WIGHT YOUTH TRUST CHARITY DONATION
*This year we are adding on a £1 charity donation onto all Bestival tickets. The money raised will go directly to the Isle Of Wight Youth Trust (Reg Charity no. 1087163) to help fund their fantastic work offering counselling and support to young people aged 25 and under on the Isle of Wight. The Bestival Foundation is also a proud supporter of the Youth Trust.