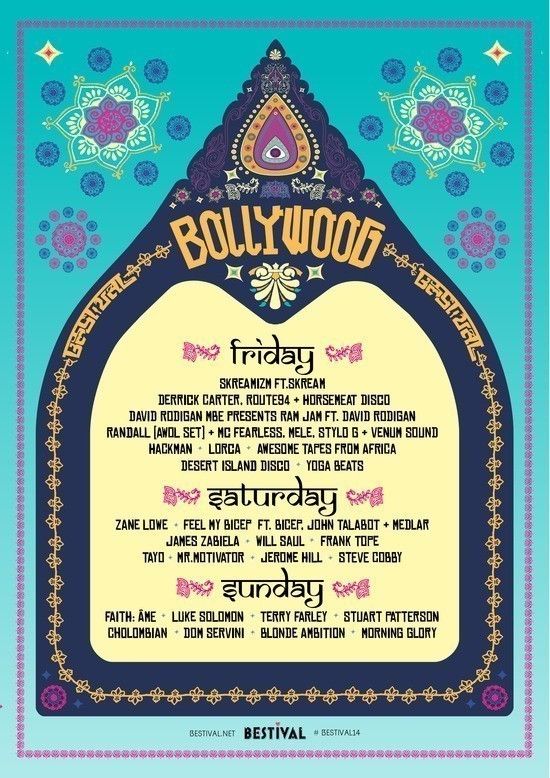 Bestival's Bollywood Line-Up Revealed
Quintessentially Bestival, Bollywood has been the heart and soul of our Robin Hill adventures since day one. With a frankly mind-blowing temple entrance, the exquisitely hand-stitched tent is where the real action happens. The perfect lounge lizard's perch for catching some rays, drinking delicious cocktails from the cocktail bus and soaking up the vibes by day, it's party central by night. Loved by every DJ who's ever played there, this year the Bollywood line-up embraces our Desert Island Disco ways, playing host to a series of amazing takeovers from the likes of Skream, Ram Jam, Bicep and Faith.
Rob da Bank says: "Bollywood is everything that Bestival is all about, from its mind-bending entrance and lavish insides, to the dangerously moreish cocktails and full on party music. And when it comes to the music, I have to say I'm quite chuffed with who we've got coming to take over Bollywood for our Desert Island Disco, with Skream and Derrick Carter ramping up the disco vibes, the mighty Rodigan and his Ram Jam crew adding some fat reggae and Terry Farley and Stuart Patterson's peerless Faith with Ame and Luke Solomon, it's gonna go right off, all weekend long. You're guaranteed to see me having a bit of dance there, so see you down the front!"

The Desert Island Disco kicks off in Bollyood on Friday with a Skreamizm takeover featuring Skream, Derrick Carter, Route 94 and Horsemeat Disco. We'll also have David Rodigan MBE at the controls for Ram Jam with an AWOL set from Randall & MC Fearless, plus Mele, Stylo G and Venum Sound. And there will be sets from Hackman, Lorca, Awesome Tapes From Africa, Desert Island Disco and Yoga Beats.
Saturday will see Zane Lowe dropping some of his hottest records and Feel My Bicep flexing with Bicep, John Talabot and Medlar. Plus there will be enough grooves to wear out your dancing shoes from James Zabiela, Will Saul, Frank Tope, Tayo, Jerome Hill, Steve Cobby, with an appearance from the one and only man like Mr Motivator.
Sunday will see Bollywood sets from Cholombian, Dom Servini, Blonde Ambition and Morning Glory, before a very special Sunday service celebrating Faith with founders Terry Farley & Stuart Patterson and very special guests Ãme and Luke Solomon. Faith's legendary club nights (and fanzine) have fuelled myriad memorable nights for the Bestival crew, so it's an absolute honour to have them taking over a Bestival institution like Bollywood for the final night of our Desert Island Disco!
Commenting on Faith's Bollywood Takeover Terry Farley said: "About 10 years ago a record label appeared that caught the mood of real Househeads all over Europe, and especially those on the Faithfanzine board. Innervisons out of Germany caught the vibe perfectly and the producers and DJs of Innervisons are now huge stars across the world. Dixon and Ãme both played in London for Faith in those early days and Innervisons were big fans of the Faith printed 'Strobelight Honey/Faithfanzine' magazine whose mantra 'House, House and more fucking House' became a T-shirt that Innervisons printed up as a homage . It's with great pleasure that we once again join up with Ãme at Bestival with Stuart Patterson and myself playing on the Sunday night in Faith's takeover of the Bollywood tent. Come along and join us, you know already that it's going to rock".
Guaranteed to get you up on your feet come September 4th-7th on the Isle of Wight, Bollywood is unmissable.
Lots more magic, mayhem and madness soon come.
BESTIVAL TICKET LINKS & INFORMATION:
www.ticketline.co.uk/bestival-tickets / 0844 888 4410

Adult Ticket with entry from Thursday 4th September – £195
Student Ticket with entry from Thursday 4th September – £180
(For full-time students only. Valid NUS or ISIC ID required at the box office. No other student ID accepted)
Teen (age 13-17) Ticket with entry from Thursday 4th September – £127
Child (age 12 & under) Ticket – Free (but you must obtain a ticket)
Caravan Tickets: £101 (per vehicle)
Campervan Tickets: £90 (per vehicle)
Advance Car Parking – £15

All Tickets:
– will incur a booking fee.
– there are no Day Tickets.
– incur a £1 donation to the Isle Of Wight Youth Trust*.

THE WEEKLY PAYMENT PLAN
We're pleased to say that we are offering a 10-week payment plan which means that an adult ticket can now be bought at a payment of £19.50 per week over 10 weekly payments.
Only available online via: www.ticketline.co.uk/bestival-tickets
Once you have signed up to the payment plan, which basically means giving your agreement by ticking the bank mandate form on Ticketline's website, Ticketline will automatically debit your card on a weekly basis. They only accept Visa (credit or debit) or Mastercard for the payment plan.
NB: Booking fees will be charged with your initial transaction.

THE ISLE OF WIGHT YOUTH TRUST CHARITY DONATION
*This year we are adding on a £1 charity donation onto all Bestival tickets. The money raised will go directly to the Isle Of Wight Youth Trust (Reg Charity no. 1087163) to help fund their fantastic work offering counselling and support to young people aged 25 and under on the Isle of Wight. The Bestival Foundation is also a proud supporter of the Youth Trust.

Travel: Book Now For Best Early Prices
Wightlink – www.wightlink.co.uk/bestival / 0871 376 1000
Red Funnel – www.redfunnel.co.uk/bestival / 0844 844 9988
Hovertravel – www.hovertravel.co.uk/bestival2014 / 01983 811000
Big Green Coach – www.biggreencoach.co.uk/bestival