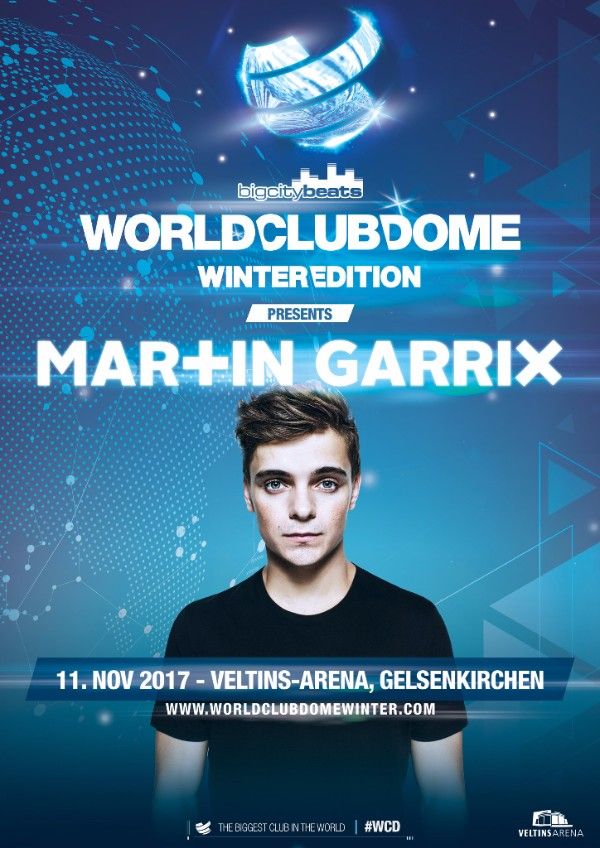 BigCityBeats WORLD CLUB DOME Winter Edition
The phenomenon that is the BigCityBeats WORLD CLUB DOME Winter Edition is fast becoming one of the biggest solo DJ shows on earth. For the third year in succession the event will take place in theSchalke Stadium. BigCityBeats will once again be transforming the football arena into a single enormous club and bringing the current world No.1 DJ (voted by DJ Mag) to Germany. Following on from the gigs by Hardwell and Dimitri Vegas & Like Mike in the preceding two editions, the label now presents Martin Garrix on 11th November 2017. Once again, the star of the event in Gelsenkirchen is DJ Mag's current world No.1 DJ.
Martin Garrix's career has gone turbo since "Animals" hit the charts. If 2013 was his breakthrough year, 2016 was the year in which he staked his claim as more than a dance music A-lister. The young producer and DJ from the Netherlands has established himself as a behemoth in both the electronic and pop worlds over the past few years. Last October he scaled the heights of the DJ Olympus, snatching the No. 1 spot in DJ Mag's Top 100. In 2017, he has been taking the world's charts by storm with his singles "Scared To Be Lonely", "There For You" and his brand new single ''Pizza''. After his mega set at the 2017 BigCityBeats WORLD CLUB DOME in Frankfurt he is now looking to make history with one of his biggest solo shows ever.
Martin Garrix plays his biggest show to date at WORLD CLUB DOME Winter Edition
The BigCityBeats WORLD CLUB DOME is synonymous with emotion-packed events on a massive scale. From their stage design, sound systems that top the 1-million-watt mark, ginormous light installations and much more besides, BigCityBeats WORLD CLUB DOME events have set a new benchmark in club-music happenings. Since its beginnings 12 years ago as a radio programme for club music, BigCityBeats has mounted a string of productions, each more spectacular than the previous one, and built a community of almost 500,000 fans.
Ticket sales for the 2017 BigCityBeats WORLD CLUB DOME Winter Edition with Martin Garrix are now open. Tickets are available in the early-bird phase for as little as 19 Euros plus booking fee from the following link: http://www.worldclubdomewinter.com
BigCityBeats WORLD CLUB DOME Winter Edition:
MARTIN GARRIX
Veltins-Arena Gelsenkirchen
Saturday 11.11.2017

Ticket link: http://www.worldclubdomewinter.com