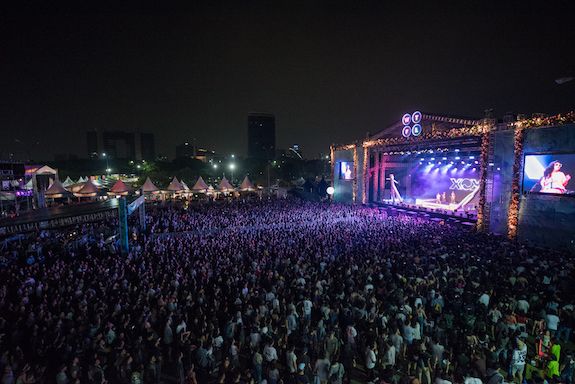 We The Fest 2017 Concludes Most Successful Year Ever
Indonesia's premiere live music festival 'We The Fest' drew the curtain August 16th on what was its most successful year ever – and attracted Indonesia's most high profile music fan, the President himself.

Moving to its new home at the JIExpo Kemayoran in the heart of capital city Jakarta, the 2017 edition stretched from two days to three, and drew crowds of 50,000 – 25,000 more than in 2016. With ticket sales skyrocketing by 100%, festival goers came not just from South East Asia and the Asian territory, but from across the globe, with the United Kingdom, the USA, Australia, Italy and Brunei Darussalam scoring in the top 10 of WTF ticket sales alongside the local markets of Indonesia, Singapore, Malaysia, Thailand and Japan.

We The Fest has been growing in prestige year on year, with organisers Ismaya Live continually securing one of the most eclectic line-ups anywhere in Asia. This year's festival was no exception, if anything raising the bar even higher with the level of topflight talent from around the world. Headline performances by Brit-Pop legends The Kooks, French icons Phoenix, hip-hop heavyweights G-Eazy and Big Sean, were supported by electric sets from a glittering constellation of rising stars from the worlds of pop, electronic and urban including Charli XCX, Epik High, Zhu, Jonas Blue and Dua Lipa. Regional talent was also widely represented, Ismaya Live proving once again that promoting Indonesian and South East Asian talent to the world is high on their agenda with acts like Teddy Adhitya, Ramengvrl, GAC, Yuna, Stars & Rabbits just a few of the local highlights.

'Beyond The Music', We The Fest's initiative to bring other elements of Indonesian culture into the festival, proved just as popular with fans as the music, with the worlds of fashion, art and food buzzing well into the night under twinkling canopies and brightly fluttering flags.

The highlight for many was arguably the surprise appearance of the country's popular president Joko Widodo, who popped up unannounced next to the main stage during UK act Charli XCX's performance. As the singer belted out hits like 'After The Afterparty', 'Break The Rules', 'I Love It' and latest single 'Boys', the crowd roared their approval as cameras returned time and again to a waving, smiling Jokowi.

"It certainly was the highlight of the festival," said event organiser and head of Ismaya Live Christian Rijanto. "Things were running smoothly, weather was nice, there were a lot of happy faces even though it was just the first day, then he – the president – showed up. It was perfect."

We The Fest 2018 ticket and line-up announcements will be found on www.wethefest.com and social media channels.