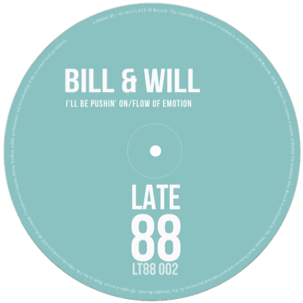 BILL & WILL – I'LL BE PUSHIN
In what seems like an endless sea of increasingly younger producers, sometimes the music needs to do the talking. The latest in the raft of production duos, Bill & Will stand out from the crowd with 'I'll Be Pushin' On' due for release on Late 88 Records on 25th November.
A skittering bassline with the ability to jump-start a party atmosphere in mere seconds, 'I'll Be Pushin' On' magics a hands-in-the-air vibe that harks back to club classics from days gone by with it's pitched down vocal samples.
On the flip, 'Flow Of Emotion' takes that old-school vibe even further with house piano and bouncy basslines pumping underneath a female vocal. Despite only being at the beginning of their career, Bill & Will are well versed in just what creates a classic club record and execute it with production that belies their years.
Debut single 'So You Got A Groove / So Real' garnered support from the likes of DJ Target (BBC 1Xtra Targo Embargo 30/08/13), Kissy Sell Out, CJ Beatz, True Tiger, My Nu Leng, Jonas Rathsman and many more.
Both classically trained, Bill Posters and Will Power dabbled in various genres before finding their own sound by joining forces 18 months ago. But unlike some of the freshest producers out there, Bill & Will know a pop hook when they hear one and have worked with the likes of Mikill Pane – where between them they have five cuts on his recently released debut album – and have remixed the likes of Wiley, Wretch 32, Scrufizzer and Rizzle Kicks including their latest single 'Skip To The Good Bit.' They are currently working with artists such as Dominque Young Unique, Little Nikki and Youngman, so it won't be long before the names Bill & Will are on everyone's lips.
www.soundcloud.com/billandwillmusic
www.facebook.com/billandwill
Twitter: @bill_and_will
www.soundcloud.com/late88records
www.facebook.com/late88records
Twitter: @late88records