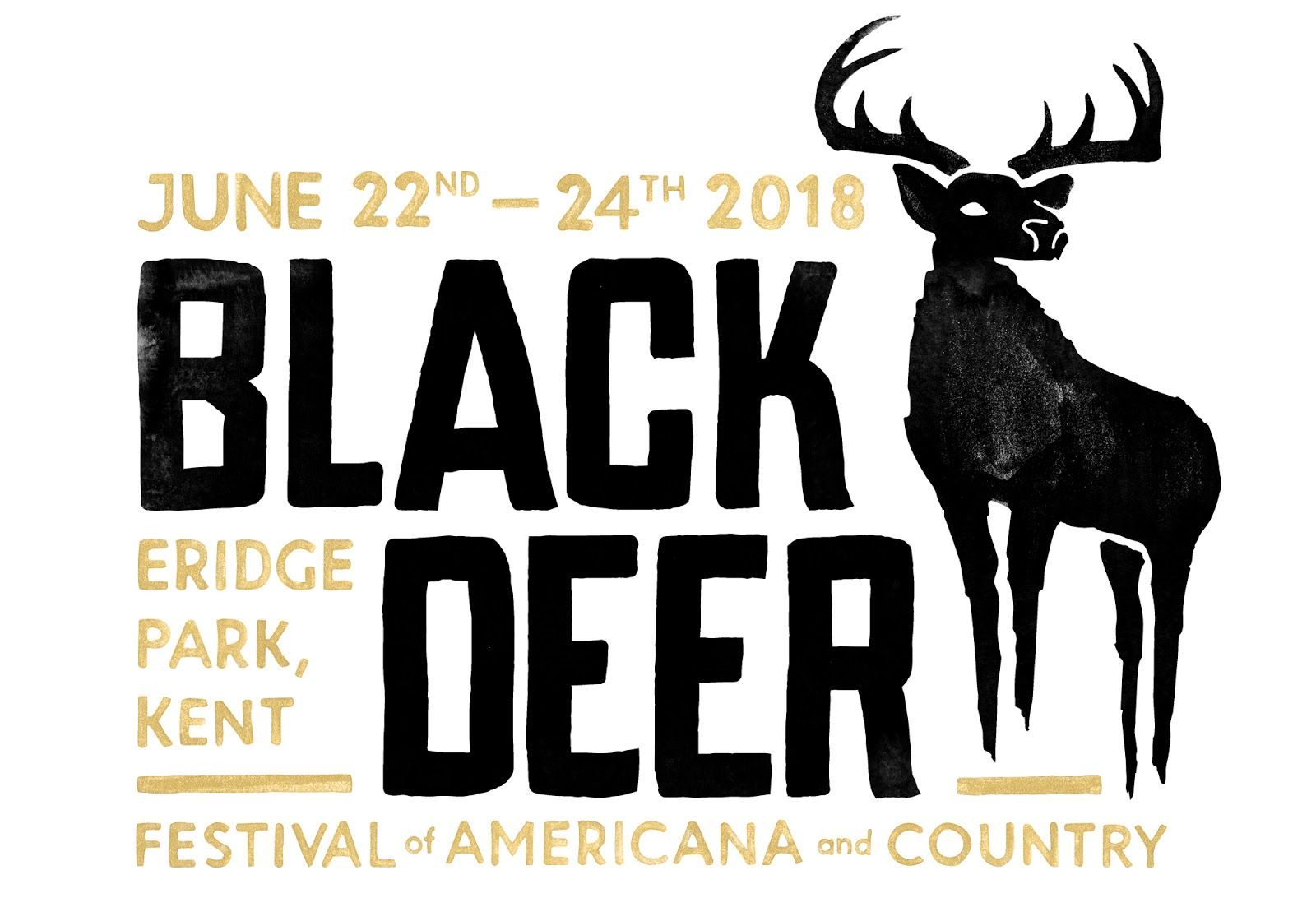 Black Deer Festival complete's their Inaugural Line Up! 
Already boasting a remarkable lineup featuring the very best Americana & Country acts from around the world, Black Deer Festival is delighted to reveal that Catherine McGrath, Wallis Bird, Colin Macleod, Josh OKeefe, Jeannine Barry, Keywest, Marc O'Reilly, Dan Clews, Thomas Wynn & The Believers, Cattle & Cane, Carousel and more will join the likes of headlinersIron & Wine and Passenger, as well as Ward Thomas, double Grammy and AMA UK award winner Jason Isbell and the 400 Unit, Kiefer Sutherland,Ashley Campbell and many more stunning names for the festival's inaugural year.
Black Deer Festival is a totally independent festival headed up by two women Promoters with years of experience in the festival industry and is set to take place in the wondrous natural outdoor location of Eridge Park, Britain's oldest deer park located on the Kent/East Sussex border near Royal Tunbridge Wells – just a mere 50 minutes outside of London. In an exuberant showcase of Americana, blues, roots, authentic country, folk and bluegrass genres, Black Deer Festival will immerse attendees in the alternative lifestyle with authentic Americana-style meats, smokey whiskeys, bespoke custom motorcycle showcases and rooted storytellings from cultural pioneers, cementing itself as the UK's newest favourite Americana & country festival and one not to be missed.
NEW ARTISTS ANNOUNCEMENTS
With a foot on either side of the Atlantic, Irish pop country newcomer Catherine McGrath will be joining Black Deer's exciting line-up on her way to taking the world by storm. Her debut EP One was a major success taking inspiration from Taylor Swift, Rascal Flatts and Kelsea Ballerini amongst other. The twenty-year-old has already made her mark in the industry, going from singing covers in her bedroom to writing with some of Nashville's finest. With her much anticipated debut album set to drop on July 27th, she figures on all lists of artists to watch in 2018.
Catherine McGrath says;
"I can't wait to play Black Deer festival, it's got such a great lineup so I'm excited to catch their sets and to play my own songs to some brand new faces too!"
Colin Macleod will be bringing a taste of life on a British island to Eridge Park. Growing up on the Isle of Lewis, MacLeod alongside super-producer Ethan Johns, make music that does not let you forget where he comes from. The result is very reminiscent of what Bruce Springsteen would have sounded like if he had grown up in the fringes of Scotland. His atmospheric melodies and powerful instrumentals are sure to dazzle at Black Deer.
Waving the flag for folk rock in this new announcement is Dan Clews. The British singer songwriter was noticed by Sir George Martin who dubbed him "too great a talent to be ignored", a fact that surprised no one after the release of his first solo album full of Beatlesque melodies, acoustic guitars and lyrics about love and longing. It received support from Radio 2's country tastemaker Bob Harris as well as favorable reviews from the music press. 2014 saw he Kent-born singer support his second album on as Glastonbury stage cementing his place in the industry.
On playing Black Deer, Dan Clews says;
"From top to bottom this line up is pure gold and I'm stoked to be a part of it. I'm looking forward to putting on a killer show, seeing some of my favourite acts and discovering some new favourites too."
The underdogs and underappreciated American band Thomas Wynn & The Believers will be bringing their own brand of classic rock to Eridge Park this year. The 6 piece band from Orlando will be performing their new album Wade Waist Deep, a true depiction of what great American music sounds like. Lead singer Thomas and sister Olivia Wynn will showcase their trademark breathtaking duets, accompanied by grinding guitars and lyrics boasting hope for a better life, bringing their perfectly unpolished sound to Black Deer.
Thomas Wynn & The Believers says;
"We're so excited and honored to play the inaugural Black Deer Festival. The lineup looks fantastic and we're sure it's gonna be one helluvah time! Hope to see y'all there for many years to come."
Also joining the Black Deer festival is the critically acclaimed English group Cattle & Cane. The band that likes to keep it in the family is comprised of four Hammill siblings Joseph and Helen on vocals, Fran on guitar and Vim on Bass, as well as honorary family member Tom Chapman on drums. They will be bringing their fresh and exciting take on modern folk music. Only two albums in and this family affair already has had an impressive musical career having played at T in the Park, Hyde Park for Radio 2, for whom they recorder a live session, and shared stages with the likes of Brian Wilson, The Head & The Heart as well as Tom Odell.
Bringing a mix of folk and country with a healthy dose of 60's psychedelia is the critically acclaimed singer songwriter Jamie Freeman. Hailed as the "UK's very own Americana virtuoso" by Spiral Earth, Freeman will be delivering his roots-rock anthems to the eagerly awaiting Black Deer crowd.
Jamie Freeman says;
"The Black Deer line-up looks incredible. There are some amazing headliners but right across the board it's a great mix of Americana and country artists and it's an honour to be part of it. I'll have lots of new material to play as I'll be heading to Nashville to record my next album later in the summer. Eridge Park is beautiful too, and I definitely plan to stay for the whole weekend!"
FULL LIST OF NEW ARTIST ANNOUNCEMENTS
Catherine McGrath, Wallis Bird, Colin Macleod, Josh OKeefe, Keywest, The Graveltones, Dan Clews, Thomas Wynn & The Believers, Jeannine Barry, Marc O'Reilly, Treetop Flyers, The Adelaides, Cattle & Cane, Bad Day Blues Band, Dana Immanuel And The Stolen Band, Johnny Cage And The Voodoogroove, Michael Baker, Up, Down, Go Machine, Carousel, Jamie Freeman, My Fine Companions, Devil's Rope and The Orange Circus Band.
On performing at Black Deer, Nick Kidney of My Fine Companions says:
"We're really excited to be playing the inaugural Black Deer festival. As a relatively new band, this is a great opportunity for us to be bringing our music to a group of like-minded people ina such fantastic setting; what could be better?"
Jeannine Barry says;
'I'm honoured to be joining Black Deer's incredible line up and to be part of this exciting new festival. I'm looking forward to an amazing weekend full of Country & Americana.' –
Treetop Flyers say;
'Last year we didn't play any festivals, so as soon as the line up for Black Deer was announced we knew we wanted to play, it's the perfect festival for us, and good timing before our new album drops in August, can't wait!'
Michael Baker says;
"The band andi cannot wait to play at the inaugural Black Deer Festival. It's such an honour to be invited to perform on such a prestigious line -up which includes one of my fav acts, the brilliant Iron & Wine.I will be playing new unreleased music from my forthcoming Pledge Music funded album 'Salt' as well as some tracks of my current album Dust & Bone"
Josh Okeefe says;
"I will be bringing a little Nashville and a little Appalachia over in my suitcase and I will have it ready for The Black Deer Festival"
The Orange Circus Band say;
"We're extremely excited to be playing this year's Black Deer festival, an event showcasing real Americana and Country music in the UK. We're also looking forward to be playing amongst our friends from around the globe, and of course getting our feet dirty with some good ol' muddy foot stomping! We're coming for you, Black Deer!"
Keywest says;
"We're excited to come back to the U.K. for Black Deer this summer and are looking forward to being a part of the launch of this new festival!"
Johnny Cage And The Voodoogrove says;
"We cannot wait to play the inaugural black deer festival, the line up has us salivating, and we get to share ourboneshaking voodooblues with you all as well. Bring it on!"