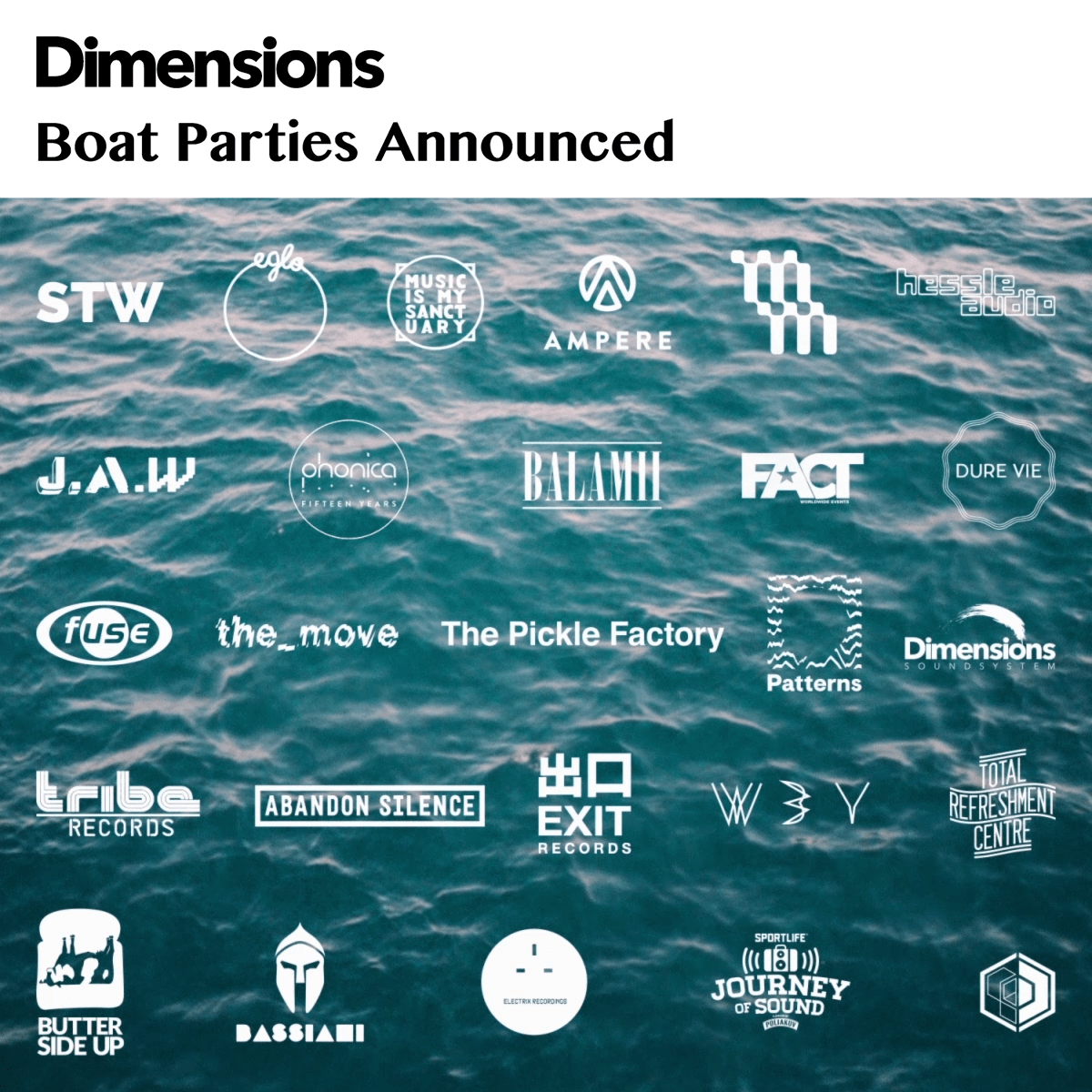 Dimensions Boat Parties Revealed For 2018
Dimensions Festival returns to the iconic Fort Punto Christo this August, and for it's seventh edition, there's a massive five days in store with seven stages, over 100 artists, a fortress, and of course, boat parties. The Harbour sees off over 20 boats setting sail, embarking on sonic journeys across the glittering Adriatic. Jump on board for adventures with underground heroes, revered labels, heavyweight DJ's and breakthrough talent all stepping behind the boat's booth. Soundtracking each unforgettable voyage there's brands like Pickle Factory, Phonica, Eglo, Fuse and more heading out to sea from midday Thursday through until Sunday. An essential part of the Dimensions experience, boat parties are a highlight for those who know what lies beyond the Fort Punta Christo. Available only with a festival ticket, limited passes for each boat are available from just €24 and are on sale Thursday 17th May. Check out the killer schedule below, and with more parties still to be announced, festival goers are spoilt for choice. Move fast, as tickets don't last long for these! TICKETS: https://bit.ly/2IezB0t
– THURSDAY –
Kicking off over 20 raves-on-waves with a hefty start, it's Leeds' Tribe Records, making their nautical debut on Thursday afternoon. Expect a wild ride from Saoirse, dazzling contrasts between sinister sounds, broken beats and warmer cuts from Courtesy, spinning with Tribe mainstays, Alex T and Mike BC. Next up, Dimensions' extended family, Stamp the Wax, return for their annual voyage, with festival regular Marcellus Pittman. Joined by Oyvind Morken, Rosie Ama and STW headhoncho, Aaron L,expect sunkissed sounds from around the globe. Meanwhile, another afternoon outing is hosted by Journey of Sound, featuring WLC b2b Felix Claus Thang b2b Lebawski, repping for the Belgian kingpins. As the sun sets, Dimensions Soundsystem set sail with an insane crew of selectors joining. Guaranteed hands-the-air moments come courtesy of the festival duo before genre-defying cuts fromAvalon Emerson, and party vibes from revered Rinse FM lynchpin, Josey Rebelle. On a harder tip, EMB expert Helena Hauff's electro infused sound is set to chop up the waters, with Kancheli also navigating the vessel into the dark.
– FRIDAY –
London clubbing hideaway, Pickle Factory, take their intimate party alfresco with OG dons, Mark Flash (Underground Resistance) and Detroit in Effect spinning sounds of the motor city, alongside Hamish Cole and Toby Nicolas. Abandon Silence return to Harbour; bringing resident Andrew Hill, Peggy Gouand Heels and Souls for an undoubtably epic off-shore session. Flux and Patterns join forces for the afternoon. With psychedelic nuances and abstract techno, rRoxymore, joins DJs DJ, Jon K, on hand with eclectic cuts to rock the boat alongside Charles Green, Wallauer & Reuben. As night falls, enter, Dure Vie, the Parisian party purveyours start the day with forward-thinking, deep sounds – weirdo jams and party vibes from Skee Mask, Mezigue, and homegrown spinner, Maxye.
– SATURDAY –
Saturday's forecast is disco fever and feel-good house jams from the J.A.W. Family. Red Greg, Cosmic Slop and the extended J.A.W. Family head straight in with the goods, for a blissful, funk-filled day session. Next up, Fuse and We Bring You join forces, with house connoisseurs, San Soda and Red D onboard for 3 hours of infectious grooves. Experts in silky smooth selections, Eglo Records cruise through funk, soul, jazz, hiphop, til dusk, with Alex Nut, Fatima, Steve Spacek and Shy One. The Movemagazine return with for a special voyage with Children of Zeus, plus Darkhouse Family and Rah in tow. Next up, Total Refreshment Centre bring a melting pot of worldly sounds to the Croatian coast. Rare gems and dancefloor heat as day turns to night from Sofrito headhoncho, Hugo Mendez, Dimensions Directory newbie and Tiff Joints founder, Born Cheating, and Afro-dance obsessive, Lexus Blondin (TRC).
– SUNDAY –
With a mega schedule set for the final day at Sea, Sunday starts as it means to go on, with the much lovedHessle Audio at the helm. Epic selections fusing jungle, techno, grime and garage come courtesy of Ben UFO, Pearson Sound and Pangaea, with Timedance don, Batu, joining. This annual boat is a Dimensions Highlight. Next up, it's legendary London record store, Phonica Records, celebrating 15 years in the game with Palms Trax, Nick Williams and Danielle. Cruising on, Make Me present a masterclass in electro, acid and relentless techno boasting a killer line up. DJ Stingray, Anastasia Kristensen and theMake Me fam soundtrack this trip you won't forget. The final outings will be special – Exit Records hit the harbour, with OG dons dBridge, Skeptical and Fixate spinning hi-octane drum'n'bass and jungle, plusSP:MC & MC GQ spitting bars sharp as ever. Meanwhile, Electrix bring synth gurus, London Modular Alliance on board for a killer DJ set, paving the way for a journey through acid, electro and beyond from longstanding legend, Billy Nasty. Plus, a very special guest will round out this party to an epic close. Year on year, Leeds' party mavens, Butter Side Up bring their inimitable vibe to the Adriatic sea, they'll round out the series cruising into the sunset with the one and only, Craig Richards.
Now in its 7th Year, Dimensions Festival prides itself on its intimate vibe, idyllic setting and programming, plus of course the world class custom built sound systems, which ensures an inimitable experience for dancers and DJ'S alike. From daytime beach chilling to exploring the labyrinths of the fort at night, the site is incredible. Fort Punta Christo is easily accessible from nearby Pula, which hosts plenty of hotels and apartments, on top of the onsite accommodation – more info here:www.dimensionsfestival.com/accommodation/ Main flight destinations from the UK are Pula, Zagreb, Trieste, Ljubljana, Venice Treviso and Venice Marco-Polo airports, with transfers to the site, which can be booked here: http://www.dimensionsfestival.com/travel
BOAT PARTY SCHEDULE
THURSDAY:
12.30 – 15.30 : Tribe Records : Saoirse, Alex T, Mike BC, Courtesy
16.15 – 19.15 : Stamp The Wax : Marcellus Pittman, Oyvind Morken, Aaron L & Rosie Ama
16.15 – 19.15 : Journey of Sound : – WLC b2b Felix Claus Thang b2b Lebawski
20.00 – 23.00 : Dimensions Soundsystem : Avalon Emerson, Josey Rebelle, Dimensions Soundsystem
20.00 – 23.00 : Bassiani : Helena Hauff, Kancheli
FRIDAY:
12:30 – 15:30 : Pickle Factory: Mark Flash (Underground Resistance), Detroit In Effect, Hamish & Toby
16:15 – 19:15 : Abandon Silence : Peggy Gou, Andrew Hill, Heels and Souls
16:15 – 19:15 : Flux & Patterns: rRoxymore, Jon K, Charles Green, Wallauer & Reuben
20:00 – 23:00 : Dure Vie : Skee Mask, Mezique, Maxye
SATURDAY:
12:30 – 15:30 : J.A.W. Family : Red Greg, Cosmic Slop, J.A.W. Family
12:30 – 15:30 : Fuse x WBY : San Soda & Red D
16:15 – 19:15 : Eglo Records : Alex Nut, Fatima, Steve Spacek, Shy One
20:00 – 23:00 : The Move: Children of Zeus, Darkhouse Family, Rah (Darker Than Wax)
20:00 – 23:00 : Total Refreshment Centre : Hugo Mendez (Sofrito), Born Cheating (Tiffs Joints), Lexus Blondin (TRC)
SUNDAY:
12:30-15:30 : Hessle Audio : Ben UFO, Pangaea, Pearson Sound & Batu
12:30-15:30 : 15 Years of Phonica : Palms Trax, Nick Williams, Danielle
16:15-19:15 : Make Me : DJ Stingray, Anastasia Kristensen, Make Me
16:15-19:15 : Exit Records: dBridge, Skeptical, Fixate, SP:MC & MC GQ
20:00-23:00 : Electrix : Billy Nasty, LMA (DJ), special guest TBA
20:00-23:00 : Butter Side Up : Craig Richards and Butter Side Up DJs
DIMENSIONS FESTIVAL 2018
Wednesday 29th August (Opening Concert) – Sunday 2nd September
Fort Punta Christo, Pula, Croatia
Tickets: https://bit.ly/2jVcBVs