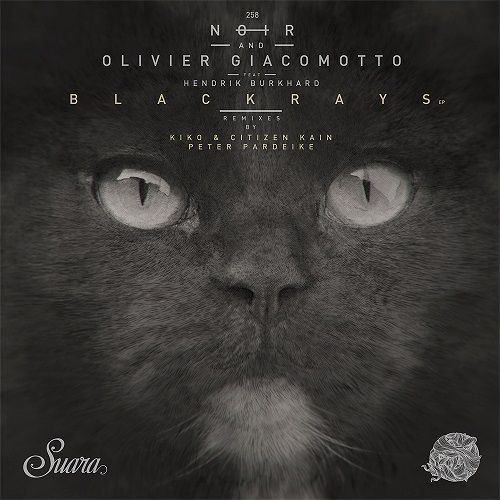 Noir & Olivier Giacomotto feat. Hendrik Burkhard - Blackrays EP
February 6th 2017 sees Denmark's Tech House don Noir team up with France's illustrious Olivier Giacomotto and Germany's Hendrik Burkhard to deliver their new release entitled, 'Blackrays', via Coyu's celebrated Suara imprint.
This impressive three-track offering (comprising of one Original mix and two Remixes) is Noir's first outing on Suara – without using an alias – and sees the return of Olivier Giacomotto, a Suara favourite, to the label.
The Original mix of 'Blackrays' kicks things off, taking the listener on an emotional and sophisticated Tech House journey encompassing; lush suspense chords, arpeggiated synth melodies, intriguing percussive elements and an outstanding vocal performance from Hendrik Burkhard.
Kiko & Citizen Kain's excellent rework follows, utilizing key elements from the Original recording but adding a dominant chuggy bass hook, 'live' sounding drums and an abundance of powerful sound effects into the mix.
Last but not least, Germany's Peter Pardeike offers up and an absolutely stellar re-rub to conclude the package. Taking 'Blackrays' into a new direction by adding his own deep and melodic touches to the record such as; a stunning robotic vocal, intriguing synth work and a dramatic breakdown.
'Blackrays' is available exclusively on Beatport from February 6th and everywhere else four weeks later.
FIND NOIR ONLINE:
https://twitter.com/NoirMusic
https://www.facebook.com/Noir.Face
https://soundcloud.com/noir
FIND OLIVIER GIACOMOTTO ONLINE:
https://soundcloud.com/oliviergiacomotto
https://www.facebook.com/oliviergiacomotto
https://twitter.com/ogiacomotto
FIND HENDRIK BURKHARD ONLINE:
https://soundcloud.com/hendrik-burkhard
https://www.facebook.com/Hendrik-Burkhard-122540077809522
https://twitter.com/HendrikBurkhard
FIND SUARA ONLINE:
https://twitter.com/SuaraMusic
http://www.suara-music.com
https://www.facebook.com/suaramusic
TRACKLIST
01. Noir & Olivier Giacomotto Ft. Hendrik Burkhard – 'Blackrays' (Original Mix)
02. Noir & Olivier Giacomotto Ft. Hendrik Burkhard – 'Blackrays' (Kiko & Citizen Kain Remix)
03. Noir & Olivier Giacomotto Ft. Hendrik Burkhard – 'Blackrays' (Peter Pardeike Remix