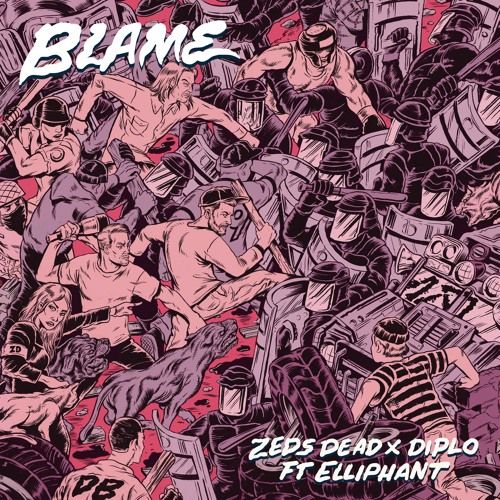 Zeds Dead & Diplo - Blame (feat. Elliphant)
Zeds Dead have unveiled a Chris Yee-directed video for their hit single "Blame" which is a collaboration with Diplo and Elliphant. Watch the animated video above and gear up for the release of their debut album Northern Lights via their own Deadbeats label.

Additionally, Zeds Dead will be embarking on The Northern Lights tour which follows their recent headlining performance at the legendary Red Rocks venue in Colorado and features a massive run of worldwide dates as well as a newly conceived stage show. Scroll down to view all of the tour dates.

About Zeds Dead:

The modern festival landscape with tens of thousands of people dancing, shaking, grooving to pounding bass and ground-shaking drops has become so well-known that the intensity of the music should now be rendered benign. Still, the radical sonic possibilities and permutations remain limitless. Having been at the forefront of the sprawling genre since 2009, Dylan Mamid (DC) and Zachary Rapp-Rovan (Hooks), aka Zeds Dead, are acutely aware that the genre craves a new wave of innovation. That's why when the Toronto-based producer/DJs finally took time off from headlining festivals, they crafted a debut album full of dynamic, forward-thinking songs that defy categorization and disrupt musical foundations.

The products of two musically-inclined households, Mamid and Rapp-Rovan played piano before moving onto the guitar. As teens, they became enamored with the beats of '90s hip-hop producers (e.g. DJ Premier, Pete Rock) and formed production duo Mass Productions (MP). Like DJ Shadow or RJD2, they explored the boundless potential of hip-hop based instrumental music.

This insatiable appetite for sonic exploration has been the guiding principal of their career. In college, Mamid and Rapp-Rovan became entranced by the rhythms of drum & bass, dubstep, and electro. Changing their name to Zeds Dead, the pair founded one of Canada's most storied club nights: Bassmentality. Initially held in the tiny basement of 751, around-the-block crowds prompted a relocation to Toronto's Wrongbar, where Mamid and Rapp-Rovan booked artists like Skrillex, Borgore, and Nero.

Mamid and Rapp-Rovan haven't stopped their ascent since Bassmentality, touring the world, performing to thousands at music festivals such as Coachella, Lollapalooza, Osheaga, HARD, Ultra, Tomorrowland Belgium, plus the biggest stages in India, Asia, & South America. Zeds Dead have also launched their own events, notably their annual Deadrocks event at Colorado's Red Rocks Amphitheater, which they most recently sold out in June of 2016, and their first annual Deadbeats Toronto event at Echo beach in August 2016.

The group's compelling, high-intensity live shows double as a showcase for their ever-expanding catalog. To date, Zeds Dead has released projects with electronic music titans like Ultra (The Living Dead) and Mad Decent. The duo considers their 2014 EP, Somewhere Else (Mad Decent), a significant artistic milestone. With features from Omar LinX and the late Sean Price, among others, Mamid and Rapp-Rovan seamlessly fused the sonic hallmarks of contemporary hip-hop with brain-melting bass, poignant piano keys, and more.

"The way Somewhere Else came together, the concept behind it, and the way we worked with other people – it was closer to my main vision for Zeds Dead," says Mamid.

Zeds Dead fully realizes this vision on their forthcoming album, Northern Lights. Released via the group's Deadbeats imprint, it is the culmination of two musical journeys, of years of collaboration, touring, and recording. As such, the album encompasses much of life's emotional complexities. Some songs evoke the wistfulness of nostalgia, others the uncertainty of the present. While others still brim with bright-eyed hope for the future. Throughout, disparate sounds intersect and collide, the juxtaposition glinting majestically, like gaseous neon against a clear black night.

"It's music that works best at night. The northern lights are something beautiful and vibrant coming out of the night sky," explains Mamid. "That contrast provided the framework for the album."

This contrast is undeniable on the Diplo-assisted single "Blame," which features Swedish chanteuse Elliphant. Swirling, ethereal chords temper the thundering bass, the space between dominated by Elliphant's poignant vocals. "Blame" is equally emotive and propulsive, the kind of song that will induce tears of joy in dancing festival goers.

Elsewhere on the album, the gritty gangster narratives of rappers such as Jadakiss and Styles P are bolstered by punishing percussion ("DNA"). The Twin Shadow-featuring "Loneliness" and "Stardust," however, are primed for dimly lit clubs, the soundtrack to two sweat-slicked people in search of love between beats.

Even with the multiplicity of sounds and a wide array of guests (e.g. Rivers Cuomo, Pusha T, Dragonette) Northern Lights is a markedly cohesive body of work. "We were trying to make something that wouldn't become dated, that would last," says Rapp-Rovan.

On Northern Lights, the lines between genres are undone, undercut by delicate instrumentation and detonated by drops antithetical to "count-to-three" gimmick. It is an album both of the times and out of them. "EDM" doesn't even begin to do Zeds Dead justice.