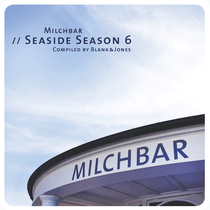 Blank & Jones – Milchbar – Seaside Season 6
Blank & Jones present their annual "Milchbar" selection with the finest in downbeat, chill out, lounge and balearic beats. Seaside Season 6 brings together exclusive new recordings from artists like Marc-George (BLISS), Trumpet Thing or Satin Jackets, adding classic recordings from heavy weight lounge legends like Cantoma or Gabin plus exclusive new recordings from the producers themselves.
The "Milchbar" series is germany's most successful Chill Out Compilation outselling big brands like Café Del Mar or Buddha Bar in germany for years now. The "Milchbar" is a hot spot café on the german island Norderney and presents a spectecular view of the sunset where Blank & Jones also play their legendary 10 hour "Sunset Sessions" exclusively.
Online
www.blankandjones.com
www.facebook.com/blankandjones
www.twitter.com/blankandjones
www.soundcolours.com