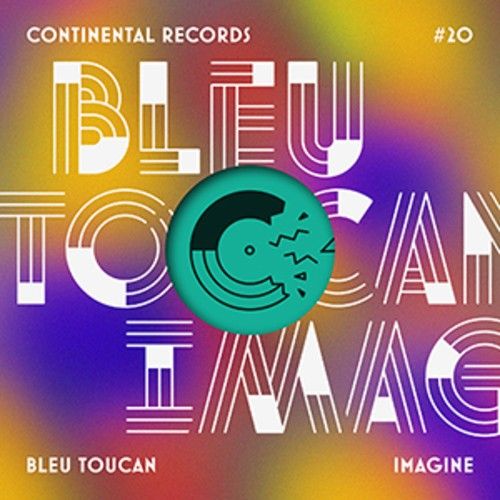 Bleu Toucan – Imagine EP
Jerry Bouthier's Continental records kicks off 2015 with the tentalizing double-A side single 'Imagine/Easy To Find' from duo Bleu Toucan, the latest gem to break out of the French electronic scene.
Leo and Manu are Bleu Toucan. Leo lives in Pau in the south of France, Manu's based in Paris, they are both in their mid twenties. It's not even a year they've started to work together, yet the songs keep coming: breezy post-cards blessed by delicious melodies gathered from teenage diaries and worn out vinyls, Bleu Toucan's songs are as personal as they are ambitious, light but never shallow, different yet familiar, and so addictive.
If their debut single 'Salade de Fruits' EP, released last November on Profil de Face records (attracting praise from Les Inrockuptibles, France's highbrow rock bible, and La.Ga.Sta, currently one of the most trusted music blogs out there) was the introductory set presenting Bleu Toucan's gripping world, vaporous and seamless, chilled and nevertheless rhythmic. Their second single 'Imagine/Easy To Find' on Continental was gonna be the one that would introduce them to the dancefloor.
First comes 'Imagine', a glorious break up song (?) sung in French, a moonlit face to face rocked by housey pianos and quite simply a modest jewel of emotive nostalgia. In the hands of Continental's stalwarts Reflex, 'Imagine' morphs into an inventive dreamy escape that's still driving. Lud and André's sound is blossoming without losing any of its shimmering harmonies.
The EP's other A side 'Easy To Find', a mini carnival wrapped around yet another killer piano line and tingly vocals sung in English, is as melancholic and powerful as 'Imagine' despite the all around sensual Latin fever. To compliment the original, the club mix switches the hypnogroove on as if it'd been tailored by those hot shots in Norway… and you're yet again in the streets of Rio pulling your best moves.
This is how pop music should sound in 2015: sexy and daring but never over-confident, sensitive and still funky, melodic without sounding fake. Feels like a big, genuine breath of fresh romantic air… then again what else to expect from talented French boys?