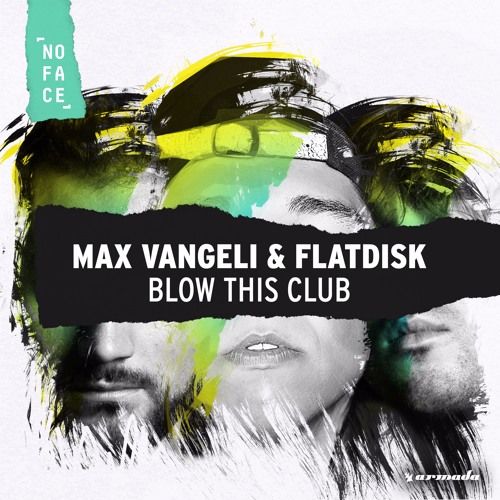 Max Vangeli feat. Flatdisk - Blow This Club
Max Vangeli's first release on his recently established 'NoFace Records' imprint was the emotively-charged 'Shine' which featured the stunning vocals of Francis Marvel & Kacie Marie. Now, building on the momentum of the first NoFace release, Max Vangeli has churned out another killer tune entitled 'Blow This Club' in collaboration with Italian duo Flatdisk, which is set for release February 22nd.
Italian DJ/producers Flatdisk originally rose to prominence by being selected as winners of the Revealed Recordings 'Escape' remix competition in partnership with Beatport back in 2013. Since then the duo have gone on to champion labels including Flamingo, Big & Dirty, VOID and also Sosumi Records with 'Skin', which was also produced alongside Max Vangeli too.
Comprising of crude-sounding kick drums, highly recognizable melodies, and one hell of an attitude, this rock-solid effort is the club-crashing counterpart of its predecessor, making clear once and for all that adamant dance floor dominators like this are to rule the world. Or in this case, to 'Blow This Club'.
For More Information On NoFace Records, See The Following:
https://www.facebook.com/NoFaceRecordsOfficial
https://soundcloud.com/NoFaceRecordsOfficial
https://twitter.com/NoFaceRecords
For More Information On Max Vangeli, See The Following:
https://www.facebook.comMaxVangeli
https://soundcloud.com/MaxVangeli
https://twitter.com/MaxVangeli
For More Information On Flatdisk, See The Following:
https://www.facebook.com/FLATDISKOfficial
https://soundcloud.com/FlatdiskMusic
https://twitter.com/FLATDISK