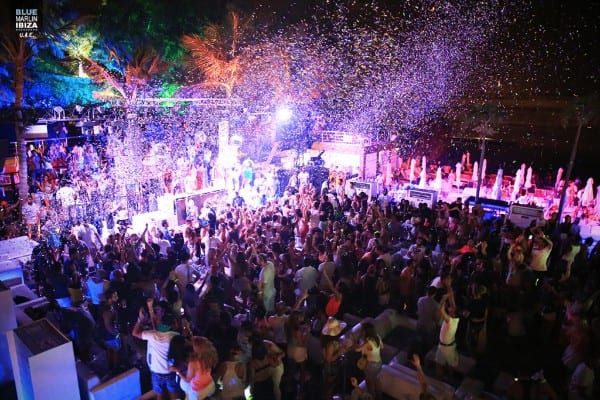 Blue Marlin Ibiza UAE Oct lineup announced…
Following on from an explosive start to the season in September, Blue Marlin Ibiza UAE continues to deliver the very best in global electronic names to their party oasis, with the likes of Richie Hawtin, Guy Gerber, and Martin Buttrich as part of the upcoming October line-up.
Following on from September's impressive schedule, with line-ups for Friday nights featuring the likes ofButch, Lee Curtiss, Francesca Lombardo, and Rampue, October will see further dynamic sets under the night sky with the appearance of 3 greats to the club; techno master Richie Hawtin, who will play a mammoth set on 20th October, fluent mix-master and Grammy nominee, Martin Buttrich, who will headline on 6th October and revered DJ Guy Gerber bringing his legendary RUMORS party to the venue on 13th October. The event series, which has laced the likes of London and Ibiza with its presence in recent years, has enjoyed a meteoric growth in popularity thanks to Guy's eclectic mixes.
Blue Marlin Ibiza UAE also saw the return of the famed Saturday Beach Brunches, a particular highlight for the season ahead. Packed with groovy music and a lavish selection of mouthwatering delights, custom made by the chef of the day, Saturday Beach Brunches offer unlimited cocktails, including a dedicated Gin Bar, delicious Cava Sangria, and legendary fresh fruit cocktails. Elevated to new heights for 2017, the refined and extended Saturday Brunch will be serving up a whole new experience from its little oasis, nestled between Dubai and Abu Dhabi, with residents DJ Jean B and Sam Starks in attendance.
With 3 different spots and perspectives to choose from, Saturday Brunch gained notoriety for its great food, sweet escape, seating options, beach side vibes and as always, entertainment and music. Whether you book yourself a beach bed on the shore, a lounge worthy couch on the open terrace where entertainers are based, or a shaded table in the restaurant with a bird's eye view of the whole venue from up top, there's no doubt that you'll have a new experience each and every time you visit.
Line-up:
Friday 6th October
Richy Ahmed, Martin Buttrich & Patrice Bäumel
Friday 13th October
Guy Gerber & Acid Mondays
Friday 20th October
Richie Hawtin
Friday 27th October
HOSH & Lehar
#BlueMarlinIbizaUAE
Blue Marlin Ibiza UAE is located in Ghantoot Al Jazira Island. The beach club spreads itself over two floors, catering to more than one experience within its contemporary settings. Upon arrival, the sound of Ibiza tunes lures guests into the architectural haven surrounded by white canopies and contrasting clear turquoise waters. The beachfront offers a place to indulge in the cool waters of the island's lush bay, minimalistic sun loungers, signature cocktails and music from an infamous selection of DJs and multiple-instrument live acts from around the world. With the restaurant located by the beach, late breakfast, lazy lunches and gourmet creations are served-up in the comfort of your private cabana. The fusion cuisine at Blue Marlin Ibiza UAE, offers the delights of the Mediterranean with an oriental influence, where all dishes are prepared with the freshest ingredients sourced from around the world. This world-renowned hot-spot paves the way for an unforgettable experience of both luxury and entertainment only a stone's through away from the city.
Location:
Sheikh Zayed Road, Ghantoot, Exit 399 in Golden Tulip Al Jazira Hotels and Resort, Abu Dhabi, 25 minutes from Mall of the Emirates.