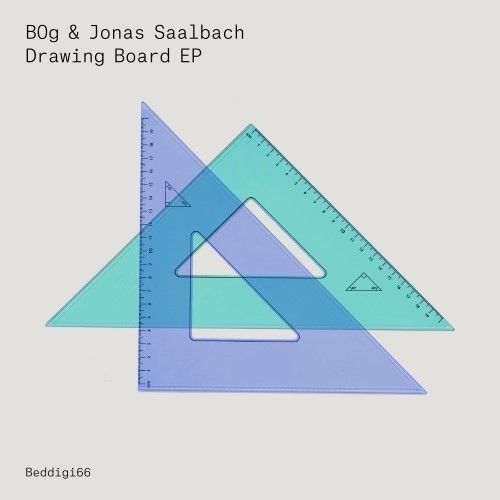 BOg & Jonas Saalbach - BOg & Jonas Saalbach – Drawing Board E
Bedrock launched into 2015 with a highly creative double-header from two respected artists from the revolution that is currently happening in the Romanian electronic scene – Atapy & BOg. Now, with the summer season in full swing, BOg returns with 3 stunning solo creations and also joins creative forces with Germany's super-talented Jonas Saalbach for a brace of exceptional tracks.
Opening with the naggingly hypnotic chimes of the EP's vocalised title track, BOg shows precisely why he is proving to be a new name to watch with his precise attention to detail. The enchanting, brooding melancholy of "Abrial" and the off-kilter darkness of "Amarna" further mark him out as having a unique creative talent. With its powerful bass-driven groove and twisted arrangement, "Indie Rubels" heralds the arrival of Jonas Saalbach into the creative process, whilst the glorious, soaring cathedral-esque melodies of "The Prince" are sure to turn heads everywhere.
Berlin-based Jonas Saalbach is refreshingly different – he constantly reinvents his music but refrains from leaving out those distinct nuances, which make his music unmistakable. Known for performing his tracks exclusively live, and with releases on, amongst others, Einmusika and Moodmusic, he is a young talent whose work is excitingly still in its infancy.
BOg is a Romanian electronic music composer and DJ, based in Paris and deeply passionate about music since childhood. He has risen to his current prominence through releases on Crosstown Rebels, Fumakilla, Akbal Music, and Bedrock (check his superb remix of "Gridlock" by none other than John Digweed & Nick Muir). With talent and releases like this, 2015 is shaping up to be an amazing year!