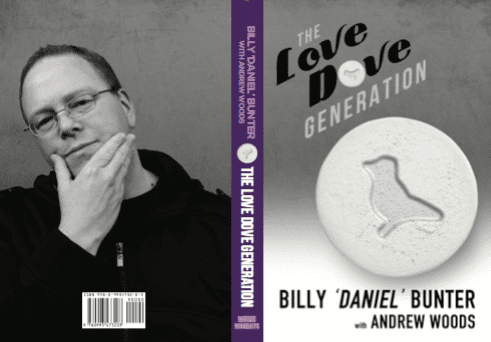 Book About London's Rave History Out Today
The Love Dove Generation centres around the east London rave scene of the late '80s/early '90s and is the autobiography of Daniel Light, professionally known as Billy "Daniel" Bunter, who started out as Britain's youngest rave DJ aged just 15. Daniel rose to the top of the pile at the legendary Labrynth, 12 Dalston Lane, E8 before embarking on a global career in music that continues to this day. This book not only reveals Daniel's ascent from the backstreets and markets of Wood Green, north London, but also chronicles the progression of the UK rave scene – with contributions from The Prodigy, Slipmatt, Mark Archer (Altern 8), Eamon Downes (Liquid), Rat Pack, Kenny Ken, Uncle Dugs, Jon Doe and many more… including Joe "Labrynth" Wieczorek who created the infamous club that established the Billy "Daniel" Bunter name.
From the sleeve,
"Twenty five years ago, when I first started out in the rave scene, I never really had a plan; I just knew that music had to be part of my daily life. It's mad to think I have gone from selling spuds to DJing all over the world, releasing gold-selling albums in the process – and now I have written and published my very own book. Life has been full of ups and downs, with good times and bad, but I'm still here to tell the story. I hope you enjoy reading about my life as much as I've enjoyed living it."
Billy "Daniel" Bunter
The book has been written with Andrew Wood who has written about music for The Daily Telegraph, Guardian Guide and Select and has interviewed numerous musicians and bands including Beastie Boys, Happy Mondays and Primal Scream. Andrew was formerly Deputy Editor of Loaded magazine.
20 KEY FACTS FROM LOVE DOVE GENERATION
1) Prodigy played for £10 each at their 1st ever gig at The 4 Aces in Dalston.
2) Legendary rave promoter Phil 2000AD illegally run the 8000 people Goods Way / Kings Cross Warehouse Raves in 1989 by paying off the head of police £1500 a week. By the 3rd week of running the parties he was banged up in Pentonvile Police station and used to watch 1000's of ravers walk past his window in his cell going to his party.
3) Labrynth being in the heart of Hackney every Friday & Saturday in the early 90's could be very dodgy for ravers coming out of town. If locals tried to mug people or break in to the car's … My Dad would fire a gun in the air to scare them off. Or the robbers would be left at the side of the road normally unable to walk.
4) Joe Labyrinth (rave promoter) stole legal documents from the chief of the fire brigade and forged them so he could run all his illegal warehouse parties in 1989.
5) Take That were Altern 8's warm up act.
6) Pet Shop Boys, Boy George and lot's of the cast of both Eastenders and Grange Hill used to be off their tits at the Labrynth (4 Aces / Dalston) in the early 90's where lot's of the book is centred around.
7) In the early days of pirate stations Kool FM and Rush FM. If DTI paid them a visit Rush FM would let the tires down and smash up the vans of of DTI.
8) Liquid made Sweet Harmony for £80.
9) Roland from Grange Hill used to be a rave MC.
10) Suzanne Vega's favourite cover version of Tom's Diner was Rat Pack – Searching For My Rizla.
11) Both Joe Labyrinth and Billy Daniel's partner Sonya had their doors held up at gun point whilst running raves.
12) Billy Daniel Bunter has had people waiting outside my house with guns.
13) Altern 8's vix and face-mask imagery was a mistake, they played a club full of smoke and dust one night and wore face-masks filled with vix to get through the set, they never took E.
14) Altern 8 got booed off stage at Brixton Academy when they 1st performed in London.
15) Kenny Ken's 1st ever set was at Biology in 1989. Grooverider had to get going to another gig. Kenny wasn't a DJ, it just so happened he had his record collection in his car, and he went on and played.
16) Raindance was the countries 1st ever legal all night licensed rave in a field.
17) Take That stopped SL2 – On a Ragga Tip from going number 1 in 1992.
18) When Happy Hardcore & Jungle split. Legendary dub plate cutting house "Music House" had to have separate days for both musics to cut their dubs due to an argument one night from both scenes.
19) Legendary Drum & Bass producer Optical made all my 1st Hardcore tunes with me.20) In 1989 Mark Archer – Altern 8 flew to Detroit to make music with Derrick May. The music is still unreleased.