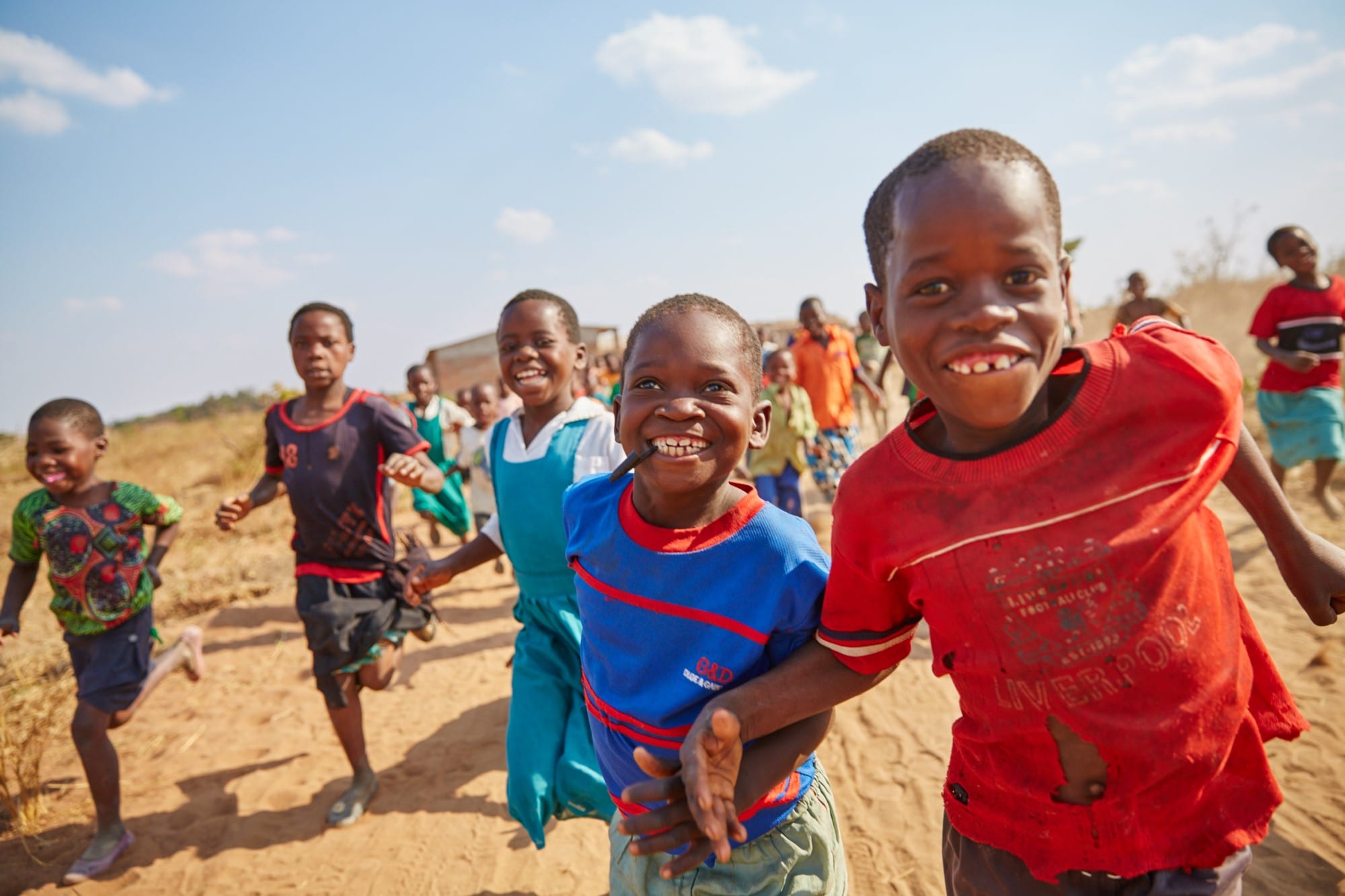 Rudimental Provide School for 200 Malawian Children
On the 1st December 2015 an incredible thing happened. A school block was opened in Malawi that will educate two hundred children. Those two hundred children now have a safe place to learn who were previously taught outside in the dust under the hot sun. The school block was funded through Rudimental's support for Love Specs and Love Support Unite Foundation.
Who Are Love Support Unite?
Love Support Unite registered charity number 1162406, is a grassroots organisation that permanently lifts communities out of poverty by implementing the Foundations for the Future sustainable development model. Working towards the achievement of the UN Global Goals by facilitating community led projects in education, micro-enterprise, renewable energy, permaculture, clean water and healthcare – six Foundations for the Future.

Their innovative and context sensitive development model is currently being implemented in Lilongwe, Malawi and has seen such incredible results that they are planning to take it global in the near future.

LSU fundraises through the sale of Love Specs at UK and European music festivals. Love Specs are love-tinted diffraction glasses that turn points of light into fractal rainbow hearts. Fans include Rudimental, Ed Sheeran, Pixie Geldof and Cara Delevingne.


How Did It Begin?

Love Support Unite grew out of its sister charity, Tilinanu Orphanage. Two sisters, Alice and Nina Pulford, founded Tilinanu Orphanage in 2009. Alice decided to direct her energy toward making a difference in Malawi after she met Mercy Mkandawire while on a voluntary teaching placement, an incredible woman who was feeding 400 orphans daily from her own home. Mercy had named this feeding programme Tilinanu, or 'always with you'.

Upon returning to the UK Alice began fundraising for Malawi, marking the start of a beautiful partnership between Alice, Mercy, and Alice's sister Nina and mother Yvonne. Together they opened Tilinanu Orphanage, a place of happiness and laughter that houses and educates 34 amazing girls and supports the wider community with initiatives like women's enterprise. Creating Tilinanu Orphanage made the sisters aware of the urgent need to provide wider support to communities seeking to lift themselves out of extreme poverty and Love Support Unite was born.



Achievements
2007
Alice Pulford volunteers in Malawi on a teaching placement and learns how damaging badly managed volunteer programmes can be for local communities.

2009
Alice meets Mercy Mkandawire who is running the Tilinanu programme, feeding 400 homeless orphans daily from her own home.

Alice returns to the UK to fundraise.

August – Alice, Nina and their mother Yvonne raise £1500 and return to Malawi to build Tilinanu Orphanage with Mercy on her family's land.

2010
Using funds raised by Alice and Nina in the UK, Tilinanu Orphanage trebles in size.

A learning centre is established at Tilinanu Orphanage.

2012
September – Alice and Nina Pulford set up Love Support Unite, a skills-based volunteering organisation, to sustain Tilinanu Orphanage and tackle the problem of extreme poverty in the wider community.

Foster Home, Micro-Loan and Caring for Community Elders programmes are established.

2013
Alice and Nina discover many children learning outside in the dust being taught by overloaded teachers at Mkhunku School in Lilongwe, Malawi's capital.

Alice and Nina build a school block for Mkhunku by raising £12,900 and aim to turn Mkhunku into Malawi's first self-sustaining school.

600 of the school's children who were previously being taught outside in the dust under the hot sun now have a safe school building to learn in.

June – Love Specs are created to be sold at UK and European music festivals to fundraise for Love Support Unite.

2014
May – P J Hughes Construction donate £12,000 and a team of builders who complete a 2nd block for Mkhunku School in just 14 days!

September – A clean water borehole is built at Mkhunku to provide safe water for the local community of 3000 people.

2015
£50,000 is raised through the sale of Love Specs at festivals and online from our thriving online emporium at http://lovespecs.org

Mike Sant of Grip Dec installs a Moringa superfood plantation at Mkhunku School.

Rudimental raise £8,000 to complete a third block for Mkhunku School allowing another 200 children to learn in safety, by giving paper Love Specs out to fans at Wild Life festival!

Firefly Clean Energy install solar panels at Mkhunku School, creating the only power source for 12km.

Blossom and Berry Baby Massage and Lucy Bee Coconut Oil fund the building of 2 teachers' houses.

Love Support Unite hold a fire-walk, and raise enough money to install a clean water borehole for 600 people.

December – Rudimental's school block at Mkhunku School is now open

2016
May – Squire Patton Boggs will fund an enterprise and education centre at Mkhunku.

December – LSU will create a medical clinic for Lilongwe.


The Story – The Rudimental School Block is Now Open

Love Specs are heart-shaped love-tinted diffraction glasses that turn points of light into fractal rainbow hearts! UK drum and bass heroes Rudimental first discovered Love Specs at Bestival 2014 when introduced to them by a friend. When Piers, Amir, Kesi and Locksmith heard the story behind Love Specs and discovered that 100% of the profits got to Love Support Unite's community focussed sustainable development projects in Malawi, they fell in love and ordered personalised Rudimental Love Specs for their merchandise stands.

Earlier this year Amir, Kesi and Piers starred in an exclusive campaign for Love Specs shot by Zoe Lower. Their energy is palpable in this epic collection of images that are available from our Press Zone (http://lovesupportunite.org/presszone).


Last summer Rudimental decided to join us in fighting extreme poverty in Malawi. They gave away over 10,000 pairs of paper Love Specs to their fans at the inaugural Wild Life festival in Brighton, raising £8,000 to build a school block at Mkhunku School. The Rudimental school block will allow an additional two hundred children to learn in safety. Those two hundred children who were previously taught outside in the dust under the hot sun. The Rudimental school block is the third block at Mkhunku School and will enable the local community to educate a total of eight hundred children from extremely poor backgrounds. Rudimental's generosity has blown the Mkhunku community and us away. They have changed lives forever.

The Rudimental school block was opened on Tuesday 1st December 2015. Join us in sharing this incredible story of Christmas generosity and love.

Piers Aggett from Rudimental says, "We Support Love Support Unite because they are an honest charity who work from the grassroots up. They help build schools and provide energy and resources in a place like Malawi where they are needed most".

We say, "Rudimental are love!"