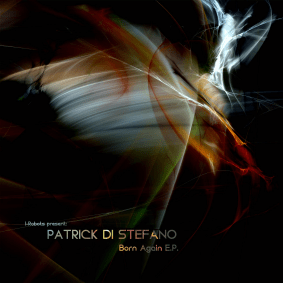 I-Robots present Patrick Di Stefan - Born Again EP
Opilec Music family member Patrick Di Stefano is back on the label with a new EP that features three tracks that are devoted to cosmic and deep electronic music. Artwork for this release is provided by Artefract aka Tim Paulvè FR, making an essential package overall.
Patrick Di Stefano first collaborated with label boss I-Robots aka Gianluca Pandullo back in the late 90s and early 00s. Their collaboration gave rise to the Ebbro 12"—which was remixed by stars like Pier Bucci, LoSoul and Nick Chacona—and I-Robots also included his track 'Socci' in the V.A. We Are Opilec. Vol. I. Di Stefano's music is characterised by jazzy, deep house, techno and minimal touches and he's been active since 1995 when he had a key role in the development of the electronic scene in his native city of Turin. He also manages the Butterfly Parties and DJs across Italy and Germany and has put records out on Apparel Music, Debox Rec., Off Recordings and many others. At the end of 2011 he and Luca Doobie started their new label Spades and their new duo Wemove, but this solo release features tracks personally selected and partially reworked by I-Robots.
The excellent title track is an emotive techno cut with tightly stacked kick drums and synths drowning in reverb and effects. A distant whirring speaks of a computer controlled future and the busy percussion brings the energy. A lead synth line breaks out like a call to action and this one is sure to make a big impact in the club.
The moody 'Frozen Dreams is a contemplative number with beautiful keys twinkling in the skies above. Broad synths stretch out to infinity and add real scale as the chords keep on swelling the emotional aspect. It's a patient, subtle track that offers real electronic majesty. Last of all, I-Robots Reconstructs 'Gloriosa' into a tense, absorbing number with a big lead synth that really sucks you in and takes you on a ride. The drums build and pull back, and the whole thing is a truly tumultuous and cosmic techno journey. This rework is also featured on the upcoming 'I-robots – Reconstructions – 10th year Anniversary' compilation , due in the new year.
These are timeless and cinematic techno tracks that make another excellent offering from Opilec Music.
Tracklist:
01 Patrick Di Stefano – Born Again
02 Patrick Di Stefano – Frozen Dreams
03 Patrick Di Stefano – Gloriosa (I-Robots Reconstruction)