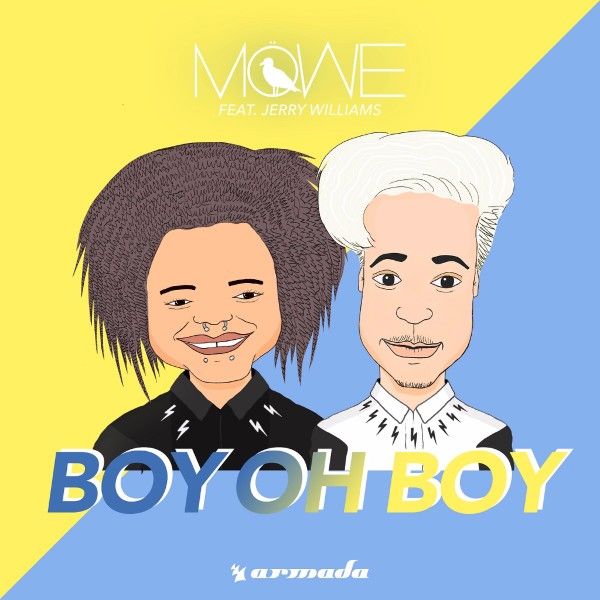 MÖWE feat. Jerry Williams - Boy Oh Boy
Anticipated since the release of radio smash 'Lovers Friends' and debut album 'Back In The Summer', MÖWE have put out one of the album's most catchy singles. 'Boy Oh Boy' features the vocals of UK singer-songwriter Jerry Williams and hit Amsterdam-based record label Armada Music today.

A track that sets the bar sky-high in terms of catchiness, 'Boy Oh Boy' is a superb blend of MÖWE's signature sound and Jerry Williams' colorful vocals. It's got the sugar-coated lyrics, the summery vibes and a sonic flavor that could get the whole world addicted in no time. It's safe to say MÖWE have done it again.

Jerry Williams, whose vocals turn up the heat throughout the record, is one of the hottest unsigned singer-songwriters of the moment. In 2016, she won the award for 'Best Produced Release of the Year' at the Unsigned Music Awards 2016 and came in second for 'Best Release Of The Year 2016'. In addition, she sold out headline shows in London and Portsmouth and racked up almost four million streams with 2016 single 'Mother'.

'Boy Oh Boy' was part of 'Back In The Summer', the sixteen-piece album MÖWE released in November 2016. The album also featured 'Lovers Friends', the 2015 offering that still counts as MÖWE's biggest single to date with massive success on the European airwaves and close to eleven million streams on Spotify alone.

Hailing from Vienna, Austria, MÖWE started making waves in 2012. Soon after, the duo became inseparable with Armada Music and sub label The Bearded Man, on which MÖWE put out dashing singles such as 'Chasing Clouds', 'Lovers Friends' and 'Your Skin' (feat. Bright Sparks). Besides churning out infectious originals and conquering the scene with their sublime live shows, MÖWE have remixed some of the world's biggest acts, including five-time DJ Mag winner Armin van Buuren and Australian duo NERVO.