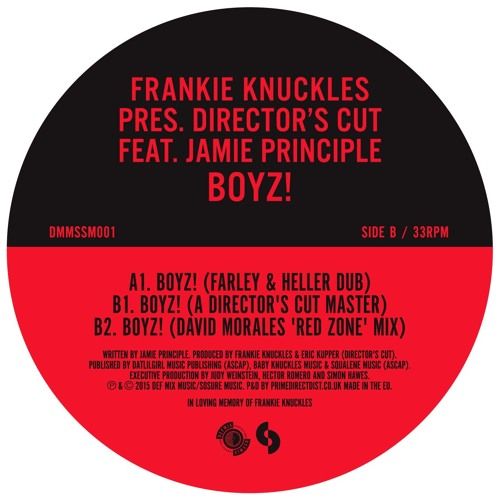 Frankie Knuckles pres. Director's Cut feat. Jamie Principle (Incl. Farley & Heller / David Morales Remixes) - Boyz!
This November will see Def Mix join forces with SoSure Music to release 'Boyz!' from the late Frankie Knuckles, accompanied by remixes from David Morales and Farley & Heller.
The first time I heard this song, it truly made me smile. I know it made Frankie smile as well – and I know he's smiling now, seeing it's release. It is an honor and a pleasure to be a part of this record. (Eric Kupper – October 2015)
I've always been a Jamie Principle fan since Baby Wants To Ride. To be able to work on his record is an honor. I really had fun mixing Boyz. It put me in a RED ZONE mode. I'm very happy to be part of this project. (David Morales – October 2015)
I'm humbled and honored to be part of this project and to finally let the world hear 'Boyz!'. It's a timeless tune that's gonna cater to many fans especially with the wide range of remixes that are releasing on vinyl. Long live Frankie and the talented Jamie Principle! (Hector Romero – October 2015)
Jamie is a reminder of the good music we had with Frankie. 'Boyz!' is sure to become a classic Director's Cut tune (Judy Weinstein – October 2015)
The release kicks off with Farley & Heller's 'Dub' mix of 'Boyz!' and sees the British duo deliver a low slung slice of house fuelled by chugging organ grooves, raw crunchy rhythms and hooky loops of the original vocal licks.
The 'Director's Cut Master' follows and sees Knuckles fuse electro bass hooks with direct 4/4 rhythms alongside an amalgamation of infectious vocal layers from Principle.
Lastly to round off the package Def Mix Music founder David Morales delivers a take on things under his 'Red Zone' guise, offering up a dark and brooding interpretation with menacing synth drones, a swelling sub bass hook and robust drums.
'Boyz!' is released via Def Mix Music / SoSure Music exclusively on vinyl only 30th November, with a digital release to follow in 2016.
Tracklist
1. Boyz! (Farley & Heller Dub)
2. Boyz! (A Director's Cut Master)
3. Boyz! (David Moralez 'Red Zone' Remix)