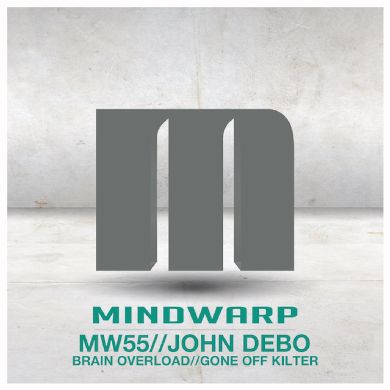 John Debo - Brain Overload / Gone Off Kilter
John Debo's inspired musical creations have already been turning heads in 2017. His stunning 'Ode To Jack' / 'Shifty' release on the newly launched, Paris-based ATLANT Recordings caused a commotion, as did his utterly beguiling remix of 3LIAS and Ali Ajami's 'Audio Culture' (MW54) on his reinvigorated Mindwarp imprint. Now, with this new double-header, John Debo continues to explore those darker musical territories that are intensely fascinating, as he digs deeper into his now trademark deliciously dirty, deep space techno territory.
With 'Brain Overload' (spotters will have noted an exclusive first radio play on Transitions Episode 635), its all about the perfect heavyweight, hypnotic, loping groove, aligned with a brooding, spacious arrangement and bolstered with bleeps and Debo's trademark impeccable sonic sophistication. 'Gone Off Kilter' intensifies the heavy percussive element, masterfully building tension into a truly twisted dreamscape. Both tracks give a perfect insight into just how exceptionally creative John Debo is feeling right now.
Having purged himself of studio software to return to the open-ended creative freedom of his original analogue roots, this maverick DJ/Producer is surfing an inspired wave of modular synthesis experimentation. By stripping back the creative process to the essence of what true individuality means, he is allowing a single analogue instrument to dictate a whole new inspired, spiralling web of possibilities.
New York born and Boston-bred, John Debo is undoubtedly a pioneer of underground dance music culture in the US. His club nights at Venus De Milo, Axis & Avalon in Boston carry legendary status, having laid a strong foundation for the now flourishing electronic music scene in the USA, and Debo shows no signs of slowing the pace anytime soon. His artistic adventures in 2017 are already looking very exciting indeed. Besides this exceptional new release on Mindwarp and those mentioned above, more exhilarating music is waiting in the wings, with remixes of Luca Doobie 'The Pale King' (Tulipa Recordings) and King Britt's Fhloston Paradigm project, set to be unveiled soon.
John Debo Info:
https://soundcloud.com/johndebo
https://facebook.com/johndebo
http://instagram.com/johndebo
https://twitter.com/johndebo
Mindwarp Records Info:
http://mindwarprecords.com
https://twitter.com/mindwarpdigital
http://instagram.com/mindwarpdigital
https://facebook.com/mindwarpdigital
https://soundcloud.com/mindwarpdigital
https://www.beatport.com/label/mindwarp-records/19568