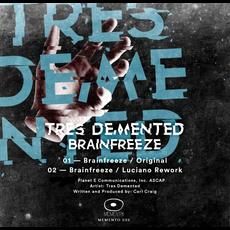 Tres Demented - Brainfreeze
Italian imprint Memento reissue Carl Craig's classic 'Brainfreeze' released under the Tres Demented moniker on Planet-E in 2003 alongside a remix from Luciano.
Memento – 'Memento Records is proud to announce the licensing of "Brainfreeze", originally produced by Carl Craig as Tres Demented and released on his legendary Planet-E in 2003. For this exclusive re-issue on Memento, Carl ́s original stems have been remixed and rearranged by Luciano. His additional production has tuned up "Brainfreeze" into an even sharpened peak-time weapon, rich of intense sequenced synthesisers and thrilling breaks rotating around a fistful of crushing cuts of the original voice hooks. The original mix is a memorable dark, relentless, acidic track pervaded by the wild shouts that have defined the Tres Demented project; a never ending ascension of attracting percussions and funky bites, running now on the wide grooves of the whole vinyl side.'
The reissue of Tres Demented's 'Brain Freeze' drops on Memento on 23rd October 2017.
Tracklist:
1. Brain Freeze (Original Mix)
2. Brain Freeze (Luciano Remix)