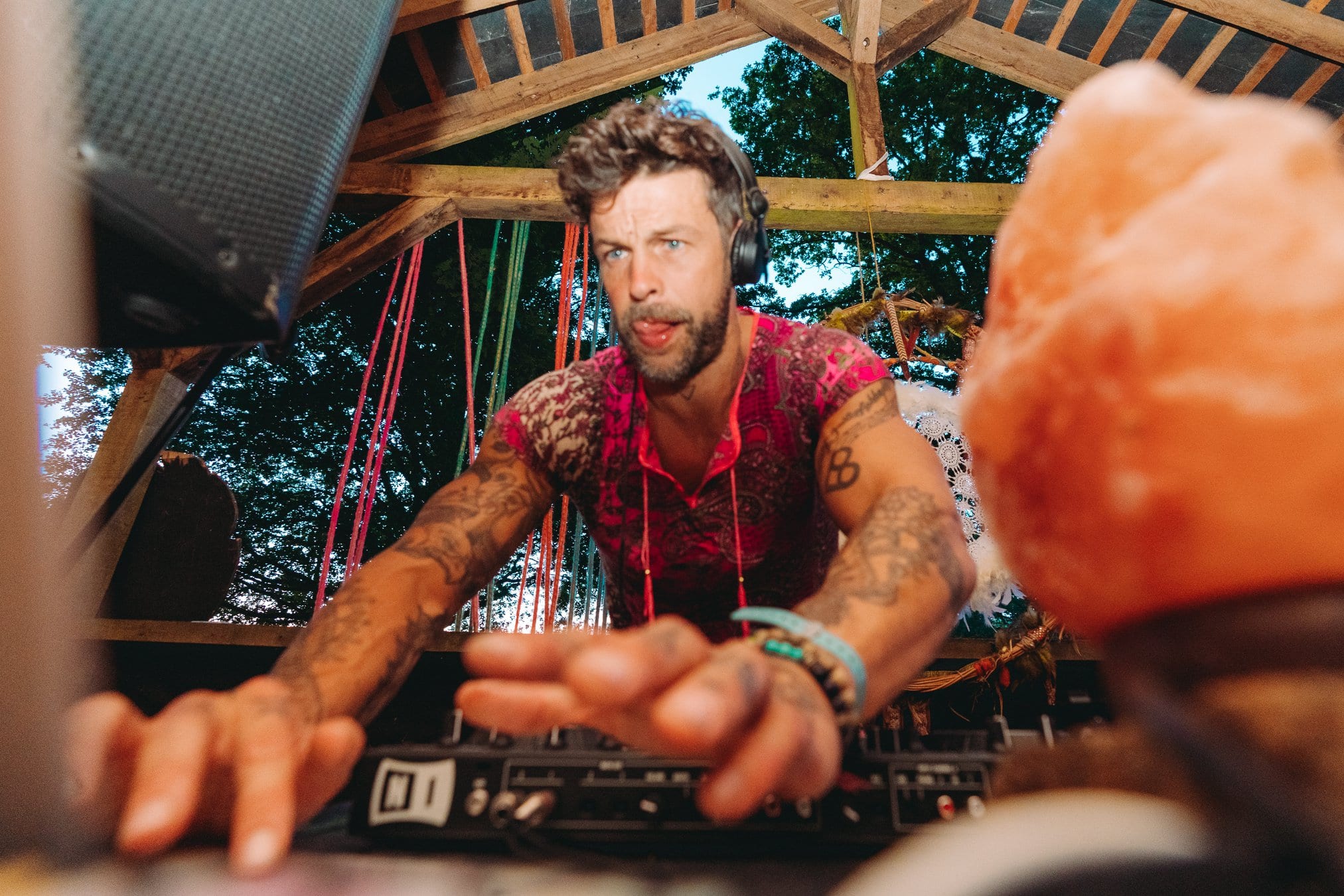 Brandon Block's new BELIEVE Tuesdays mindfulness festival launches online
Brandon Block's BELIEVE Tuesdays Mindfulness Festival Launches Online
New series of free wellness sessions designed to ease your mind, body and soul during self-isolation
Live guided meditations, art therapy, fitness training, and DJ sessions by industry leading experts
Geared to improve awareness of mental health in dance music, and help those suffering at this time of heightened anxiety

High res images here
LONDON, U.K, 27th March, 2019: BELIEVE Tuesdays Mindfulness Festival, originally scheduled for 31st March in London, will go ahead as a free online event, streaming live on Facebook  and Instagram.
The event boasts an array of talent and expertise from the worlds of dance music, physical wellbeing and mental health. Headed up by dance music legend Brandon Block  the line-up is united by having faced addiction and mental health issues and a desire to help others in the same boat.
The 12 hour long live online broadcast is the first in a brand new set of sober parties and is staged in partnership with electric radio.
From DJ sets and insightful Q&As to guided meditations, nutrition seminars and fitness training the eclectic mix of talent will lead sessions from self-isolation in Ibiza, Bali, Barcelona and London, brightening up Tuesdays, which is traditionally for many, one of the toughest days of the week.
Hosted by MC Chalkie White, the first MC in the UK dance scene, the online event will see him share his incredible story of recovery throughout the day. BELIEVE Tuesdays features industry leaders share their raw experiences of overcoming a range of mental health challenges and addictions, aiming to inspire and help others who are facing similar issues.
All sessions are free but donations of £5 are invited to male suicide charity CALM. All wellness sessions are designed to raise awareness of better mental health in dance music and encourage us all to look after our mental wellbeing at this anxiety-inducing time.
Co-founder of BELIEVE Tuesdays, Emily Chapman said "We were devastated when we realised the current COVID-19 situation meant the London event couldn't go ahead. But we soon realised the BELIEVE Tuesdays event was needed now more than ever and resolved to find a way to make it work. We soon had a plan and hopefully, especially now that it is free, we will reach even more people this way, particularly those who are feeling lonely, anxious, or isolated at this difficult time. In our house we are all equal and no matter what personal struggles you are experiencing, music can unite us, uplift us and make us feel like we are not alone."
Along with documentary-maker Emily Chapman, BELIEVE Tuesdays is co-created by Kai Cant, brainchild of ABODE, HotBed and The ABODE Project and Anth Lowther founder of Swankys, Rise and Shine and Paravana. Each has had their own personal challenges as a result of the scene and are now on their respective journeys of rediscovery. In setting up the series of sober events, they aim to prove that it is possible to socialise and enjoy dance music without relying on substances or alcohol.
BELIEVE Tuesdays has also partnered with WeAreHummingbird, who provide mental health first-aid training for people to learn how to look out for the signs that friends of family members are struggling.
Kai Cant said "The music industry is historically associated with excess yet there is little direct support available to those affected. Fuelled by drugs and alcohol, the industry has extreme aftereffects particularly for those who party hard at the weekend. Tuesdays are proven to be the day when the comedown and depression hits hardest, hence the term 'Suicide Tuesdays'. BELIEVE parties will provide an alternative to the substance and drink fuelled weekend parties and festivals with a sober session, launching online for free at a time when many will be struggling with their mental health."
Ian Hurst, founder of WeAreHummingbird said  "Almost a third of young people in the UK are now shunning alcohol whilst recreational drug use is higher than ever as are suicide rates as a result of depression and mental health issues associated with the industry. Tragedies such as that of Keith Flint and Avicii prove these challenges are often long-term and not selective of class, colour, wealth or profile.  It's our responsibility as senior figures in dance music to share our stories, experiences and access to provide support to those who need it most, at a time when they need it most."
The BELIEVE Tuesday virtual wellness festival line-up includes sessions by the following hosts:
Brandon Block  – DJ session & Q&A
Brandon, one of the original 'superstar DJs' who alongside Alex P cemented his status on the terrace at Space, Ibiza in the 90s. In 1996, his party lifestyle took its toll and given just weeks to live, he entered a detox facility. Now 23 years sober, Brandon continues to DJ and is a qualified NHS worker for people with complex needs as well as working as a Life Coach, SMART Recovery Trainer, Stress Management Trainer and a Goal Mapping Practitioner.
MC Chalkie White – DJ sessions and Q&A
The  first MC in the dance scene in the UK, MC Chalkie, otherwise known as Dave Redhead, went from recreational ecstasy use to being addicted to crack for 25 years, living on the streets for 20 years, and experiencing a spell in prison. He's now been clean for four years and is sharing his story to help others.
Anth Lowther  Meditations live from Bali
Anth established the UK super parties Swankys and Paravana and after experiencing suicidal depression due to drugs and alcohol, went in search of alternative life experiences, living with Buddhist monks in Ashrams in the Himalayas, visiting communities in Costa Rica and Cambodia and ceasing all drinking and substances. Currently based in Bali, he now runs the hugely successful sober, vegan parties called 'Rise and Shine' across the world.
Kev Smith Fitness training live from Ibiza
Personal trainer Kev's story is one driven by tragedy after suffering the losses of several family members and close friends, he turned to drugs. He has now turned his life around, and is an advocate of the key role that fitness plays in improving mental wellbeing. Kev is currently self-isolating in Ibiza, living in a motor home next to one of the island's most stunning beaches, running his fitness work outs online.
Dr Rachel Gow – Expert in Nutrition and Mental Health, founder of Nutritious Minds
Dr. Rachel V. Gow, Ph.D is a Child Neuropsychologist and Neurodevelopmental specialist with expertise in Attention Deficit Hyperactivity Disorder (ADHD) and associative learning and behaviour differences. She is a Registered Nutritionist and partnered with Dr. Balu Pitchiah, GMC Registered Psychiatrist to launch Nutritious Minds Consulting, a unique nutrition and brain-health clinic providing a comprehensive avenue to psychological health. Dr. Gow holds a Visiting Lecturer position at the University of Surrey, is an Associate Lecturer at London Metropolitan University and has an honorary role at The Institute of Psychiatry, King's College London.
Ross Mac Live DJ session
Ross has been DJ'ing since he was 16. He suffered addiction and after years of turmoil at 30 he visited the 12 step fellowship for the first time, a decision he soon recognised as saving his life. He is now sober and since getting clean Ross has DJ'd all over the world and played at some of the UK's biggest festivals including, We Are FSTVL, Standon Calling, Back of Beyond and Wilkstock.
Kai Cant Q&A on mental health
Kai is the brainchild behind ABODE, one of the biggest electronic clubbing brands in Europe with large-scale events across the UK as well as festivals in London, Southampton and Malta and a residency at Amnesia Ibiza.
Kai has lived with ADHD all his life which remained undiagnosed until recently, has an autistic non-verbal son and has battled severe depression as a result of the cocaine-fuelled promoter lifestyle he became used to. In May 2019 at the height of his success with ABODE, he tried to kill himself.
Over 40 weeks clean (to date) life has transformed and his commitment to supporting others is unprecedented. He uses his influence online to share a very public journey of sobriety which has already saved lives and it's Kai, his experience and his belief in the elements that have changed his life – nutrition, fitness and people – that is the driving force behind BELIEVE.
Charlotte Archer  Mandala Art Therapy live from Barcelona
Charlotte was your typical party-hungry, festival loving, care-free teenager. Partying as much as possible until one day, she suffered a panic attack which lead to anxiety, then depression followed by Agoraphobia (fear of leaving the house) and Thanatophobia (an overwhelming fear of death). Family and friends had never heard of anyone suffering in the way she was so were unable to help.After an ayahuasca retreat, a near death experience caused by drugs, a car crash and months of sleep paralysis and demons, she was too scared to take drugs anymore and became tee-total in March 2016. Ibiza had also introduced Charlotte to a more spiritual way of thinking and was the enabler to her discovering her talent as an artist. She spent the next few summers working on art production for big clubs and parties in Ibiza including Jamie Jones 'Paradise' at DC10 and in November 2018, after a life-changing trip to Uganda, she discovered her love for painting people. Charlotte's unique portrait style led to her first ever art-exhibition in Soho, London in December 2019 to huge acclaim. She now lives in Barcelona where she continues to develop her talent for portrait painting and is busy preparing for her next exhibition.
BELIEVE Tuesday Virtual Wellbeing Festival Schedule
10am – My journey to recovery part one (MC Chalkie White)
10.30am – Morning meditation from Bali (Anth Lowther – Rise & Shine, Paravana, Swanky's, Candy Pants)
11.30am – The fitness hour live from Ibiza (Kev Smith – Personal Trainer)
12.30pm – My journey to recovery part two (MC Chalkie White)
1.30pm – LIVE Soulful and Vocal House DJ Set (Ross Mac – HotBed, Dog & Whistle)
2.30pm – Mandala Art Therapy live from Barcelona (Charlotte Archer – Artist)
3.30pm – My journey to recovery part three (MC Chalkie White) – includes LIVE Q&A
4pm – SURPRISE GUEST DJ
5pm – BREAK
7pm – Nutrition and Mental Health (Dr Rachel Gow – Nutritious Minds)
7.45pm – My journey to recovery part four (MC Chalkie White)
8pm – LIVE Q&A on Mental Health (Kai Cant – ABODE, Brandon Block – Happy Days for Everyone, Ian Hurst – We Are Hummingbird)
9pm – LIVE Funky Disco DJ Set (Brandon Block)
10pm – My journey to recovery part five and close (MC Chalkie White)
10.30pm – Final meditation live from Bali (Anth Lowther – Rise & Shine, Paravana, Swanky's, CandyPants)
NB: Schedule is subject to change.
————-
BELIEVE Tuesday is the new Saturday.
Check out BELIEVE Tuesdays on the following:
About BELIEVE Tuesdays
BELIEVE Tuesdays are a brand new set of sober parties and events in the UK designed to support and raise awareness of better mental health in the dance music industry.
We are NOT trained mental health specialists. We are real people with extensive experience in multi-generations and genres of the dance music scene. From the commercial highs to the chemical lows, as promoters, DJs and party people, from acid house to sober house.
This is our house and you're all welcome.
About We Are Hummingbird
We are Hummingbird is a community of music lovers who have united to spread awareness of mental health by using music as a platform to encourage people to open up and engage in conversation. We specialise in the delivery of Mental Health First Aid Training. Together we WILL create a world full of hummingbirds.
About Electric Radio
Electric Radio is a dance music station playing non-stop house music 24/7. Featuring radio shows from Defected, Glitterbox and Roger Sanchez as well as rising talent from across the UK dance music scene.
The music is a unique mix of uplifting house tracks to make you feel good – from club classics of the 90s and 00s to the hottest house tracks of today.
Believe Tuesdays will take over Electric Radio every Tuesday and will feature content, promos and DJ takeovers to raise awareness of better mental health in the dance music industry to an even wider audience.
Listen at electricradio.co.uk, via the tune in app, on Google Home "Play electric radio on tune in" or Alexa "Ask tune in to play electric radio".