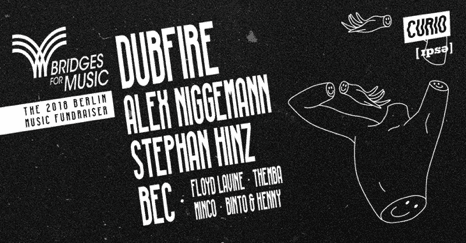 Bridges For Music – The Berlin Music Fundraiser
CURIO, a concept night by BEC, will host a Berlin fundraiser in partnership with non-profit organisation Bridges For Music at ipse club on Thursday 12th April 2018.
Bridges For Music is a creative and socially conscious community that harnesses the power of music and art to influence positive change in the world.
BFM's latest project is the construction of a music school in Cape Town's oldest township, Langa, which was kickstarted with the RA Cycle To ADE campaign. The school will run courses such as a full time 6 month course in music and entrepreneurship which will have a holistic approach including modules on mindfulness and nutrition. It will also give an overview on areas like blockchain and coding. BFM will offer full and partial sponsorship to local talent but also will offer international talent an opportunity to live a life changing experience, studying in South Africa and having access to BFM network, learning from a community like Langa and sharing it with local students.
Another sponsorship program helps artists to travel and perform around the world, enabling them to progress in their careers in ways previously unattainable.
The idea for the fundraiser in Berlin was born when, during a visit to Cape Town last December, BEC was given a guided tour of Langa. The academy's ethos and vision resonated with her and made her realise the different ways in which electronic music can bea universal language that breaks down socio-economic boundaries and brings people together. Back home in Berlin, BEC created the event with ipse, including a stellar lineup with Dubfire, Alex Niggemann and Stephan Hinz. The event will not only raise awareness and provide a platform for the message to be shared, but it will also to raise funds for BFM's new music school.
South African rising star Themba will be travelling from Johannesburg in order to participate in the fundraiser event. Themba recently participated in a workshop led by Dubfire at the Bridges For Music Academy in Cape Town, so the Berlin fundraiser will see them reconnect.
"I'm involved in BFM because I come from a country where "Hope" is our biggest commodity. Hope for a better life and a better tomorrow. I've seen how my music has impacted my life and the life of others and I am confident that with what BFM stands for and wants to achieve, we can give hope to the youth of South Africa and inspire them to take their futures in their own hands.
Dubfire, one of the most renowned and influential names in techno, and ex half of Deep Dish will headline the event right after his last tour in South Africa with Bridges for Music where he participated in a talk with local icon Themba at the BFM academy.
""This past February I was fortunate enough to spend some time in Langa Township visiting the soon to be unveiled Bridges for Music Academy, which will not only provide an outlet for underprivileged, yet incredibly talented, budding musicians to explore their creativity, but teach the business and entrepreneurial skills necessary to succeed in todays rapidly evolving entertainment industry. As an ambassador for BFM, I will be directly involved with the academy and thrilled to be included in the fundraising event hosted by CURIO in Berlin on April 12 at IPSE. All proceeds will go towards construction costs as well as purchasing the much-needed equipment. Please join me in supporting their worthy cause." Quote from Dubfire
Stephan Hinz will also play the fundraiser. "Sometimes we think it wouldn't make a difference if we stop doing this or start doing that. But that's wrong, it does make a difference and might inspire others to do the same. When I got asked there was no doubt I wanted to be a part of Bridges For Music. It's both a big pleasure and privilege to help others to achieve their dreams. If I can help just the tiniest bit, it will make a difference." – Quote from Stephan Hinz
Alex Niggemann also supports the cause and was more than ready to jump on board. "When I was asked to play the Bridges For Music event alongside Dubfire I immediately said yes. I love the fact that they are helping those less fortunate that us – and it's especially nice that the event is in my home town so I can encourage my friends to participate in this great cause"
Floyd Lavine and Minco (from his from his concept RISE), along with Binto & Henny will complete the lineup.
Bridges For Music
One school currently under construction
25 previous development workshops
Over 2500 attendees
32 scholarships awarded to study sound engineering, music business and film courses
50 national and international touring opportunities