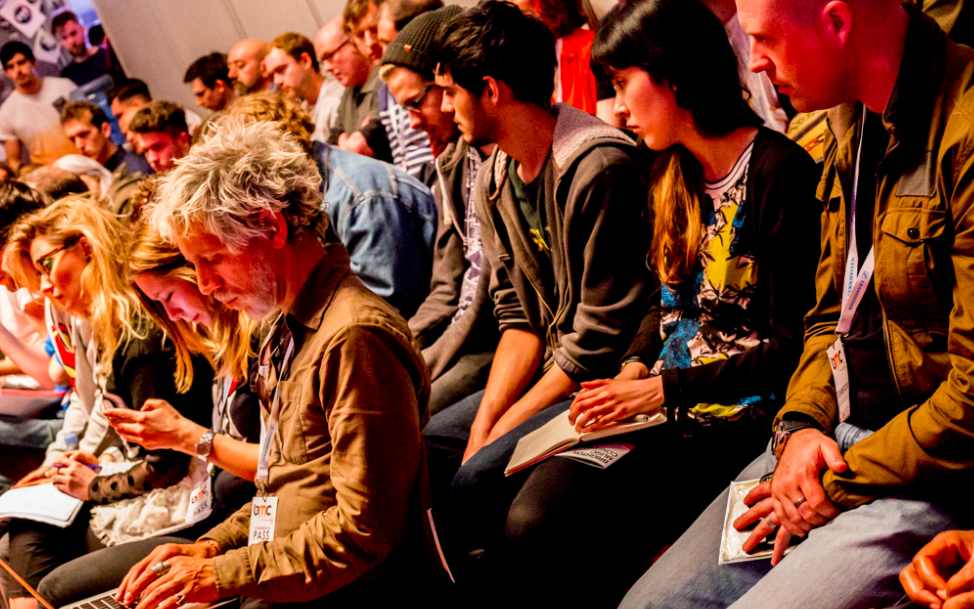 Brighton Music Conference announces Academy programme
Brighton Music Conference (BMC) has announced its 2015 Academy programme, alongside the latest additions to its Professional schedule, and further tech and artist showcases across the event's two days of master classes, panels and talks.
The importance of the next generation is at the heart of the BMC ethos, and for BMC2015 the event has extensively grown its Academy programme, aimed at aspiring artists, DJs, entrepreneurs, promoters, managers and engineers, and providing everything they need to know to break into the industry.
In conjunction with BMC's Education Partners – including YouTube, Facebook, Ableton, Native Instruments, Audio Technica, Novation, Sennheiser, BIMM, Point Blank, PRS, PPL and more – BMC held a nationwide series of student focus groups, and conducted in-depth interviews with students at some of the UK's premier music colleges.
The results have enabled BMC to construct a truly worthwhile programme of over 30 master classes and talks at BMC2015. Delivered by some of the industry's leading figures, the Academy programme will welcome hosts and panellists from YouTube, Beatport, JFB, Ableton, The Hydra, Hypercolour, Anjunabeats, PRS, Hospital, Rebekah, Loopmasters, and many more.
Terry Weerasinghe, Vice President of Music Services at Beatport, has confirmed they'll be running a Beatport UK Label seminar at BMC Professional (a closed invite only event). For the Academy programme, Weerasinghe will be running a Q&A session giving delegates the opportunity to ask questions from the floor.
YouTube's Academy workshop will be hosted by the company's Audience Development Strategist, Olga Golab. The workshop will cover topics including how to optimise videos, drive longer viewing sessions and how to retain subscribers.
Meanwhile, new Professional hosts and panellists include Kobalt, Defected Records, Coda, Resident Advisor, Back To Basics, Native Instruments, and Involved management. These will join speakers and brands including YouTube, Beatport, Dave Clarke, Rhys Hughes (BBC Radio 1/BBC 1Xtra), Ableton, AFEM, Native Instruments, Hospital Records, JFB, Icicle, X-Press 2, Mobilee, DJ Magazine, and many more.
Newly announced tech and artist showcases include those hosted by Ableton, Native Instruments, Pioneer, Audio Technica, Allen & Heath, and Novation & Focusrite in BMC's Founders room.
Ableton will be presenting two tech showcases, including Ditch Presets – Essential Sound Design and Synthesis: Simon Stokes AKA Petrichor (Soma Records), while the Ableton Panel will cover creative strategies for electronic music producers and overcoming creative blocks featuring Evil 9 (Marine Parade/For Lovers/Punks), Alex Banks (Monkeytown Records) and Max Wheeler (Anushka/Brownswood Recordings).
World-renowned loudspeaker manufacturer, Funktion-One, will once again join the BMC line-up for 2015. Visitors to the Funktion-One stand will have the opportunity to experience the PSM318 professional DJ monitors, which have been setting a new precedent in club and event monitoring since their launch in 2014. Commenting on the monitors, Carl Cox said: "Just as you thought Funktion-One couldn't get any better, they design the best monitors I have ever worked on." Funktion-One, which is supporting BMC2015 as official technical partner, will also showcase its new self-powered bass system – designed for smaller applications, including studios and home environments.
Panel topics for this year span the music industry, including the latest developments in streaming, publishing (and monetisation), live, digital broadcasting, legal, synching, social media, the DIY route (for artists and labels), Ibiza, and beyond. Further details and speakers will be announced soon. An outline of the programme content follows at the end of this release.
This year's equipment and technology exhibition features 60 exhibitors, including Ableton who are returning for BMC 2015. Visitors to BMC Academy will be able to check out Live 9 and Push in the company of Ableton Certified Trainers and get creative insights and inspiration from artists via a series of workshops and panels.
Brighton Music Conference promo video:

Produced by BMusic
youtube.com/thisisBmusic
@Bmusic_TV
Following a hugely successful debut in 2014, Brighton Music Conference (BMC) returns to the UK's South Coast city for a two-day event on 5th & 6th June 2015. Reflecting the concept behind BMC, tickets are split between BMC Professional (for industry professionals) and BMC Academy (for students and non-professionals); full details can be found below. Tickets are on sale via the BMC website: www.brightonmusicconference.co.uk
Some of the core contributors and partners for 2015 include YouTube, Facebook, BPI, Beatport, DJ Mag, Music Week, BIMM, Point Blank, PRS For Music, PPL, BPI, AIM, MPA, Access to Music, Youth Music, and LNADJ, with more to be announced.
This year's sponsors are Native Instruments, Ableton, Allen & Heath, Audio Technica, Focusrite, Novation, Funktion One, PRS for Music, PPL. Sennheiser, and Next Audio Labs. A full list of exhibitors follows below.
The UK's only electronic music conference, BMC 2014 was hailed as a groundbreaking success by leading music artists, producers, industry figures and students alike. 2015's event expands BMC's unique offering. BMC Professional aims to connect music with business, bringing together industry thought leaders through a series of panels to discuss the future sustainable growth of the Electronic Music Industry, targeted networking events and access to the evening schedule of three nights of events and parties across Brighton, with DJ Magazine hosting the official closing party. BMC Academy is about plugging in the next generation and fostering new talent via a series of master classes, panels and talks. Both tickets give access to a two-day exhibition with tech showcases panels and interviews.
BMC's education partners are Ableton, Native Instruments, Focusrite, Novation, Audio Technica, and Allen & Heath. All of these brands will be holding showcases, while Native Instruments will run a networking event and two educational showcases, with further activities to be announced. Education organisations are represented by BIMM, Point Blank, Northbrook College, Access To Music, Guildford ACM, and DV8.

2014's event drew representatives from Beatport, Mixcloud, Spotify, Pioneer, Ableton, Funktion One, AEI Media, DJ Magazine and Resident Advisor and many more, who attended and took part in over 70 panels, master classes and showcases. A large number of artists also attended BMC including Above & Beyond, DJ Pierre, Dave Clarke, and Eats Everything. BMC reached a national and global audience, with British dance music fans and industry bigwigs joined by companies and individuals from Australia, San Francisco, India, Mexico, Amsterdam, Norway, Ibiza and Berlin, bringing the total number of attendees to 6500 (2500 to the conference and exhibition and over 4000 to the evening events).
BMC's advisory panel of leading industry figures includes Mark Lawrence (CEO Association for Electronic Music) Terry Weerasinghe (Beatport), Tony & Ann Andrews (Funktion One), Dave Clarke, DJ Pierre, Huw Owen (BBC Radio 1's Essential Mix), Ralf Kollmann (Mobilee Records), Scott Robinson (Division and Australian Ambassador), Nikhil Chinapa (MTV India and Indian Ambassador), and more. For the full list see: www.brightonmusicconference.co.uk
BMC's official charity partners include Youth Music and Last Night A DJ Saved My Life (LNADJ). Youth Music provides more than 90,000 young people with the opportunity to make music each year, helping them to overcome the challenges they face in their lives. Last Night A DJ Saved My Life LNADJs is a charitable foundation creating opportunities for the dance music industry to make a positive impact to the lives of young people and their communities – 'Changing lives, Saving lives'.
Ticket Types
BMC Professional
• Early Bird £79 purchase deadline 31st March
• Normal £99 purchase deadline online 4th June, 5pm
Aimed at experienced industry professionals which include:
•A two day conference for the Electronic Music Industry featuring insightful panels, and trend discussions with the scene's leading players
•A two day exhibition with tech showcases, panels and interviews
•BMC Academy master classes and talks
•Access prior and during the show to the BMC networking tool enabling you to create meetings with your fellow delegates
•Live showcases of up and coming talent
•Access to the mezzanine bar over the two days
•Entry to networking events each evening
•Plus BMC endorsed club events on the Thursday, Friday and Saturday night (Entry for each venue is on a first come first served basis subject to each venues BMC capacity)
BMC Academy Pass
• Early Bird £10 purchase deadline 31st March
• Normal £15 purchase deadline online 4th June, 5pm
• Walk Up £18
•Aimed at those just starting out or looking to break into the industry, aspiring DJs/Producers and Dance music fans
•Two days of master classes, panels and talks
•A two day exhibition featuring 60 exhibitors with music tech showcases of the latest equipment, technology and services plus Q&A's and interviews covering all you need to know to be successful in the industry from DJing and production, to sound, event management, piracy-prevention, marketing, and new technologies
•Live showcases of up and coming talent
Group Tickets for Education providers: £10 above 8 tickets