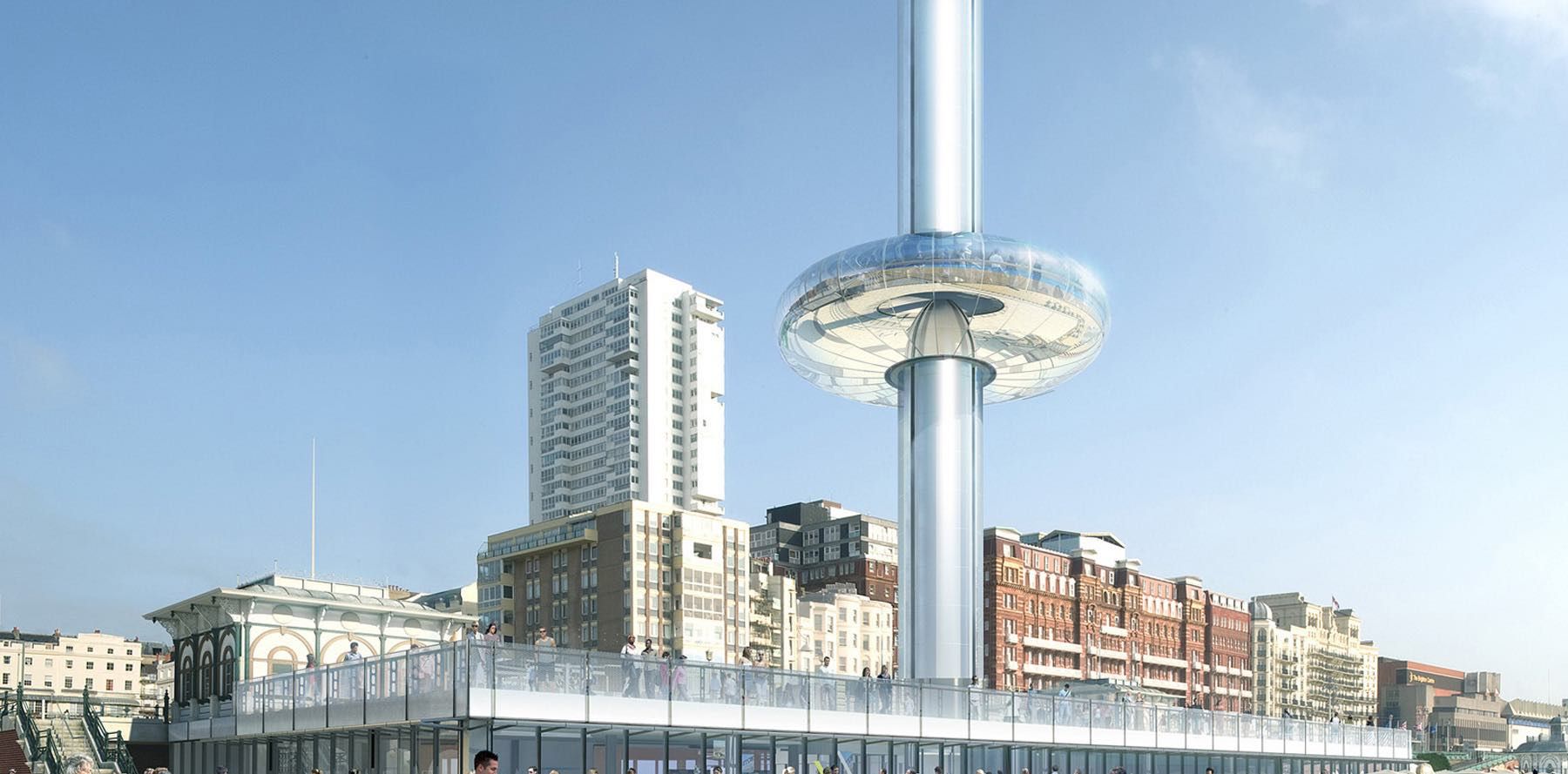 Brighton Music Conference (BMC19) announces livestreams and more…
Brighton Music Conference (BMC19) in association with Scan Pro Audio has announced that David Moraleswill be live streamed from the i360 Podon Friday 26thAprilat 8pmincluding a Q+A sessionand DJ Mixpreceding his headline appearance at the BMC Closing Party in association with Wonderland at The Arch.
BBC Radio 1 Newsbeatwill be broadcasting from the i360 Pod live on-air at 5-45pm on Friday 26thAprilas part of a paneldiscussion addressing electronic music and the environment, including festival footprints and the use ofprivate jets. This will be followed by a DJ set by GotSomein association with Ultra Records.
Following the broadcast, Brighton Music Conferences and a team of volunteers will take part in a beach clean #BMC19BeachCleanat 6-30pm,starting at the beachside of the i360 in conjunction with BLOND:ISH, AFEM, Bye Bye Plasticand Radio 1 Newsbeat.The beach clean is open to all and any DJ, producer, artist or aspiring music industry mogul tagging themselves or their friends cleaning a piece of beach or any beach worldwide will be in with a chance to win one of 5 VIP Pro Passes for BMC2020 and a free membershipto the Association For Electronic Musicand their Green Initiatives working group.
Boiler Room will also be in attendance atBMC19 and are set to hostThe Arch onThursday 25thApril with Scottish DJs Éclair Fifi andBig Miz.
New this year isBoost Breakfast at BMC, a mentoring round table session on Thursday 25thAprilat 7-30amfor 10 DJ/producers looking to get a foothold in the industry. Hosted by Grahame Farmer from Data Transmission & Shanghaied Records,places are now available to book on the BMC website.
Brighton Music Conference (BMC19) in association with Scan Pro Audio has announced its programme of panel discussions, talks and seminars from across the music, nightlife, tech and digital industries, together with tech masterclasses, evening networking events and its nighttime party schedule for the6thEdition.
The UK's foremost electronic music conference takes place at British Airways i360 beachfront centre on Thursday 25thand Friday 26thApril 2019; with the full programme running fromWednesday 24thto Saturday 27thApril at venuesacross the city.
The i360 conference site, sponsored by Scan Pro Audio, features BMC Professional Conference Theatres 1 and 2sponsored by SharpStream, Pioneer DJ Academy Theatreand Focusrite/Novation theatre, which are open to all ticket goers and the official tech exhibition and music services Demo Zone. The beachfront Pioneer DJ Networking Hubbar is available for use by all conference goers, and the British Airways i360 pod will host invite-only networking parties with BBC Radio 1, Native Instruments, Women in Dance Music Collective, and Ultra Records.Pioneer are hostingworkshops this yearin the Academy Theatre, which will also feature aBIMMsponsored '2ndSummer of Love'discussion with Paul Oakenfold, DJ Growth Lab's'Meet The Mentors'session has been announced for Professional Theatre 2as well as a Label Q&As with Defectedand Ultra Recordsand a 'Sound Healing' workshopfeaturing Tom Middleton.
BMC19'sProfessional Theatre 1 programme will present in depth discussions and debates on the biggest issues facing the electronic and wider music industry including thePRS For Musichosted 'Getting Paid When DJs Play Your Music'; AFEM presents 'The Technology Shaping The Future Of Electronic Music'; The Big Debate 'Is Greed Killing The Dancefloor?' hosted byDJ Mag andWomen In Dance Music Collective, and Help Musicians UK presents: 'Maintaining Mental Health In The Electronic Music Industry'.
BMC19's Professional Theatre 2 sponsored by SharpStream programme will feature discussions about promoters' mental health and the pressure regarding ticket sales vs. talent; the resident DJ, music marketing, and the Universal Power Of Soundpanel chaired byTony Andrews (Funktion One)will be returning for a second year, this time featuring Tom Middleton. There will also be label Q&As with Defected Recordsand Ultra Recordsand a DJ Q&A moderated by Stuart Knightfrom Toolroom. Beatportwill also be presenting their annual report (invite only).
BMC19's Academy Programmecovers everything that emerging artists, DJs, producers, students and industry hopefuls need to know. The panels, talks and seminars include 'You've Made Your Music, Now What?''Label Q&A – 15 Years Of Shogun' with Shogun Audio MDKier Tyler, Frictionand Amy Jane, Head of Marketing; 'Copyright & Sampling In Dance Music' panel; an interview withShadow Child, Beatport Q&A, and BIMM school sponsored '2ndSummer Of Love', an interview discussion celebrating its 30thanniversary with Paul Oakenfold interviewed byAlon Shulman from Universeon 'How Dance Music Took Over The World'.
Organisations and individuals confirmed to speak at BMC19include David Morales (key note talk), Paul Oakenfold, Irvine Welsh, Marshall Jefferson, Danny Rampling, Huxley, Norman Jay MBE, Friction, DJ Storm, Teebee, Leftwing & Kody, Kevin McKay, Carl Finlow, Tom Middleton, Brandon Block, Rebekah, and Jubilee.Over 200 speakers and representatives announced from Scan Pro Audio, BBC Radio 1, PRS for Music,BIMM, AFEM, Defected, Ultra Music, Glasgow Underground, R&S Records, Glitterbox and Toolroom, Beatport, DJ Growth Lab, Believe Distribution, Focusrite Novation, Help Musicians UK, Loopmasters, Hospital Records, Pioneer DJ, Sharp Stream, Skiddle, and Horus Music, LNADJ and many more.
BMC'ssixth year also features a specialised exhibition zone including the DJ and music tech scene's leading suppliers, technology companies and service providers. Focusrite, the best-selling audio interface brand together with keyboard and DJ hardware/software creatorNovation will be hosting their own Focusrite Novation Theatrethis year and running 9 workshops and talks across both days with producers Rebekah, Alan Arnout, Sean Tyas, -CALC-. South Of The Stars, Alex Jann, GLXY, Reset Robot and Sync 24. No separate ticket required.
BMCwill host Toolroom Academywith 5 production workshops and talks on Thursday 26thAprilat nearby The Archfeaturing, as well as demo drop-ins. Leading electronic music DSP,Beatport, will deliver its Annual Report during the conference as well as taking part in a Beatport brand Q&A.
BMC's The Label Lounge, in association with AIM, comprising A&R feedback sessions, will be held nearby at The Tempest Inn on Friday 26thApril, 159-161 Kings Rd, Brighton BN1 1NB. Some of the biggest house labels will be represented including Skint the local label who signed Fatboy Slim, Cr2, Glasgow Underground, Champion, Sola, Axtone, Solotok, Audio Rehab, Realm, &Friends, Basement Sounds, Wired, Daylight Robbery, Shanghaied and more to be announced. Producers will be booked in for 3 one to one slots with 3 of these labels on a first come first served basis, ordered upon ticket t purchase. BMC ticket holders can add a Label Lounge Bolt-On when booking online.
Neworking events this year including Wednesday 24thApril: AFEM presents BMC opening party with Ridney & others at The Tempest.Thursday 25thApril: Women In Dance Music & Native Instruments on in i360 Pod; Data Transmission & Shanghaied at Peliroco Hotel with Wax Worx, Sandor & Jo Jo Angel; Also PRS For Musicnetworking drinks in association with Novation/Help Musicians UK/Native Instruments with Samantha Togni, South Of The Stars, Alex Arnout, Renaat Vanpapeliere (R&S Records), Alex Jann & Efii in the i360 bar. Friday 26thApril: Radio 1 Newsbeat in i360 pod broadcasting live from Brighton; Ultra Records/WDM/SharpStream with DJs TBC, Changing Faces live radio broadcast with DJs at The Block.
BMC club events includeFriday 26thApril: Shogun Audio & Elevate – Friction, Culture Shock, Technimatic present Through The Hours, Deadline at The Arc; Wiggle 25thbirthday party  – Clara Da Costa, Nathan Coles, Terry Francis, Magnus Asberg, Rob Anderson, Lucas Hulan & Martin Kling at Hideout; Tech-Noir 10thbirthday party  – Kevin McKay, Nick Hook, Brody, Tony Waller & Pat Waller at TBC; English Disco Lovers – Danny Rampling & Sam Moffatt at Komedia; Marco Bernardi, Alex Jann, A-Future, Sync 24, Kirsti Null, Void, & Alex Downeyat The Hub; Berlin – Rebekah,  Markus Saarlander, Lola, Monica & Pookat The Green Door Store; Jubilee (Radio 1), Bacchus, Bklava & Layce at Patterns. Saturday 27thApril: Take Time with Carl Finlow, Transparent Sound, Point B and Take Time residents at Railto; Wonderland – David Morales, Marshall Jefferson, Freakin 909, Steve Mac, Wax Worx, Pablo Contraband, Timo Garcia & DJ Growth Lab at The Arch; Enzo Sifferdi & Friends at The Tempest; Nicolas Lutz, Charles Green, Mehtola, J-Felix & Wild Fantasy at Patterns.
BMC exhibitors include Scan Pro Audio,BIMM, SharpStream, Loopmasters, Plugin Boutique, Loopcloud, ACS, Pioneer DJ, Pioneer Pro Audio, Audeze, Korg, Reloop, Native Instruments, Akai, 3XS Systems, Lake People, Steinberg, Cubase, ACM, Help Musicians UK, Focusrite, Novation, KRK and Amplify
Sponsors/partnersfor BMC19include: Scan Pro Audio, AIM, Believe Distribution, Beatport, AFEM, Data Transmission, DJ Mag, Element 5, Focusrite, Novation, Help Musicians UK, Horus Music, Last Night A DJ Saved My Life Foundation, Loopmasters, Loopcloud, Monokrome Music, Native Instruments, Pioneer DJ, Plugin boutique, PRS For Music, Sharpstream, Skiddle, Ultra Records.
Headline sponsorScan Pro Audiohas been winning awards for its 3XS digital audio workstations (DAWs) for more than ten years. Experienced audio PC builders enhance the power; tweak the BIOS and software to work with studio equipment from keyboards and guitars through to DJ kit and PA equipment.
www.brightonmusicconference.co.uk
www.facebook.com/BrightonMusicConference
www.twitter.com/BrightonMusicCo
Direct ticket link: