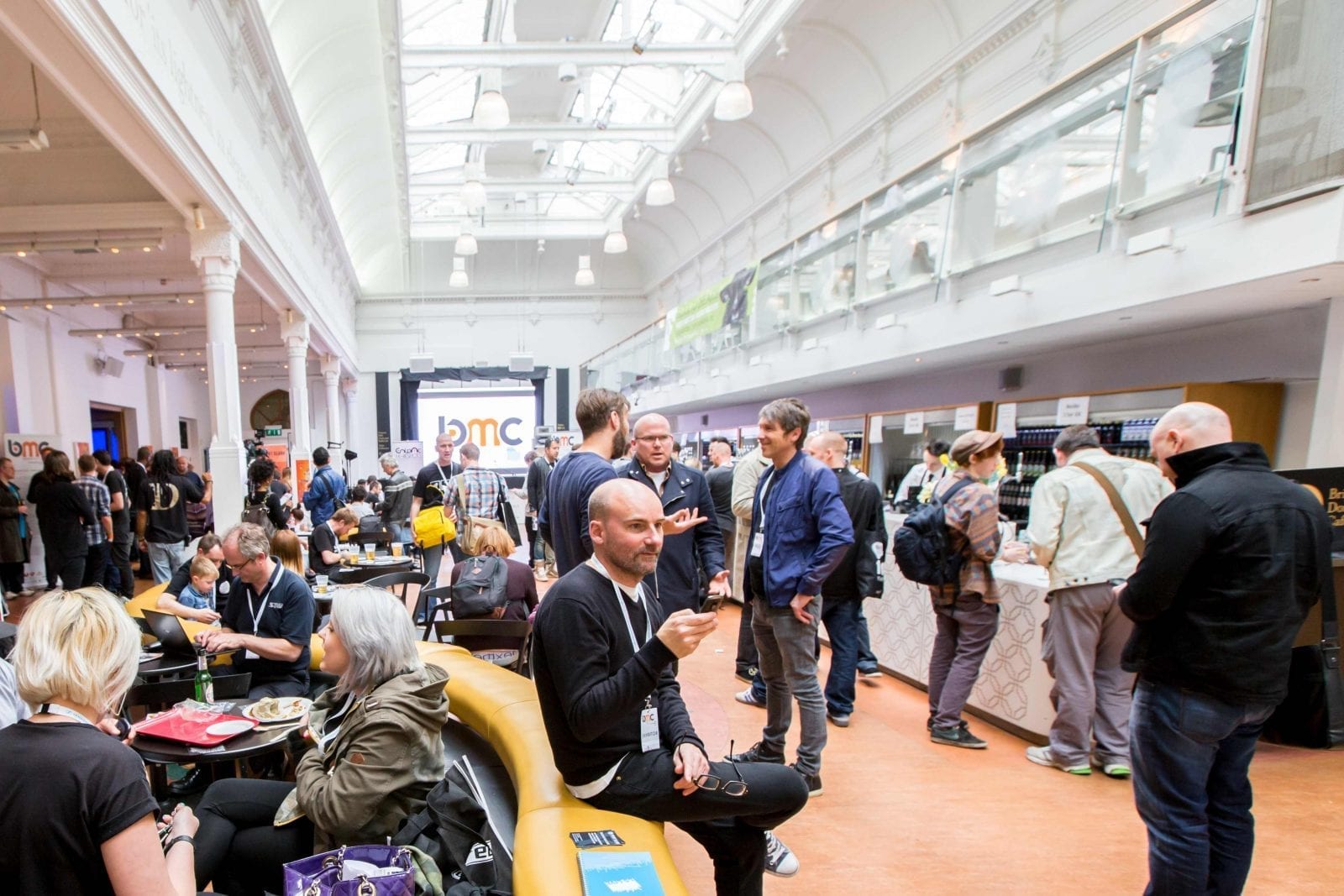 Brighton Music Conference reveals first panel topics & speakers
Brighton Music Conference (BMC) has revealed the first details of its professional programme for the 2015 event, with two days of master classes, panels and talks featuring speakers and brands including YouTube, Beatport, Dave Clarke, Rhys Hughes (BBC Radio 1/BBC 1Xtra), Ableton, AFEM, Native Instruments, DJ Pierre, Hospital Records, Believe Digital, Icicle, X-Press 2, Mobilee, DJ Magazine, and many more.
Panel topics for this year span the music industry, including the latest developments in streaming, publishing (and monetisation), live, digital broadcasting, legal, synching, social media, the DIY route (for artists and labels), Ibiza, and beyond. Further details and speakers will be announced soon. An outline of the first programme content follows below.
This year's equipment and technology exhibition features 60 exhibitors, including Ableton who are returning for BMC 2015. Visitors to BMC Academy will be able to check out Live 9 and Push in the company of Ableton Certified Trainers and get creative insights and inspiration from artists via a series of workshops and panels. Further details will be announced soon, in the meantime, Ableton have provided a sneak preview of some of the new features for Push and Live 9:

Live 9.2 is available as a public beta and is free to download for owners of Ableton Live 9. More details here: https://www.ableton.com/en/blog/live-9-2-in-public-beta/
Mark Lawrence from AFEM said, "I'm looking forward to hosting the AFEM 'Get Played Get Paid' panel. Our campaign for dance music producers and writers to receive their fair share of royalty income from music played at clubs, festivals and beyond, has created a lot of discussion across the global electronic music industry, and Brighton Music Conference provides the perfect forum to move this debate forward"
BMC 2015 – PROFESSIONAL CONFERENCE TOPICS
Keynote: The Electronic Music Industry – 2015 Overview
The main trends, developments, players and themes of this year, and why they matter.
Radio, podcasts, and the future of digital broadcasting
As start-up internet stations become key players in the club scene, we debate the importance of radio, podcasting, and digital broadcasts, and their evolving impact on labels, artists and listeners.
Rhys Hughes, Head of Programmes, BBC Radio 1 & BBC 1Xtra
Innovation / Inspiration: New revenue streams in the electronic music industry
From merchandising to collector's editions, from live events to brand partnerships: how labels are moving beyond conventional sales models.
Panellists: Mark Lawrence (AFEM), Chris Goss (Hospital), Ralf Kollmann (Mobilee)
Clubs, festivals and events: Is it a level raving field?
Why dance music events matter more than ever – from grassroots club nights to international festivals, and everything in between.
The Art of DJing
What makes
a great DJ in 2015 and beyond: the DJ-live crossover, the resurgence of 'real' DJing, and why DJs still matter.
Panellists: David Eserin (Native Instruments), Icicle (Shogun Audio), more tbc
DJ-Producers as artists, songwriters and composers: the importance of publishing for dance music
Navigating the publishing maze and the impact of new technologies on the dance music industry.
The Great Genre Debate
Do genres still matter for dance music, and if so, why – and who do they benefit?
Ibiza – how changing perceptions are affecting the White Isle
Is Ibiza still the centre of the dance music world? We debate the state of play on the island.
The Big Stream
How streaming models are changing the way we consume music, and where streaming is going next.
Panellists: Beatport, more tbc
AFEM: Get Played, Get Paid
Synch media – The Golden Ticket?
With more and more artists looking to synch their music to film, ads, and games, we ask how to make the most of synching opportunities.
Social Media – where next?
As Facebook moves towards a paid advertising model, we ask some of the industry's biggest players what the future holds for social media, digital marketing, and the importance of getting your social media right.
Going it alone: artists, labels, and releasing your own music
What can good labels do for artists, and what are the advantages of artists setting up their own labels?
Following a hugely successful debut in 2014, Brighton Music Conference (BMC) returns to the UK's South Coast city for a two-day event on 5th & 6th June 2015. Reflecting the concept behind BMC, tickets are split between BMC Professional (for industry professionals) and BMC Academy Pass (for students and non-professionals); full details can be found below. Early bird tickets are now on sale via the BMC website: www.brightonmusicconference.co.uk
Some of the core contributors and partners for 2015 include YouTube, Facebook, BPI, Beatport, DJ Mag, Music Week, BIMM, Point Blank, PRS For Music, PPL, BPI, AIM, MPA, Access to Music, Youth Music, and LNADJ, with more to be announced.
This year's sponsors are Native Instruments, Ableton, Allen & Heath, Audio Technica, Focusrite, Novation, Funktion One, PRS for Music, PPL. Sennheiser, and Next Audio Labs. A full list of exhibitors follows below.
The UK's only electronic music conference, BMC 2014 was hailed as a groundbreaking success by leading music artists, producers, industry figures and students alike. 2015's event expands BMC's unique offering. BMC Professional aims to connect music with business, bringing together industry thought leaders through a series of panels to discuss the future sustainable growth of the Electronic Music Industry, targeted networking events and access to the evening schedule of three nights of events and parties across Brighton, with DJ Magazine hosting the official closing party. BMC Academy is about plugging in the next generation and fostering new talent via a series of master classes, panels and talks. Both tickets give access to a two-day exhibition with tech showcases panels and interviews.
BMC's education partners are Ableton, Native Instruments, Focusrite, Novation, Audio Technica, and Allen & Heath. All of these brands will be holding showcases, while Native Instruments will run a networking event and two educational showcases, with further activities to be announced. Education organisations are represented by BIMM, Point Blank, Northbrook College, Access To Music, Guildford ACM, and DV8.

2014's event drew representatives from Beatport, Mixcloud, Spotify, Pioneer, Ableton, Funktion One, AEI Media, DJ Magazine and Resident Advisor and many more, who attended and took part in over 70 panels, master classes and showcases. A large number of artists also attended BMC including Above & Beyond, DJ Pierre, Dave Clarke, and Eats Everything. BMC reached a national and global audience, with British dance music fans and industry bigwigs joined by companies and individuals from Australia, San Francisco, India, Mexico, Amsterdam, Norway, Ibiza and Berlin, bringing the total number of attendees to 6500 (2500 to the conference and exhibition and over 4000 to the evening events).
BMC's advisory panel of leading industry figures includes Mark Lawrence (CEO Association for Electronic Music) Terry Weerasinghe (Beatport), Tony & Ann Andrews (Funktion One), Dave Clarke, DJ Pierre, Huw Owen (BBC Radio 1's Essential Mix), Ralf Kollmann (Mobilee Records), Scott Robinson (Division and Australian Ambassador), Nikhil Chinapa (MTV India and Indian Ambassador), and more. For the full list see: www.brightonmusicconference.co.uk
BMC's official charity partners include Youth Music and Last Night A DJ Saved My Life (LNADJ). Youth Music provides more than 90,000 young people with the opportunity to make music each year, helping them to overcome the challenges they face in their lives. Last Night A DJ Saved My Life LNADJs is a charitable foundation creating opportunities for the dance music industry to make a positive impact to the lives of young people and their communities – 'Changing lives, Saving lives'.
Ticket Types
BMC Professional
• Super Early Bird £59 purchase deadline 31st January
• Early Bird £79 purchase deadline 31st March
• Normal £99 purchase deadline online 4th June, 5pm
Aimed at experienced industry professionals which include:
•A two day conference for the Electronic Music Industry featuring insightful panels, and trend discussions with the scene's leading players
•A two day exhibition with tech showcases, panels and interviews
•BMC Academy master classes and talks
•Access prior and during the show to the BMC networking tool enabling you to create meetings with your fellow delegates
•Live showcases of up and coming talent
•Access to the mezzanine bar over the two days
•Entry to networking events each evening
•Plus BMC endorsed club events on the Thursday, Friday and Saturday night (Entry for each venue is on a first come first served basis subject to each venues BMC capacity)
BMC Academy Pass
• Early Bird £10 purchase deadline 31st March
• Normal £15 purchase deadline online 4th June, 5pm
• Walk Up £18
•Aimed at those just starting out or looking to break into the industry, aspiring DJs/Producers and Dance music fans
•Two days of master classes, panels and talks
•A two day exhibition featuring 60 exhibitors with music tech showcases of the latest equipment, technology and services plus Q&A's and interviews covering all you need to know to be successful in the industry from DJing and production, to sound, event management, piracy-prevention, marketing, and new technologies
•Live showcases of up and coming talent
Group Tickets for Education providers: £10 above 8 tickets
Exhibitors in alphabetical order

• ABLETON
• ACCESS TO MUSIC
• ACS
• ADJ
• AKAI
• ALLEN & HEATH
• AMP SUITE
• AUDIO TECHNICA
• BIMM
• CM SOUND
• DENON
• DJ KIT
• FBT AUDIO
• FOCUSRITE / NOVATION
• FUNKTION ONE
• GAK
• GEAR4DJS
• GUILFORD ACADEMY OF CONTEMPORARY MUSIC
• INFLYTE
• KAM
• KORG
• KRK
• LITECONSOLE
• LONDON SPEAKER HIRE
• LOOPMASTERS
• M-AUDIO
• NATIVE INSTRUMENTS
• NEXT AUDIO LABS
• NORTHBROOK COLLAGE
• NUMARK
• PRO AUDIO STASH
• PRS FOR MUSIC
• RELOOP
• ROLAND
• SENNHEISER
• TRACTION SOUND
• UVI
• VOID
• WILLIAMS MEDIA
Showcases confirmed so far in alphabetical order:
• ABLETON
• AUDIO TECHNICA / ALLEN & HEATH
• FOCUSRITE / NOVATION
• NATIVE INSTRUMENTS