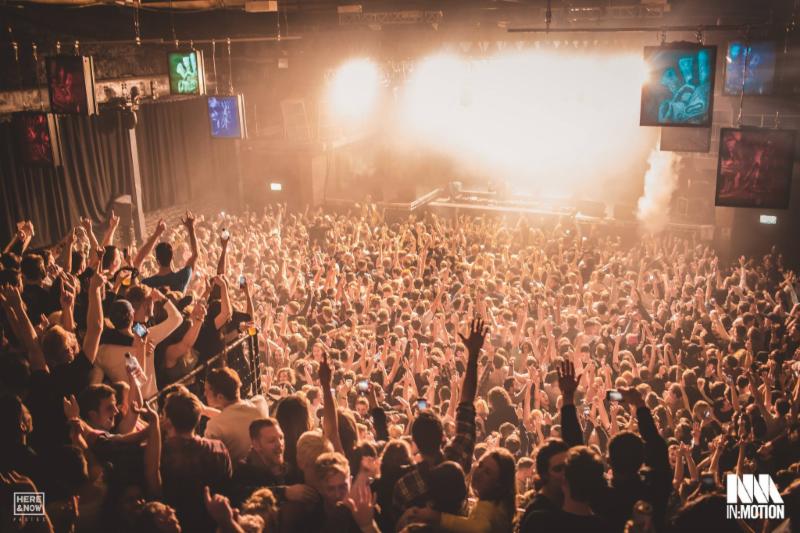 Bristol's In:Motion Announce Opening Weekend Parties For Their 2016 Season
As the dust settles on another joyous edition of Love Saves The Day, Bristol's party scene turns its focus to the launch of In:Motion. Returning for its sixth year, the illustrious club series has seen a wealth of international and homegrown talent pass through its doors, and remains committed to supporting acts from its city's thriving creative eco-system for 2016.
On top of its legacy as one of the UK's most essential hubs for dance music, Bristol is a beloved destination; celebrated for its free-spirited and proudly independent outlook, familial atmosphere and emphasis on sustainability – becoming the UK's first ever European Green Capital in 2015. Following last year's extensive £0.5m refit, Motion and The Marble Factory continue to provide Bristol with world-class venues, with Motion currently ranking within the Top 20 of DJ Mag's Top 100 Clubs and In:Motion remaining integral to the city's brimming cultural calendar.
A number of local artists close to In:Motion's heart will appear at the opening weekend. With at least one act from Bristol performing in each room of the launch, among those part of the Motion family are Bristol kid and fast food aficionado Eats Everything, restless producer Breach, cherished selector Felix Dickinson and Futureboogie boss Dave Harvey.
Other artists invited to boot In:Motion into life on Friday 30th September include Italian techno maven Joseph Capriati, Danish Kompakt records producer Kölsch, Radio 1 tastemaker B. Traits, fabric mainstay Craig Richards, libidinous DJ collective Horse Meat Disco, ascendant Phonox resident Jasper James, and hotly tipped house and techno duo Solardo.
Saturday 1st October sees drum and bass pioneers Roni Size and Krust joined by jungle veterans Congo Natty and Randall and grime heayweights Elijah & Skilliam, P Money, and Jammz performing alongside Radar Radio's Jack Dat. UK Funky pioneer DJ Champion, Full Cycle's D Product, Subloaded co-founder and Bristol grime mainstay Blazey Bodynod, and special guests Gentleman's Dub Club will also perform.
"Motion is the noughties version of Lakota in the 90's in Bristol," says Eats Everything. "One of the best clubs in the world, known for bringing ravers together from all over the shop for the simple love of dancing to some of the best music around. It's moved up a notch in the last year or so and I for one can't wait to get back in there!"
Another DJ very much part of the Motion story over the past 10 years is Breach, who fondly remembers the former skate park's early years. "Bristol is the city where I made my first records and it will never ever leave me," Breach recalls. "I can remember raving at free parties in the space which is now motion so it's lovely to come back to that special place. And long may people continue to dance there…"
One of the city's brightest new adopted talents, Felix Dickinson, says, "It's been about a year since me and the Mrs made our first steps to becoming Bristolians. To be included on the line-up for the opening weekend of In:Motion means the transition must be complete. It's an honour to be playing at Bristol's best club alongside some of the heroes of this city's dance scene, can't wait!"
'Motion is and deserves to be one of the best clubs in the world. It plays a huge part for the music scene in Bristol.' says Reprazent founder and leader Roni Size 'I can't wait to bring the Full Cycle sound to this institution for the InMotion opening party.'
To pre-register for exclusive first access to tickets please visit www.bristolinmotion.com Pre-sale tickets will be available from Friday 3rd June at 9am, with General Tickets on sale next Tuesday 7th June from 9am.
FULL OPENING WEEKEND LINE-UP
Friday 31st September
JOSEPH CAPRIATI
EATS EVERYTHING
KOLSCH [DJ SET] BREACH
B TRAITS
CRAIG RICHARDS
HORSE MEAT DISCO
JASPER JAMES
SOLARDO
FELIX DICKINSON
DAVE HARVEY
PLUS SPECIAL LIVE GUEST TBA
+++
Saturday 1st October
RONI SIZE & KRUST PRESENT FULL CYCLE
CONGO NATTY
ELIJAH & SKILLIAM
P MONEY
RANDALL
JAMMZ & JACK DAT
DJ CHAMPION
D PRODUCT
BLAZEY BODYNOD
SPECIAL GUESTS: GENTLEMENS DUB CLUB
PLUS MUCH MORE TBA
LINKS & FURTHER INFORMATION
IN:MOTION
www.bristolinmotion.com