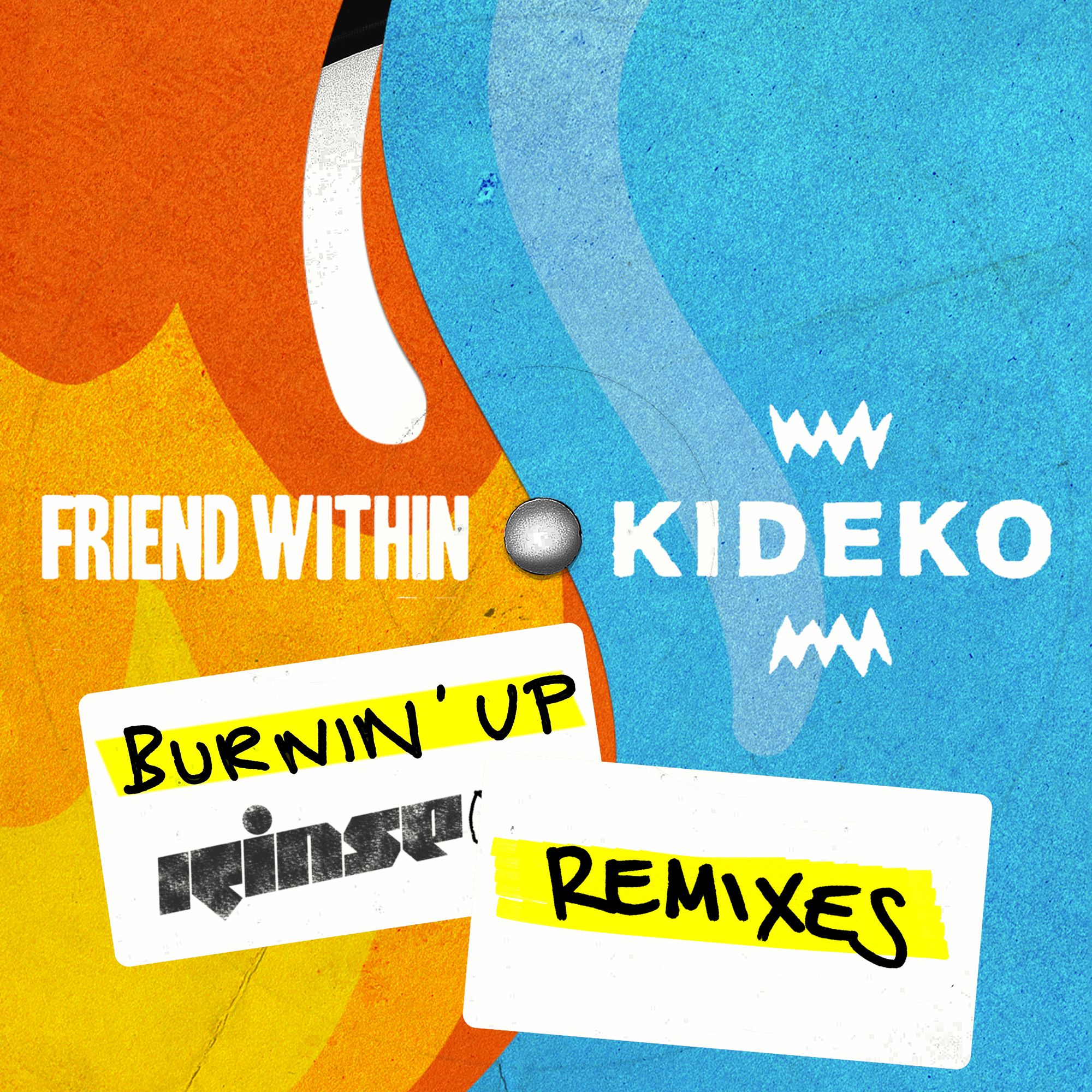 Friend Within x Kideko - Burnin' Up
For what's set to be the inaugural collaborative outing from two UK producers at the top of their game, FRIEND WITHIN and KIDEKO join forces to deliver a slice of 21st century new jack swing under the Rinse name with 'Burnin Up'. Proving why sometimes two house heads are better than one the newfound meeting of Friend Within and KIDEKO continue their dance music dominance with what could arguably be their most eagerly anticipated release yet.
In their own right, FRIEND WITHIN and KIDEKO have ruled both the airwaves and the underground for quite some time. For Friend Within his early collaboration with Disclosure on 2014's 'The Mechanism' here: https://goo.gl/vwuars demanded the attentions of the dance music world. Since then the formerly anonymous producer has become a firm favourite for dance music enthusiasts the world over leading to a packed calendar of headline shows, acclaimed EPs and now, a Rinse release on the horizon. KIDEKO's dancehall-inspired smash 'Crank It' feat. Nadia Rose & Sweetie Irie here: https://goo.gl/f8cpX2 became one of 2016's standout tracks, topping the Radio 1 Dance Chart and taking the Brighton-based DJ and producer to new heights.
On 'Burnin Up' FRIEND WITHIN and KIDEKO explore their shared love of classic New York dance music, harking back to the formative days of Strictly Rhythm and the golden age of US house and garage. Giving new lease of life to one of the most notorious tracks in dance music history – sampling Loleatta Holloway's era-defining 'Love Sensation' for the track's instantly recognisable hook – the duo bring the spirit of Paradise Garage to modern day discothéques across the globe. Driven by a bouncing chord progression akin to Inner City's 'Big Fun' and the unmistakable jackin' sound of an 808 'Burnin Up' holds all the hallmarks of a future dancefloor anthem and true to its name, is set to send temperatures soaring this Summer.
Mysterious producers unveiled and this collaboration results in massive House Banger. Guaranteed to be one of the biggest summer banger in 2017! Don't Sleep on it!! Enjoy smashing in ya sets!!
#FriendWithin #Kideko #BurninUpRemixes
#NewMusic
Connect with FRIEND WITHIN
& KIDEKO –
Go To –
(FRIEND WITHIN)
http://friendwithin.net/
https://www.facebook.com/FriendWithin/
https://twitter.com/friendwithin
https://www.instagram.com/friendwithin/
(KIDEKO) –
https://www.facebook.com/kidekomusic/
https://twitter.com/kidekomusic
https://soundcloud.com/kidekomusic
https://www.instagram.com/kidekomusic/